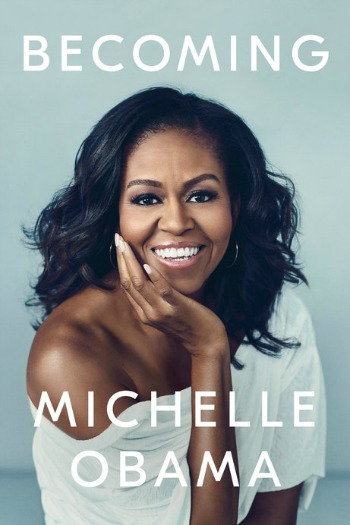 Becoming by Michelle Obama
Narrator: Michelle Obama
Publisher: Crown Publishing Group (Random House Audio)
Release Date: November 13, 2018
Length: 448 pages (19 hrs. 3 min.)
Amazon
Audiobook
{My Thoughts}
Today's review is going to be a little different. I just could not find a way to make Michelle Obama's memoir fit into my typical review format. Hers is a unique journey that we all are at least a little familiar with. It needs no introduction, no backstory. Before listening to Becoming, I was already captivated by what I knew of this remarkable woman. Those feelings only grew as she shared her life story with me.
Throughout the book, what struck me most was just how normal a life Michelle Obama led right up until her husband decided to run for national office. She grew up in a working class family, with parents who sometimes struggled to support her and her older brother, Craig. But, she also grew up with a huge advantage: parents who believed in the value of education, parents who instilled that belief in their children. Education and the rigor of always striving for excellence, served Michell well, taking her to Princeton and after that on to Harvard Law.
"I grew up with a disabled dad, in a too small house, with not much money, in a starting to fail neighborhood. And, I also grew up surrounded by love and music, in a diverse city, in a country where an education can take you far. I had nothing or I had everything. It depends on which way you want to tell it."
To be sure, Michelle Obama amassed stellar pedigrees, but like many young professionals she arrived at her first job deeply in debt and working hard to pay down massive student loans. On that first job she met a man who would eventually become the 44th President, but she didn't know that then. He was just an interesting intern and she his mentor. By the time he graduated and they fell in love she knew he was something special, but she could have no idea what the future held. They were a typical young couple facing all the challenges young couples face: figuring out how to keep everything fair, finding time for each other, buying a first home, negotiation job changes, balancing friends and family, and finally struggling to have children. I loved that Michelle laid it all out, making me admire them both even more.
"Friendships between women, as any woman will tell you, are built of a thousand small kindnesses like these, swapped back and forth and over again."
As time went on and Barak felt more and more of a call to serve, Michelle grew conflicted. She never wanted to be in the public eye, nor go through the rigors of an election. Yet, as Michelle watched her husband and the people who supported him, she came to see that the hope could not be stopped. That idea of hope ran as a theme throughout Becoming, and brought tears to my eyes in several different portions. One can never say enough about the value of hope OR the legacy it leaves behind. As I listened to Michelle share her years in the White House, I ached for that time. I also felt a deep sense of gratitude toward this remarkable woman and the man she married.
"…but I think what I experienced during those years is what many did: a sense of progress, the comfort of compassion, the joy of watching the unsung and invisible find some light, a glimmer of the world as it could be. This was our bid for permanence, a rising generation that understood what was possible and that even more was possible for them. This is a story we could own."
Grade: A
Narration: A
Disclosure: There are Amazon Associate links included within this post.