This post may include Amazon links. As an Amazon Associate I earn from qualifying purchases.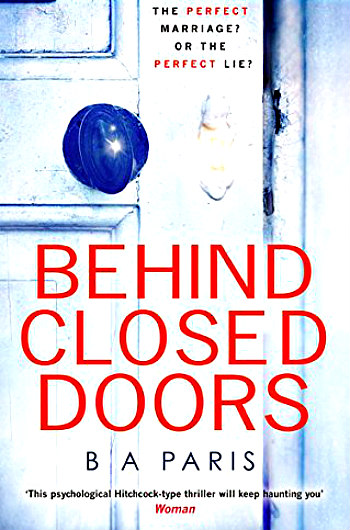 Behind Closed Doors by B.A. Paris (debut)
Publisher: St. Martin's Press
Release Date: August 9, 2016
Length: 304 pages
Audible: Macmillan Audio, 8 hrs. 23 min.
Narrator: Georgia Maguire
Buy on Amazon
Single Sentence Summary: On her wedding night a woman discovers that her husband is not the man she thought he was and that the reasons he married her have nothing to do with love.
Primary Characters: Grace Angel – a woman in her early 30's who finds herself in a marriage in which she has lost all control. Jack Angel – a wealthy, powerful attorney who defends battered women, while making his own wife's life little more than a prison. Millie – Grace's 17-year old Down's syndrome sister. Grace has been responsible for Millie for most of their lives.
Review/Synopsis: For the first time in years, I recently took a long, solo road trip. I was a little worried about a couple of things: getting sleepy and being bored. Other than taking a break when needed, I couldn't think of much to do about getting sleepy, but as for getting bored, I knew exactly what to try, Audibles. Hard to believe, but I had never done any sort of audio book, ever. My friend, Allison, has been singing their praises to me for years, and Amazon keeps offering a two book free trial, so taking all that in to account, I signed up and downloaded my two books. Behind Closed Doors was my favorite of the two.
B.A. Paris's Behind Closed Doors is a compelling psychological thriller. The story is about a woman, Grace, who meets and falls in love with the man of her dreams. Grace had a strained relationship with her parents and for many years already had been responsible both financially and emotionally for the care of her much younger sister, Millie, a 17-year old with Down's syndrome. Grace was devoted to Millie, working hard to support her and spending time every weekend with her. When Grace and Jack meet he is completely accepting of Millie. Jack is more than happy to welcome Millie into their home once she turns 18 and will need to leave the school where she currently lives. Grace feels so lucky until her wedding night when Jack disappears and she gets no explanation as to why until they're in Thailand on their honeymoon. It is far from the honeymoon of anyone's dreams and things only get more difficult when Grace and Jack get back home. Told in alternating chapters of past and present, the author reveals what Grace's life with Jack has been like from their first meeting and what is driving her to find an escape from a husband who will never let her be alone with anyone (and that's not the worst of Jack's proclivities).
I thought the basic premise of Behind Closed Doors was a little out there, but that didn't stop me from thoroughly enjoying the book. I really liked the movement of the story between present and past as Grace told her story. Each chapter built on the last and answered my questions as they arose. Granted, I have little experience, but I thought the narrator of this Audible, Georgia McGuire, was fantastic. I really felt like she was Grace, telling me the story of her bizarre marriage. When I got home from my trip, there were still two hours left in this Audible book, and thanks to the wonderful story telling of B.A. Paris and the gifted narration of Georgia Maguire, I took an hour walk each of the next two days especially to finish listening to Behind Closed Doors. Grade: A-
If you liked this book you might also enjoy:
Disclosure: There are Amazon Affiliate links included within this post.