This post may include Amazon links. As an Amazon Associate I earn from qualifying purchases.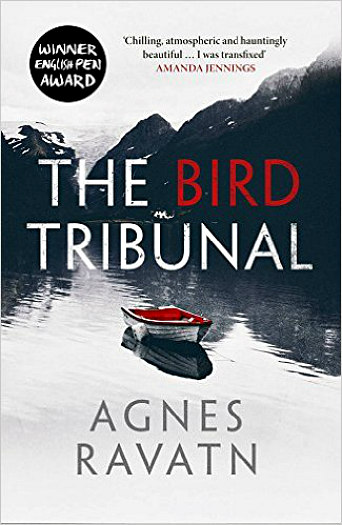 The Bird Tribunal by Agnes Ravatn
Publisher: Orenda Books
Release Date: July 30, 2016 (Kindle), January 1, 2017 (Paperback)
Length: 192 pages
Buy on Amazon
Single Sentence Summary: When Allis Hagtorn takes a position as Sigurd Bagge's housekeeper/gardener both are hiding secrets and nothing is quite as it seems.
Primary Characters: Allis Hagtorn – a former TV presenter in her 30's who has fled her life to live in relative isolation on a remote fjord. Sigurd Bagge – an odd man in his 40's who hires Allis to work in his home while his wife is away.
Synopsis: At the start of The Bird Tribunal, Allis Hagtorn has fled her life in the public eye. A TV presenter, Allis was involved in a scandal that ended both her marriage and her career. Wanting little more than anonymity, Allis takes a job she is supremely unqualified for, that of a housekeeper and gardener. Feeling as if she has no other options, Allis is determined to succeed even when the man she works for, Sigurd Bagge, turns out to be very strange indeed. He won't look her in the eye, has very strict requirements for how meals should be served, and disappears for most of the day into an office she is never allowed to enter. Bagge also has a temper.
"He experiences twice as many moods as the average person, the entire spectrum. I peered cautiously at him, trying to judge from a neutral point if I should leave, if he could hurt me.
You think I'm dangerous he said just as the thought was crossing my mind."
Allis equally fears Bagge and being sent away. In time the two develop a tenuous connection, enough for each to know that the other has secrets worth hiding. Their relationship grows. It takes on obsessive qualities, on both ends.
Review: Originally published in 2013 in Norway, The Bird Tribunal has only this year been published in English. It is a beautifully written, stark portrait of two damaged people. Allis had her life turned upside-down by the shame of a public scandal and is completely unwilling to face the world again. As such, she's willing to put up with a lot from her very strange employer. He scares her with his temper and sudden disappearances, yet those only seem to draw Allis closer to him. While that might sometimes be frustrating to the reader, it adds to the eeriness.
Agnes Ravatn did a fabulous job of developing Bagge, a man with secrets, maybe dark secrets. Even as she reveals pieces of him, we are left with more questions. The further I got into this book, the more often I wondered if this man was sane and just odd, or something much more deviant? The book gets its name from a strange dream Bagge has where he's on trial by a group of birds. At other times, birds play roles that add to the tension of the story, and I thought this was a lovely element. A tale from Norwegian mythology was also used to move the story along with a little less success. While I found the ending of The Bird Tribunal satisfying, I was not surprised by it. Was it a psychological story? Definitely. Was it a psychological thriller? Not really. Is it worth reading? Yes! Grade: B
If you liked this book you might also enjoy:
Disclosure: There are Amazon Affiliate links included within this post.