This post may include Amazon links. As an Amazon Associate I earn from qualifying purchases.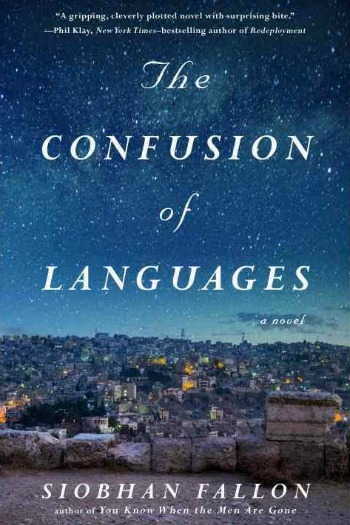 The Confusion of Languages by Siobhan Fallon (debut)
Publisher: G.P. Putnam's Sons
Release Date: June 27, 2017
Length: 336 pages
Buy on Amazon
Single Sentence Summary: Military wives Cassie Hugo and Margaret Brickshaw battle cultural differences, and each other, while living in Jordan during the 2011 Arab Spring.
Primary Characters: Cassie Hugo – Cassie is an experienced military wife. She's lived with her husband in Jordan for two years and knows all the rules. Margaret Brickshaw – Newlywed Margaret arrives in Jordan with her husband, baby and a strong desire to know the land and the people of this new country.
From the Publisher: "….when a fender-bender sends Margaret to the local police station, Cassie reluctantly agrees to watch Margaret's toddler son. But as the hours pass, Cassie's boredom and frustration turn to fear: Why isn't Margaret answering her phone, and why is it taking so long to sort out a routine accident?"
Review: Immediately prior to reading The Confusion of Languages, I had read Daring to Drive by Manal al-Sharif, and I'm so glad it worked out that way. Al-Sharif's arrest for driving happened in May of 2011, the same month in which this book is set, and also the year of the Arab Spring. Both books referenced events happening in Tunisia, Egypt, Libya, and more. Daring to Drive provided a lot of context for that era, especially for the expectations placed on women in the Muslim world.
But, expectations can be a difficult thing. Cassie, acting as a mentor to the newly arrived Margaret, expected her to be a willing student. Margaret expected to enjoy her first time in a new country. She wanted to explore the land.
"I told myself that Margaret was ignorant of all these rules, but she'd learn them the way we all do, over time, and of course with my help. I would guide her. Obviously, I had a lot of work to do. I hadn't yet realized Margaret would cling to her ignorance. Delight in it."
The women were immediately at odds with each other, and yet, they struggled on. Each had stories they hid from the other, but as a tenuous friendship took hold some secrets were told.
Siobhan Fallon set The Confusion of Languages in a single day. A day in which Margaret has gone missing leaving Cassie to care for her young son. As Cassie waits her anxiety rises. When she finds Margaret's journal, the secrets Margaret hid are far worse than she'd imagined. Fallon used Margaret's journal to move the story. It enabled us to know both women: through Margaret's writing, and the memories each entry provoked in Cassie. The play between the two was perfectly done, as was the setting. The Embassy/expat community in Jordan was so well developed, I felt like I could step right into it. Fallon clearly knows the culture about which she writes. (She was living in Jordan in 2011.)
Overall, the story was a little slow to build, though I wasn't much bothered by it. What did bother me was Margaret. She was supposed to be young and naïve, but for me that went too far. It was hard for me to buy into some of the choices Margaret made while in Jordan. I have a difficult time imagining a military wife (even a new wife) not being able or willing to see the consequences of her own actions. This was key to the story, but I wish somehow it could have been less. I still very much enjoyed The Confusion of Languages for its focus on both female friendship and culture. Grade: B
If you liked this book you might also enjoy:
Daring to Drive by Manal al-Sharif – Also happening during the Arab Spring, this is the true story of a Saudi woman arrested for daring to drive. (my review)
In the Kingdom of Men by Kim Barnes – The story of an American woman frustrated with the rules of culture in 1960's Saudi Arabia.
Note: I received a copy of this book from the publisher (via NetGalley) in exchange for my honest review.
Disclosure: There are Amazon Associate links included within this post.