This post may include Amazon links. As an Amazon Associate I earn from qualifying purchases.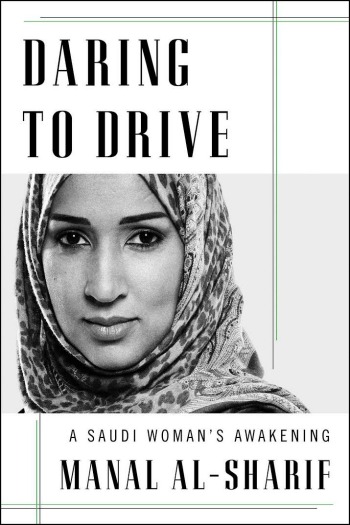 Daring to Drive by Manal al-Sharif
Publisher: Simon & Schuster
Audio Narrator: Lameece Issaq
Release Date: June 13, 2017
Length: 304 pages
Buy on Amazon
Single Sentence Summary: In the spring of 2011, Manal al-Sharif was arrested for driving in Saudi Arabia, but her courageous story began long before that day.
From the Publisher: Daring to Drive is the fiercely intimate memoir of an accidental activist, a powerfully vivid story of a young Muslim woman who stood up to a kingdom of men – and won. Writing on the cusp of history, Manal offers a rare glimpse into the lives of women in Saudi Arabia today. Her memoir is a remarkable celebration of resilience in the face of tyranny, the extraordinary power of education and female solidarity, and the difficulties, absurdities, and joys of making your voice heard.
Review: In the opening chapter of Daring to Drive Manal al-Sharif is taken from her home in the middle of the night for having dared to drive the previous day. The promise of a brief visit to the police station fails to be realized. Before the day is over, Manal finds herself in Dammam women's prison; a prison where many of the inmates' crimes amount to little more than being poor, or failing to meet the stringent expectations placed on their sex. But this is not the beginning of Manal's story. It actually began 32 years earlier when Manal was born female in Saudi Arabia.
The full title of this memoir is Daring to Drive: A Saudi Woman's Awakening and that second part of the title is every bit as noteworthy as the first. While listening to the story of Manal's life, I had to work at adjusting the lens from which I saw it. Manal shared her life openly, without judgment or recrimination. I naturally bristle when seeing women marginalized, but Manal made clear that much of what we might judge harshly is part of her culture. It was difficult not to cringe at beatings, not to ache for girls being treated unequally, not to rail against women forced to always defer to men, yet this is the life of Saudi women. Manal also made clear that the Saudi culture is evolving – slowly, but evolving.
As Manal's life unfolded, I was struck over and over by the power of education. School had a huge impact on Manal's life. It was the one place where she always excelled. She took her lessons very seriously, including those in Islam. For a time, Manal became radicalized – rigidly so.
"After 1979, after the siege of the Grand Mosque in Mecca, my generation was brainwashed. In school we were taught to go home and lecture our parents about prayer and sins, most of which involved the behavior of women."
She was devout in following the strictest interpretations of Islam and was vigilant in seeing to it that those around her did, too. Despite her faith which would typically have her marrying very young, Manal wanted a college education and her mother saw to it that she got one. College planted the seeds of discontent that would eventually turn Manal into a powerful voice for women in Saudi Arabia. Manal's education continued when she went to work for Aramco, a large Saudi oil company employing many expats. It was on the Aramco compound where she first learned to drive.
As Manal's story comes full circle it returns to where Daring to Drive began, at Dammam women's prison. There, Manal moves from being a social media phenomenon to an advocate for the women of Saudi Arabia. Manal al-Sharif is a strong woman who didn't set out to be an activist, but simply wanted to be granted the privilege of driving. When you read her story you cannot help but admire her. She made me proud to be a woman. Daring to Drive is definitely my favorite nonfiction this year, and the audio was amazing. Grade: A
If you liked this book you might also enjoy:
Born a Crime by Trevor Noah – Like al-Sharif, Noah was born into a culture where he was devalued simply for who he was at birth. (my review)
Finding Nouf by Zoe Ferraris – This psychological thriller delves into culture while investigating the death of a 16-year old Saudi teen.
In the Kingdom of Men by Kim Barnes – Taking place in 1967, this book tells of a young American woman fighting the "rules" while living on a company compound in Saudi Arabia. (Later Aramco?)
Disclosure: There are Amazon Associate links included within this post.