This post may include Amazon links. As an Amazon Associate I earn from qualifying purchases.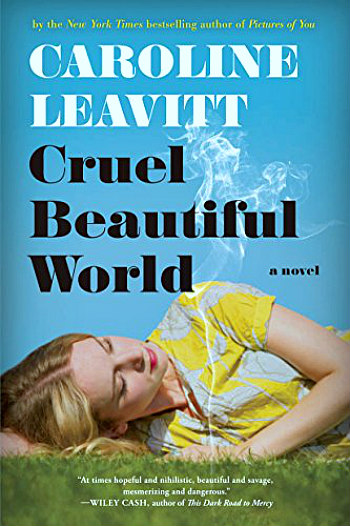 Cruel Beautiful World by Caroline Leavitt
Publisher: Algonquin Books
Release Date: September 19, 2016
Length: 369 pages
Buy on Amazon
Single Sentence Summary: Sixteen year old Lucy chooses to runaway with her high school English teacher, leaving her older sister and mother devastated and bewildered.
Primary Characters: Lucy – a 16-year old who thinks she's in love with her hip high school English teacher and decides to make a life with him. Lucy has a lot of personality, but has never been much of a student. Charlotte – Lucy's 18-year old, more sensible sister. Charlotte has been the better student and Lucy's protector. Iris – the woman who raised and eventually adopted Lucy and Charlotte after their parents were killed in a fire. Iris is in her late 70's.
Synopsis: Cruel Beautiful World by Caroline Leavitt begins in 1969, on the last day of school in a suburb of Boston. Sisters, Lucy and Charlotte, have very different plans for the summer. Older sister, Charlotte, is planning to get ready for her freshman year in college, while Lucy has planned to runaway leaving only a vague note for her sister and mother. Lucy and Charlotte had always been very close, but over the last year or so, as they grew older, some of that bond had weakened and Lucy turned more and more to her high school English teacher, William. He is relatively young, good looking, and most of all very attentive toward Lucy. William has taken a new teaching job in rural Pennsylvania (after being fired from his current position) and convinces Lucy that the only way they can be together is for her to join him and keep it from everyone. Lucy agrees. Charlotte and Iris do as much as they can to try and find Lucy, but neither they nor the police have any luck.
Living on an isolated stretch of road, in a rundown house, in the middle of nowhere with only chickens for company does not turn out to be nearly the adventure Lucy thought it would be. At first, living with William seems wonderful, but even that starts to wear thin with nothing to fill Lucy's days. Add to that William's growing discontent with life and unreasonable fears of Lucy talking to or meeting anyone, and Lucy begins to realize she may have made a huge mistake. She turns to writing stories in her journal, and eventually explores the area, while hiding everything she does from William. Finally, Lucy turns to Charlotte for help, but Charlotte is feeling hurt and angry that Lucy so cavalierly abandoned her family.
Review: When I picked up Cruel Beautiful World, I had read several books in a row that were challenging to me for different reasons. I was looking for something lighter that would be a quick read. On that front Cruel Beautiful World really delivered, and I was happy enough with that initially. But, I was also looking for something that I would thoroughly enjoy and that would make a lasting impact. This is where the book fell short for me.
I liked certain elements of the story very much. For example, it was played against the backdrop of current events in 1969-1970. This included the Kent State riots, the Vietnam War protests, and the Charles Manson murders. That leant and air of authenticity to Lucy's part of the story. I liked the storyline of a side character, Patrick, and how his part of the story was resolved. I liked less some of the elements central to the story of Lucy, Charlotte and Iris. Early on we learn that even though there were sixty years between Iris and the two girls, she is really their half-sister. While not impossible, this seemed too contrived to me, as did other parts of the story having to do with Iris. Of the three female characters, I liked Charlotte the most, but parts of her backstory were also hard to buy into. I know that many people would really enjoy Cruel Beautiful World for the light, easy read that it is. Some of my friends accuse me of too often going for the heavier books. So, this one's for you! Grade: C
If you liked this book you might also enjoy:
Disclosure: There are Amazon Affiliate links included within this post.