This post may include Amazon links. As an Amazon Associate I earn from qualifying purchases.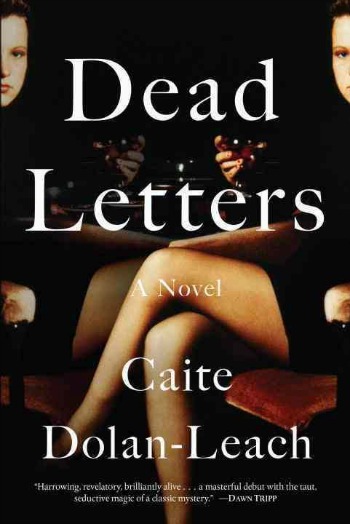 Dead Letters by Caite Dolan Leach (debut)
Publisher: Random House
Release Date: February 21, 2017
Length: 353 pages
Buy on Amazon
Single Sentence Summary: When Ava gets word that her estranged twin is dead, her grief is quickly tempered with doubt.
Primary Characters: Ava Antipova – The younger twin sister. Ava was the good girl, the smart twin, the one who did what was expected of her. Zelda Antipova – The firstborn twin. Zelda was the free-spirit, the wild girl, the fun twin. Both changed!
Synopsis: Raised in a family of utter dysfunction, Ava Antipova fled to Paris after a betrayal too devastating to live with. Two years later she's summoned home with the news that her twin, Zelda, has died in a horrible fire. From the moment she hears the news, Ava has doubts. Zelda was the wild twin and the ultimate game player. Could this be another of her games? Zelda's own version of escape? Ava has no choice, but to return to her family vineyard in search of answers.
"Death by fire was the right death for visionaries and madwomen, and Zelda was both. My dark double.
But then, because I know my sister, I read between the lines.
The whole thing was so Zelda. Too Zelda."
Review: In Dead Letters, Caite Dolan-Leach has created a dysfunctional family to rival all other! She then plopped them down in the middle of an upstate New York vineyard and let the fun begin. At the heart were Ava and Zelda, twins who grew up incredibly close despite their many differences. They had to depend on each other since their parents were only parents in the most loose sense. Both were alcoholics: their mother mercurial and unpredictable, their father loving and fun, until he wasn't. Their home was a battleground between two opposing forces.
"By the time we were born, the reality of the vineyard's disappointing prospects was becoming clearer, and our parents were just beginning to swat nastily at each other, like house cats cooped up too long indoors."
The twins didn't escape the family love of wine, other spirits and pills. This was a crazy family of alcoholics with a failing vineyard and early onset dementia thrown in on the side! Dolan-Leach beautifully set the groundwork for all sorts of drama with the Antipovas.
As I read Dead Letters, I had the sense of it being a modern take on an old-fashioned style mystery. It brought to mind great mysteries of the past like Agatha Christie's Death on the Nile and Daphne du Maurier's Rebecca. True, the story was rooted firmly in today, but it had that twisty feel that older mystery writers were so great at achieving. There was no horrific villain lurking in the grapevines, no dreaded disease about to send a plague out into the community, and no serial killer offing the local alcoholic population. Instead, Dead Letter, was a carefully constructed story that relied on the powerful twin connection shared by Ava and Zelda and on the systematic unfolding of a well laid out plan that left me guessing for much of the book. At times, I thought I knew where the story was going and just as often I was wrong. If you're a fan of mysteries, Dead Letters is a must read, and if you're not, you really should read Dead Letters anyway. It's a FUN change of pace! Grade: B+
If you liked this book you might also enjoy:
The Steady Running of the Hour by Justin Go – Like Ava, the protagonist in this mystery must unravel some family secrets.
The Expats by Chris Pavone – Ava doubted Zelda and in this Kate, an ex-CIA agent living in Luxomberg, begins to doubt everyone around her including her husband.
The Good Girl – Mary Kubica – Like Dead Letters, Kubica's book will have you changing your mind with every page you read.
Disclosure: There are Amazon Associate links included within this post.