This post may include Amazon links. As an Amazon Associate I earn from qualifying purchases.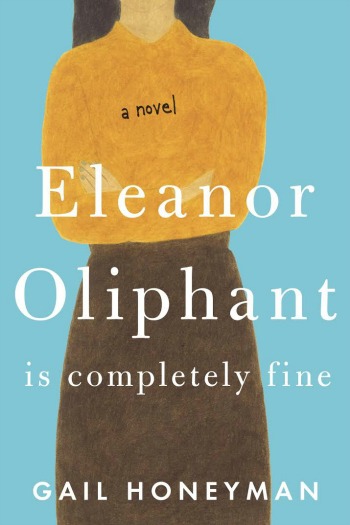 Eleanor Oliphant is Completely Fine by Gail Honeyman (debut)
Publisher: Pamela Dorman Books
Audio: Penguin Audio
Narrator: Cathleen McCarron
Release Date: May 9, 2017
Length: 336 pages
Buy on Amazon
Single Sentence Summary: Eleanor Oliphant believes her carefully constructed, solitary life is completely fine until the kindness of strangers forces her to reconsider.
Primary Characters: Eleanor – When first encountering 30-year old Eleanor you may think her on the autism spectrum, but soon it's clear that her oddness, her eccentricities arise from something much darker. Raymond – Raymond is a very kind, patient man who works in IT at the same office as Eleanor.
From the Publisher: "Meet Eleanor Oliphant: She struggles with appropriate social skills and tends to say exactly what she's thinking. Nothing is missing in her carefully timetabled life of avoiding social interactions, where weekends are punctuated by frozen pizza, vodka, and phone chats with Mummy…. Smart, warm, uplifting, Eleanor Oliphant is Completely Fine is the story of an out-of-the-ordinary heroine whose deadpan weirdness and unconscious wit make for an irresistible journey…"
Review: Every once in awhile, I fall really hard for a character in a book. It can be a serious problem, because I miss him or her so terribly when the book is done. Eleanor Oliphant, the heroine of Gail Honeyman's impressive debut, is just such a character. I listened to Eleanor Oliphant is Completely Fine on audio and I'm more than willing to concede that the outstanding narration by Cathleen McCarron accounts for a large portion of my infatuation with this book. Honeyman's novel is told in first person, so the voice of the narrator IS Eleanor and everything about McCarron's performance was perfection.
But, the story of Eleanor Oliphant is also extraordinary. She is as odd a character as you'll ever meet. Always very proper, often critical of others, and so extremely socially awkward, I thought at first she might have Asperger's Syndrome.
"I pondered what else I should take for him. Flowers seemed wrong; they're a love token, after all. I looked in the fridge and popped a packet of cheese slices into the bag. All men like cheese." 
She didn't. It quickly becomes clear that something horrible in Eleanor's childhood landed her in foster care, where she was never able to flourish. In her adult life, Eleanor had simply existed: working Monday through Friday, talking to "Mummy" every Wednesday, and spending the weekends with her pal, vodka. She looked with disdain on the way almost everyone else lived their lives. Always completely polite, Eleanor kept her opinions of others largely to herself, but in her thoughts she was critical. Harshly so. She knew others thought her odd and talked about her behind her back. That hurt. Eleanor had never known the pleasures of friendship, had in fact shunned the very idea. That began to change when a chance encounter brought two men, Raymond and Sammy, into her life in ways she couldn't escape.
"It turned out that if you saw the same person with some degree of regularity, then the conversation was immediately pleasant and comfortable. You could pick up where you left off, as it were, rather than having to start afresh each time."
Over the course of the book, Gail Honeyman treats the reader to a moving metamorphosis in Eleanor. Her writing of this character was brilliant. She made me laugh and she made me cry, and most of all she left me wanting more. I consider Eleanor Oliphant is Completely Fine a MUST read. It will definitely be one of my top books this year. Grade: A
If you liked this book you might also enjoy:
A Man Called Ove by Fredrik Backman – Eleanor's personality and quirks reminded me very much of another literary curmudgeon, Ove.
The Solitude of Prime Numbers by Paolo Giordano – This Italian novel follows two damaged people as they become friends and struggle to not be so alone.
Heft by Liz Moore – Heft is also a very character driven novel, with a 500 pound recluse trying to help the teenage son after a friend's suicide.
Disclosure: There are Amazon Associate links included within this post.