This post may include Amazon links. As an Amazon Associate I earn from qualifying purchases.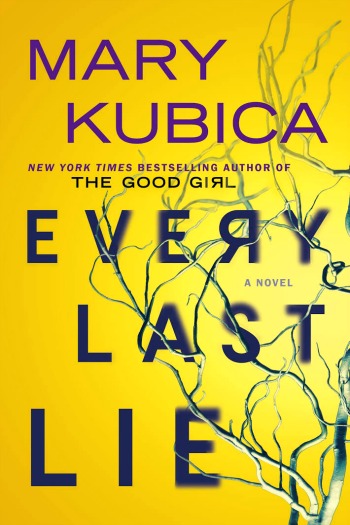 Every Last Lie by Mary Kubica
Publisher: Park Row Books
Release Date: June 27, 2017
Length: 336 pages
Buy on Amazon
Single Sentence Summary: Days after giving birth to her second child, Clara Solberg loses her husband in a tragic car crash that she soon begins to suspect might not have been an accident, after all.
Primary Characters: Clara Solberg – Mom. Wife. Widow. Clara is battling grief and confusion in a haze of post-partum hormones. Nick Solberg – Clara's deceased husband whose perspective half the story is told from.
From the Publisher: Clara Solberg's world shatters when her husband and their four-year-old daughter are in a car crash, killing Nick while Maisie is remarkably unharmed. The crash is ruled an accident…until the coming days, when Maisie starts having night terrors that make Clara question what really happened on that fateful afternoon…. Clara will stop at nothing to find out—and the truth is only the beginning of this twisted tale of secrets and deceit. 
Review: I was a big fan of Mary Kubica's first novel, The Good Girl and so was eagerly looking forward to Every Last Lie. Her latest psychological thriller starts out with a crushing premise. A young mother in the heady, but exhausting days just after bringing her second child home from the hospital, answers a knock at her door to find a police officer standing there. His words, "There's been an accident," forever change Clara Solberg's life. Her husband, Nick, with their 4-year old Maisie in the backseat and traveling well over the speed limit, crashed into a tree, ending his own life, but leaving Maisie largely unharmed. Soon after, Maisie begins experiencing nightmares and talks of "the man who was after us" and fears that "he came back." This sends Clara, who is already in denial, even further down that path.
Kubica unfolds her story from alternating perspectives, Clara after the accident and Nick in the months leading up to it. I tend to be a fan of the dual perspective approach, and liked it in Every Last Lie. Nick's story from the past served to enlighten Clara's investigation into what actually happened to her husband and daughter. The two sides fit together very nicely, maybe too nicely. I breezed through the book, but found its flaws to be difficult to overlook.
There were too many unanswered questions that didn't have that much to do with the outcome, but still, I kept wondering about. Why didn't Nick's mother like Clara? Why didn't Clara's father like Nick? Didn't Clara have any friends around in the town she grew up in? Or, if so, where were they in this horrible time? Why was Clara so willing to let Nick handle everything that had anything to do with money in their lives? This is 2017.
There were also too many things that just didn't add up for me. For example, Nick and his belief in "no secrets," keeping so many secrets. Maisie didn't seem like a realistic 4-year old to me. The whole character of Connor. Clara's theories bouncing around like a ping-pong ball.
"The words ricochet back and forth in my mind – murder, suicide, murder, suicide – like a tennis ball alternating over a net, and each time I think I've got it figured out, someone swats it with a backhand stroke, making my thoughts – and with it, my sanity – bounce back."
Me, too! The pieces all fit together, but the picture they created was incomplete. I'm sorry to say that Every Last Lie just wasn't psychological or thriller enough for me. Grade: C
If you liked this book you might also enjoy:
The Good Girl by Mary Kubica – If you're only going to read one book by Mary Kubica this summer, read The Good Girl – Excellent!
Based on a True Story by Delphine de Vigan – A definite novel that will keep you guessing throughout – very psychological! (my review)
Note: I received a copy of this book from the publisher (via NetGalley) in exchange for my honest review.
Disclosure: There are Amazon Associate links included within this post.