This post may include Amazon links. As an Amazon Associate I earn from qualifying purchases.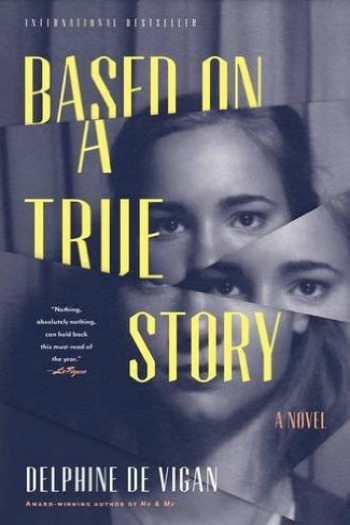 Based on a True Story by Delphine de Vigan
Publisher: Bloomsbury USA
Release Date: May 9, 2017
Length: 384 pages
Buy on Amazon
Single Sentence Summary: A best-selling writer meets a woman, much like herself, who challenges everything she believes about writing and reality.
Primary Characters: Delphine – A very successful French writer, coming off her most popular book yet. Delphine's life is in flux. Her children are soon headed to college and her writing is increasingly blocked. L. – An elegant, sophisticated woman Delphine meets at a party. L. quickly becomes a fixture in Delphine's life, and in her work.
Synopsis: When Delphine meets L. the timing couldn't be better. She's exhausted and overwhelmed by the success of her latest novel, an intimate portrait of her mother's bipolar disorder. As the friendship blossoms, Delphine finds herself increasingly drawn to L., who embodies the ease and sophistication Delphine feels she lacks. Within weeks L. is a fixture in Delphine's daily life. She offers friendship, assistance, and advice. Very strong advice. L.'s thoughts about where Delphine's next book should go are specific and insistent. As L. carves a bigger and bigger role in Delphine's world, her influence threatens to undermine Delphine's career and her life.
Review: Based on a True Story by Delphine de Vigan is a story that will get in your head and NOT let go! She masterfully blurred the lines between fiction and reality. It's impossible to read de Vigan's book without constantly questioning everything about her story, starting with how much of it is based on her real life. The writer in Based on a True Story is also named Delphine. Each wrote a novel that blurred the lines between fiction and autobiography, earning legions of devoted fans. Both the real and the fictional Delphine have two children and a partner named Francois. The story is told in first person. Who is actually narrating? Is it Delphine the real life French writer, or is it Delphine the character? When asked if there was an L. in her life, de Vigan has answered, "In one form or another." It's the question of what that form was that that makes this book impossible to forget.
L. enters Delphine's life when she's at vulnerable time. Delphine's latest book has been wildly successful, but with that come questions she's not willing to answer. Her twins have finished their baccalauréat, and are moving out and on to higher education. Her boyfriend is gone for long stretches for his own work. It's time to start on a new book, but she delays and delays. L. seems to be the answer for so many of Delphine's needs. She's a companion, a confidante, a cheerleader. But, with all that come L.'s opinions, most strongly her opinions on what Delphine should be writing. Truth is what matters to L. She demands it of Delphine's writing, making Delphine all the more powerless to put words to paper.
L. makes Delphine uncomfortable, and yet she's drawn to her. Theirs is an insidious relationship, that moves from subtly dangerous to out and out menacing. Delphine (the character) looks back, telling the story of L., and how L. hijacked her life.
"Given the disorder that she created in my life, it's important for me to identify what made L.'s hold on me possible, and probably mine on L."
"L. exerted a gentle hold over me, intimate and troubling, the cause and extent of which I was unaware of."
"It wasn't enough for L. just to ask questions; she also suggested answers."
Not wanting to give too much away, let me simply tell you that I loved Based on a True Story. When I read the last page, I was unsure of my feelings, but over the next few days my pleasure with this book grew. I thought about it often, and still have questions. I'd love to talk to Delphine de Vigan. I want to know her! She's a master of her craft, seamlessly blurring the lines between real and imagined. If you need a book that's neat and tidy, Based on a True Story probably isn't for you, but for everyone else, this is a book you NEED to read. Book club talks could go on FOREVER! Grade: A
If you liked this book you might also enjoy:
The Bird Tribunal by Agnes Ravatn – Another book with only two real characters that will constantly have you wondering, "What's really going on?" (My review here.)
Loner by Teddy Wayne – A nerdy Harvard freshman's infatuation with a girl way out of his league turns to obsession. (My review here.)
Sister by Rosamund Lupton – A young woman tries to prove that her sister did not commit suicide in a book that will have you guessing until the very end!
Note: I received a copy of this book from the publisher (via NetGalley) in exchange for my honest review.
Disclosure: There are Amazon Associate links included within this post.