This post may include Amazon links. As an Amazon Associate I earn from qualifying purchases.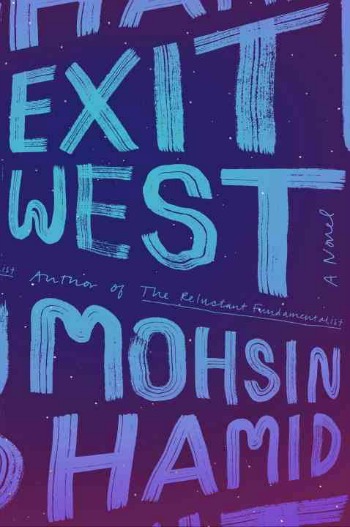 Exit West by Mohsin Hamid
Publisher: Riverhead Books
Release Date: March 7, 2017
Length: 240 pages
Audio Narrator: Mohsin Hamid
Buy on Amazon
Single Sentence Summary: As warring factions tear their country apart, a young couple meets, falls in love, and makes the difficult decision to leave their homeland.
Primary Characters: Nadia – An unusually independent young woman. Nadia lives on her own and rides a motorcycle. Not at all religious, she wears a burka robe to dissuade unwanted advances. Saeed – A gentle man who loves his parents, his homeland, and Nadia.
Synopsis: It's a story that happens all too often. A country is at war with itself. Militants and the military begin battling in the streets; cities are bombed, innocent people die. Amidst this backdrop, Nadia and Saeed meet and begin a tentative relationship. With the fighting becoming more and more dangerous, Saeed and Nadia become closer, living more intimately than they might have had their world been peaceful. It becomes clear that the danger is too close. If they stay they may not survive, and then they begin to hear talk of doors. Doors. Doors that can take you to another place, a safer place.
Review: WOW! Exit West by Mohsin Hamid is brilliant. I wasn't sure what to expect, knowing that the book involved some magical realism, which I don't tend to like. However, I could not have been more wrong. The doors, transports, were that magical element in this otherwise realistic story. They actually turned out to be a beautiful literary device because the movement of people via these doors also seamlessly moved the story. At its core, Exit West was a book about refugees, immigrants. The doors were a quick way of transporting people without bogging the story down with hundreds of pages about their journeys. I loved the doors.
I actually listened to Exit West on audio where it is magnificently narrated by the author, making it a little hard to separate writing from narration. In this case the two are almost one in the same, both lyrical, compelling, and so authentic. From the first words, I knew this book was going to be special.
"In a city swollen by refugees but still mostly at peace, or at least not yet openly at war, a young man met a young woman in a classroom and did not speak to her. For many days."
In Nadia and Saeed, Hamid delivered characters who you knew intimately, but who also were representative of the larger refugee population. They all were forced into new places, living with strangers, struggling to find enough food, and often being harassed by "nativists." On the surface Exit West is a wonderful story of love and evolution between two people under extraordinary circumstances; but, at its heart Exit West is a study of the world at large and the capacity of its citizens to accept, to welcome and to assimilate immigrants into their own homelands. In that it's a timely story of what the world could be.
Exit West is a book everyone should read. It will leave you feeling hopeful and enriched. The audio version was outstanding. Hamid has a lovely lilt to his voice that was extremely pleasant to listen to. His pace and inflections were perfect. Any way you experience it: print, e-reader, or audio, you'll be glad you read Exit West. Grade: A
If you liked this book you might also enjoy:
When the Moon is Low by Nadia Hashimi – Like Nadia and Saeed, Feribia and her children must flee their homeland and search for a new home in Europe.
The Book of Unknown Americans by Christina Henriquez – This is also a story of assimilation. In it a group of immigrants tries to find their way in America.
Girl at War by Sarah Novic – As war ravages her country, a young girl must learn to survive. Ten years later, living in Manhattan, Ana is still haunted by the war that tore her country apart.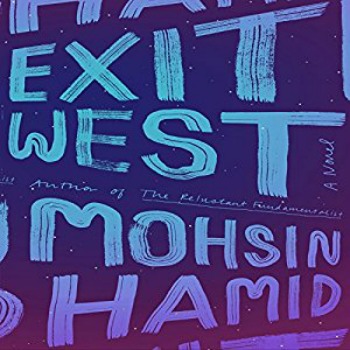 Exit West – Audio Version
Disclosure: There are Amazon Associate links included within this post.