This post may include Amazon links. As an Amazon Associate I earn from qualifying purchases.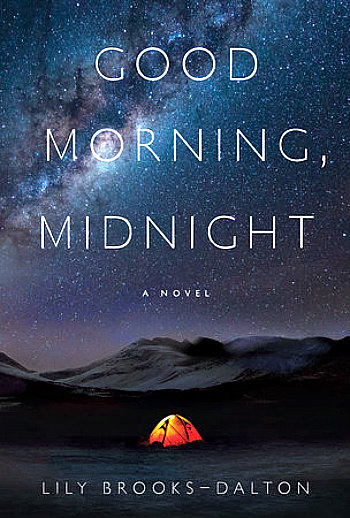 Good Morning, Midnight by Lily Brooks-Dalton (debut)
Publisher: Random House
Release Date: August 9, 2016
Length: 292 pages
Buy on Amazon
Single Sentence Summary: Six astronauts returning from Jupiter and a lone astronomer at the Arctic Circle find they may be the only people left in this solar system.
Primary Characters: Augustine – a 78-year old astronomer who has spent his entire life dedicated to his research and little else. Sully – one of two women crew members returning to Earth from a mission exploring Jupiter's moons. Iris – an 8-year old girl found at the Arctic Circle observatory shortly after it was evacuated.
Synopsis: When the rest of the scientists at the Barbeau Observatory are evacuated because of "something catastrophic in the outside world," 78-year old astronomer, Augustine, refuses to leave. Days later, he finds young Iris in one of the abandoned dormitories. Though Augie has always had a single-minded focus on his life's work, he now faces caring for a child as well. Part of this responsibility means trying to make contact with the outside world, a task he has little success at. Also suddenly unable to make contact with anyone on Earth are Sully and the rest of the crew aboard the Aether spacecraft. These six astronauts are only part of the way back from the first exploration of Jupiter's moons.
Review: Reading the publisher's description of Lily Brooks-Dalton's first novel, Good Morning, Midnight, got me off to a bit of a rough start. It implies similarities to Station Eleven by Emily St. John Mandel, a book I was captivated by. I found the two novels to have little in common. While strictly speaking both are post-apocalyptical novels, the former was the world "after" the event and Good Morning, Midnight is not. Its focus is on a handful of survivors who have no idea what they might be facing. If I were to select a novel that Good Morning, Midnight reminds me of I would pick The Martian by Andy Weir. The similarities even bothered me a little in the first third of the book, but then Good Morning, Midnight took off to become its own fast-paced, emotionally-charged story and from there I thoroughly enjoyed it.
The two storylines in Good Morning, Midnight were each, on their own, both interesting and satisfying. When the two stories overlapped it was beautiful and poetic. Lily Brooks Dalton delivered great depth in her main characters and skillfully built the story around them. Sully was a scientist through and through and in many ways had been since her childhood, but the author gave us more than a glimpse of the price Sully paid for her career choices. In Augustine, Brooks Dalton presented a character that became more and more endearing as the story progressed. In reference to Iris, the description of Augustine is touching:
"He wanted something different for her – connection, love, community. He didn't want to go on
making excuses for his inability to give her anything but the same emptiness he'd given himself."
I had tremendous affection for all of the characters and find myself still wondering about some of them. As I write this review, I find myself thinking that this is one of the few novels for which I would enjoy a sequel. So, Ms. Brooks Dalton, shall we see one? Grade: A-
If you liked this book you might also enjoy:
Disclosure: There are Amazon Affiliate links included within this post.