This post may include Amazon links. As an Amazon Associate I earn from qualifying purchases.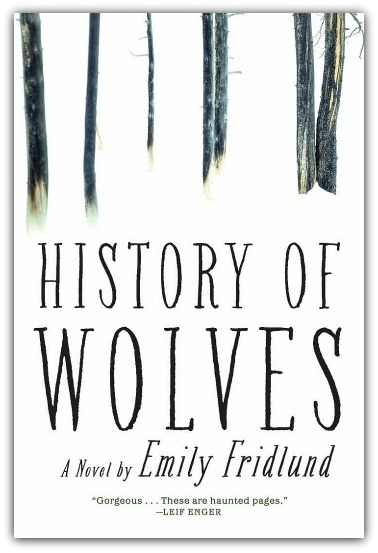 History of Wolves by Emily Fridlund (debut)
Publisher: Atlantic Monthly Press
Release Date: January 3, 2017
Length: 288 pages
Buy on Amazon
Single Sentence Summary: Fourteen-year-old Linda lives a lonely existence at home and at school, so when a young family moves in nearby and welcomes her into their home Linda is ready to hold their secrets.
Primary Characters: Linda – (actually Madeline, "but at school called Linda or Commie or Freak.") Linda is 14/15 and leads a solitary life with her fading hippie parents at an abandoned commune in the woods of Northern Minnesota. The Gardners – a family of three, mother, father and 4-year old son, who move in across the lake from Linda.
Synopsis: Linda was born on a commune in Northern Minnesota. The commune disintegrated when she was young, leaving only Linda and her parents living among the ramshackle cabins. Their home, miles from town, isolates Linda in many way both physical and emotional. Her parents leave Linda largely to herself. She is a girl ripe for any sort of attention or friendship. Early in the story Linda makes a connection with her history teacher only to lose it to another student, Lily. When the teacher is later accused of possessing child pornography, Linda is deeply affected. She becomes obsessed with Lily.
Relief comes in the form of a young family moving in just across the lake from Linda. The Gardners look to be the ideal family: loving, laughing, slathering attention on their son. With the dad away for work, Linda becomes a sort of friend to his wife, Patra, and babysitter to his son, Paul. Over the spring, Linda spends a lot of time with the Gardners. The family, and Patra in particular, both fascinate and worry her. She wants to be a part of what they are while sensing that something is not quite right. The choices everyone makes over that short time period haunt Linda and leave her trying to make sense of her world and theirs.
Review: History of Wolves is a coming-of-age story that has much going for it, starting with Emily Fridlund's powerful and often beautiful writing.
"Winter collapsed on us that year. It knelt down, exhausted, and stayed."
 Her descriptions of both settings and characters are exquisite.
"Without saying a word, Lily could make people feel encouraged, blessed. She had dimples on her cheeks, nipples that flashed like signs from God through her sweater. I was flat-chested, plain as a banister. I made people feel judged."
The author tells the story of Linda's youth, from the distance and insight of the character's 37-year-old self. The distance gives perspective on the events of the spring with the Gardners as well as the year leading up to it. Linda, as an adult, tries to make sense of the choices she made as a teen. Yet even as an adult, her choices are still driven by the girl she was at 15. I found myself aching for the teenage Linda, but much less sympathetic to the adult. I wanted the adult Linda to better understand the child, and the adult to be allowed to move past that spring.
For me, the real flaw in History of Wolves was that it meandered. There were too many odd pieces that weren't clearly tied together and the story bounced around those pieces almost indiscriminately. In the midst of the Gardner story, it would move to Linda as an adult, to her fascination with Lily, or to her near obsession with her high school history teacher. The connection between all these parts was not clear. If the narrator had been 14-year-old Linda, that would have played out better, made more sense, but I found it frustrating in a 37-year-old narrator. Grade: C+
If you liked this book you might also enjoy:
Note: I received a copy of this book from the publisher (via NetGalley) in exchange for my honest review.
Disclosure: Amazon Affiliate links are included within this post.