This post may include Amazon links. As an Amazon Associate I earn from qualifying purchases.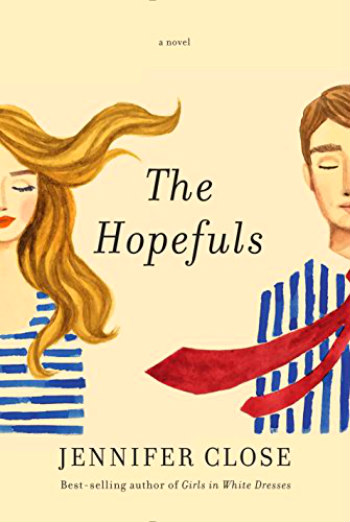 The Hopefuls by Jennifer Close
Publisher: Knopf
Release Date: July 19, 2016
Length: 320 pages
Buy on Amazon
Single Sentence Summary: Two young couples navigate careers, relationships, and political ambitions as they tackle Washington DC under the excitement and energy of the new Obama administration.
Primary Characters: Beth Kelly – the funny, wry narrator of the story. Beth, a writer, has come to Washington DC following her husband and his new job. Matt Kelly – Beth's smart, kind husband who took a job in the White House Counsel Office after working on the Obama campaign. Jimmy Dillon – Texan who also worked on the Obama campaign and now works in the White House Travel Office. Ash Dillon – Jimmy's outgoing, fun-loving, Texas beauty queen wife.
Review/Synopsis: You know you're going to enjoy a book when it has you laughing out loud in the first few pages and The Hopefuls did just that! I flew through this witty, sincere novel about two couples, the political ambitions of both husbands, and the toll those ambitions take on all of their relationships. When Beth Kelly arrives in Washington DC in 2009 she's not all that happy about it, but she is, well….hopeful. Beth and her husband, Matt, a man with future political hopes, have a wonderful, supportive, fun relationship. He has landed a job in DC under the new Obama administration and even though Beth would rather be in New York, she'd been laid off from her job at Vanity Fair, so there was really no reason not to come. At first it's a whirlwind of parties and nights at bars meeting people that are part of Matt's world, but not Beth's. There is a sense of excitement, energy, hope, and drive in all the politicos as they take their places in the new administration. One night at yet another DC gathering, Matt introduces Beth to Jimmy Dillon and his wife, Ash. Ash is a woman full of Texas charm and Jimmy is a man with endless charisma and political ambitions of his own. The two couples, though very different, quickly become great friends. They spend evenings together, go to parties together, vacation together, share secrets, and hopes. All is going well until Jimmy starts to rise a little quicker in DC than Matt does. Jimmy's job is more exciting and closer to the president, while Matt feels he's going nowhere. Flash forward to 2013 when Jimmy decides to run for office back in Texas and asks Matt to be his campaign manager. Matt eagerly agrees and with that the worlds of these four friends are about to change in ways none of them could have imagined.
I loved the way that Jennifer Close used Beth to give us an amusing insiders view of life in Washington DC. Having never lived in DC or any environment quite like it, I feel like I now understand the four to eight year cycle of people rotating in and out. This includes not only those high up in the chain of command, but all the thousands of people who work under them. In DC new people are always "flooding in, full of energy and wonder." Beth painted a vivid picture of how exciting and scary that can be. She also gave the reader a serious look at what a political campaign can do to the people involved. I loved Beth, but all the characters in The Hopefuls were well developed, and likable despite their flaws. Though the characters in this book are all diehard Democrats, this isn't a story about politics. It's a story about relationships, with a backdrop of politics. No matter how you're planning on voting this year, you'll enjoy this humorous, personal look at Washington DC and the people who love it there. Grade: A
If you liked this book you might also enjoy:
Disclosure: There are Amazon Affiliate links included within this post.