This post may include Amazon links. As an Amazon Associate I earn from qualifying purchases.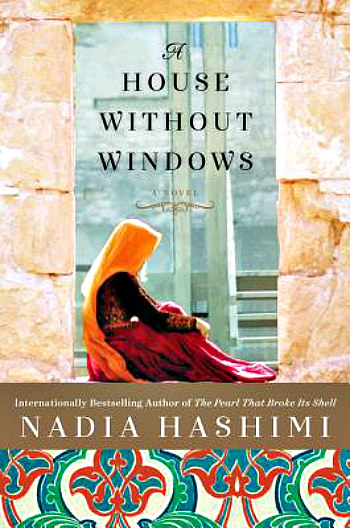 A House Without Windows by Nadia Hashimi
Publisher: William Morrow
Release Date: August 16, 2016
Length: 432 pages
Buy on Amazon
Single Sentence Summary: In a typical Afghan village, a man is found brutally murdered while his dazed wife sits nearby unable to explain why her hands and clothing are covered in his blood.
Primary Characters: Zeba – a traditional Afghan wife, mother and neighbor, until she is found bloodied and sitting near her dead husband's body. Yusaf – Zeba's young, dedicated attorney. Yusuf was born in Afghanistan, but fled with his family as a young child and was educated in America. Gulnaz – Zeba's mother, a woman commonly believed to be a jadugar (sorceress).
Review/Synopsis: I loved Nadia Hashimi's previous novel, When the Moon is Low, so was thrilled when I saw she had a new book. Like all of her novels, this one concerns the plight of Afghan women living in a society where few rights are granted to them. As A House Without Windows begins its main character, Zeba, is in her garden investigating sounds no one would want to hear. Moments later, her son finds Zeba sitting against the garden wall with blood on her hands and clothing, while a few feet away a bloody hatchet is lying next to his father's dead body. As neighbors, her husband's angry family, and police gather at the scene, Zeba has nothing to say in her defense, and she is quickly arrested.
The rest of the novel is about the fight to save Zeba from either a death sentence or life in prison for the crime of murder. This is a fight that Zeba is unwilling to help with. For the most part she refuses to speak in her own defense and will do nothing to explain what happened in the garden that day. Her young American-educated attorney, Yusuf, presents legal arguments and investigates the crime himself, in the hopes of saving a woman whom he believes to be innocent. He learns some lessons along the way about his country, "It was the way things were done here – the land where rumors, hints, and insinuations were as solid as the mountains that contained them." Zeba's mother, Gulnaz, also tries to save Zeba, using her powers as a jadugar and her strengths as a mother.
As the story of Zeba's crime unfolds, so do the stories of many of the other women in Chil Mahtab prison. While there are some accused of horrible crimes like Zeba's, many others are there for far lesser crimes, like running away or zina – sex outside of marriage. Zeba's heart opens to her fellow prisoners and she uses her own jadu (a sort of magical power) as well as prayer to try to help them. Like other women, Zeba feels safe in the walls of Chil Mahtab, "For a house with no windows, Chil Mahtab is not that bad. Sometimes I breathe easier here than I ever did at home." Yet, Zeba desperately longs to be with her children, so why is she unwilling to speak in her own defense?
I thought A House Without Windows was another wonderful story by Nadia Hashimi. It once again brought to light the harsh reality of life for women living in Afghanistan, and also for all people living there longing to see their country come back to the place it once was. Zeba's story was sad, but beautifully told. The characters throughout the book were unique and each added depth to the story. Adding another layer to the story was the author's use of Zeba's love for creating couplets to give the reader some real pearls to think about. I leave you with one:
"What good is a woman's telling of truth
When nothing she says will be taken as proof?"
Grade: A-
If you liked this book you might also enjoy:
Disclosure: There are Amazon Affiliate links included within this post.