This post may include Amazon links. As an Amazon Associate I earn from qualifying purchases.
A review of Amazon's latest e-reader, Kindle Oasis.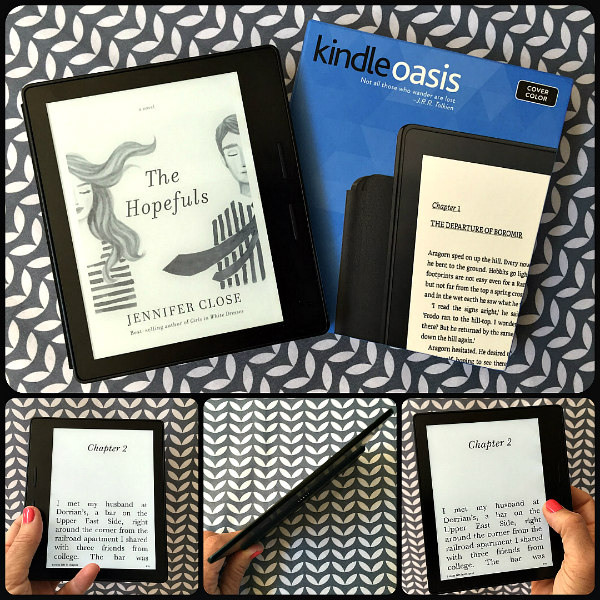 I'm going to start by saying (with no shame) that I am a committed e-reader fan. I've been reading on a Kindle of one sort or another for six years. I resisted getting a Kindle for a long, long time. I'm a bookworm and bookworms read books! I wanted the heft of a book in my hand, the scent and texture of the paper. I loved trading books with friends. How could I give all that up? My two sons felt the need to weigh in and were constantly pushing me to make the move until finally, I took the leap.
From the first book I ever read on a Kindle, A Gate at the Stairs by Lorrie Moore, I was a convert. You might wonder why I was so easily seduced and that's actually a really good question. There were just three things that made me fall for e-reading:
Instant access – downloading a book from the comfort of my couch in less than 30 seconds was pretty amazing.
Size and weight – being able to tuck the Kindle into a bag and bring dozens of books with me anywhere I went made reading while traveling a dream.
Fonts – I could change them to whatever style struck my fancy, and more importantly, whatever SIZE I wanted. This was fantastic!
I truly loved that first Kindle and read hundreds of books on it, until one summer day, several years later, it just quit on me. I think I had read it to death! I've tried a couple other Kindles since then, but none that I could really fall in love with again, until the Oasis. I'd been reading for the last eighteen months on a very basic inexpensive Kindle and it was fine, though I really disliked having to tap the screen for every page turn. I'd thought about getting a Voyage, but just kept hesitating. Then one day last spring, while browsing Amazon, I saw there was a new Kindle, called Oasis, so I impulsively ordered both it and the Voyage. I wanted to try them each out and compare (sorry, Amazon). The Oasis won hands down and the Voyage, while very nice, was sent back.
What I like about Kindle Oasis:
Its extremely light weight, only 4.6 oz. without the cover and not much more with it.
It's tiny. The screen is the same size as any other Kindle, but because they've cut down on the extra frame space around the top and bottom, it's smaller overall.
It has page turn buttons! (You can also tap the screen to change pages.)
You can adjust the buttons to work for the way you read. There are two page turn buttons, which were factory set so the top was page forward and the bottom was back. With the way I hold the Oasis, I needed the bottom button to be page forward…done!
Because of a little ridge on the back, you can easily hold and turn pages on the Oasis with one hand. (Thus, eating and drinking while reading is a snap.)
It automatically adjusts as you move the Oasis from your right to left hand.
The text is extremely clear and easy to read and the white, adjustable backlit screen is wonderful both day and night.
The screen is no glare making it great for reading in my very favorite spot, my front porch.
The cover has a second battery in it, which charges each time you charge the Oasis and together they give you loads of reading between charges.
Every time you close the cover it puts the Oasis to sleep and every time you open it, the Oasis wakes up right where you left off.
What I don't like about Kindle Oasis:
The price – I paid $309.99 for the Wi-Fi without ads version. I think that's high. (With ads the price is $289.99.)
That's it.
So, will the price of the Oasis keep people from buying it even with all of its great features? Absolutely, and I think Amazon should take that into consideration. After all, the more e-readers they sell, the more e-books they'll sell. As for me, I'd buy an Oasis again tomorrow. I know this post might sound like an ad for Amazon, but it honestly isn't. This is just part of the story of how I read, which people have been asking me about. Since I bought my Kindle Oasis last spring, I have been happy that I did – every single time I pick it up. The Oasis has already given me many, many hours of delicious reading.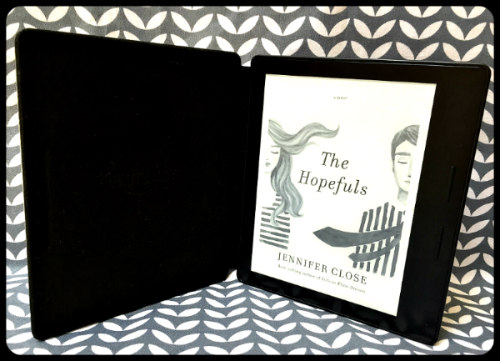 Disclosure: There are Amazon Affiliate links included within this post.