This post may include Amazon links. As an Amazon Associate I earn from qualifying purchases.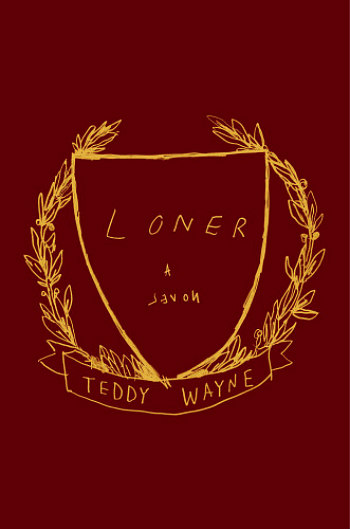 Loner by Teddy Wayne
Publisher: Simon & Schuster
Release Date: September 13, 2016
Length: 224 pages
Buy on Amazon
Single Sentence Summary: An intellectually brilliant, but socially inept Harvard freshman spots a beautiful girl across the room and immediately becomes obsessed with winning her for himself.
Primary Characters: David Federman – the 18-year old narrator of the story, which he's telling to the girl he once desired. In his New Jersey public high school David was described as a loner and had few friends. Veronica Wells – the seemingly sophisticated Manhattan, private school girl David becomes fixated on. Sara Cohen – Veronica's quiet, awkward roommate.
Synopsis: When David Federman arrives at Harvard as a freshman he has few reasons to feel confident or good about himself. He was a loner in high school with only a small group of "friends." This random group, not nerdy enough to be the geeks, only tolerated each other because no one else would have them. Even David's parents seem to act unnatural around him. David has nothing but disdain for other students like himself, socially awkward and decidedly uncool. Yet, much to David's frustration, these are the very students he ends up with: his roommate, his small circle of people to share meals with, and eventually his girlfriend.
David cares for none of these people, and instead becomes fixated on Veronica Wells, a beautiful, popular, wealthy freshman that is way out of David's league. David thinks of little else his first semester at Harvard. He follows Veronica as she previews classes, learns her schedule, and makes sure he enrolls in a class with her. He also discovers that one of the people in his small circle of "friends," Sara Cohen, happens to be Veronica's roommate. David pursues Sara, who is no less lonely and awkward than he is. David has no real interest in Sara, but she can provide him the opportunity to cross paths more often with Veronica. In time David does push his way into a sort of one-way relationship with Veronica. A relationship to him, but not to her. From there the story takes some dark turns to an unexpected conclusion.
Review: While I found Teddy Wayne's Loner to be an interesting story, I never really cared for its central character, David. I could sympathize with David's strong desire to have a different experience at Harvard than he had at his New Jersey high school, but the path he chose to travel in order to have that experience never led the reader to be on David's side. Maybe that was the point of the story.
David was a young man who was clearly on the spectrum when it came to social interactions. He also had a weird quirk of thinking about words and whole sentences spelled backwards, particularly when he was feeling stress. David was truly brilliant. The high school teacher who referred to him as a loner also said in her recommendation letter that that he was one of the most gifted students she had ever encountered. She added that his prose style sometimes "goes over my head." I agree with that high school teacher! David narrates this book and that over-the-top prose style is how he's telling his story. I often read a whole book without ever needing to use the dictionary feature on my Kindle, but in Loner, I was constantly looking up words. It became tedious to read at times, and for me took away from the flow of Wayne's book. At the same time, it highlighted just how pretentious David could be.
It was clear from the beginning that David's story was not going to end the way he imagined, but it ended in a way that I would never have imagined either. I was at first shocked by the ending and felt it didn't truly make sense. However, reflecting back on the way David told the story and on just how out of touch with reality he grew over the course of his time at Harvard, I can see how this boy, who could not figure out how to fit into society, might follow the path he did. If you like coming-of-age stories and are prepared for a very dark one, you might enjoy Loner. Grade: B-
If you liked this book you might also enjoy:
Note: I received a copy of this book from the publisher (via NetGalley) in exchange for my honest review.
Disclosure: There are Amazon Affiliate links included within this post.