This post may include Amazon links. As an Amazon Associate I earn from qualifying purchases.
The Lost Girls of Camp Forevermore by Kim Fu
The Parking Lot Attendant by Nafkote Tamirat
The Family Next Door by Sally Hepworth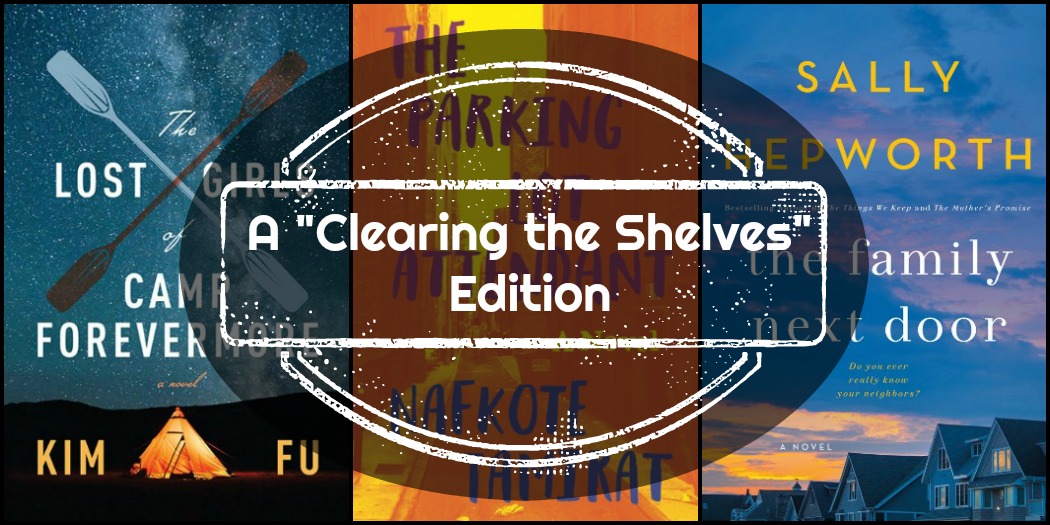 Sometimes the book reviews really tend to stack up and I'll do a mini-review edition with books that share a common theme like The Suspense-Lite Edition or The Counterintelligence Edition. And then there's The Lost Girls of Camp Forevermore, The Parking Lot Attendant, and The Family Next Door. About the only thing these three books have in common is that their titles each start with the word THE. And so, a "Clearing the Shelves" Edition of mini-reviews has been born!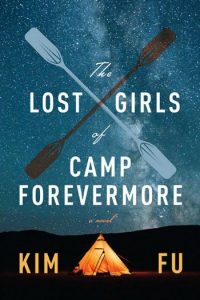 The Lost Girls of Camp Forevermore by Kim Fu
Publisher: Houghton Mifflin Harcourt
Release Date: February 13, 2018
Length: 256 pages
Amazon
From the Publisher: "A group of young girls descend on Camp Forevermore, a sleepaway camp in the Pacific Northwest, where their days are filled with swimming lessons, friendship bracelets, and camp songs by the fire. Filled with excitement and nervous energy, they set off on an overnight kayaking trip to a nearby island. But before the night is over, they find themselves stranded, with no adults to help them survive or guide them home."
My Thoughts: The Lost Girls of Camp Forevermore was nothing like what I'd expected it to be. That can be a good thing, or a bad thing. I'd expected a book that told the story of five girls who survived a disastrous kayaking trip at a summer camp, followed by how their lives and friendships were forever affected. What I got was a series of loosely connected short stories. In between chapters focusing on the girls as women, the story of Camp Forevermore was slowly revealed. It was by far my favorite part of the book because this was the only portion of the book where their relationships lived. The remainder of the chapters each focused on a different girl: what brought her to Camp Forevermore, her family, and where the rest of her life took her. Only two of the girls ever had any sort of contact beyond the camp. What Kim Fu actually delivered were the stories of five different women, loosely connected by a common childhood event. The stories ranged from compelling to underwhelming. Had the description of The Lost Girls of Camp Forevermore been what was actually delivered, I think I'd have enjoyed Fu's book much more. Grade: C-
Note: I received a copy of this book from the Houghton Mifflin Harcourt (via NetGalley) in exchange for my honest thoughts.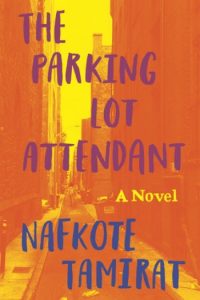 The Parking Lot Attendant by Nafkote Tamirat (debut)
Publisher: Henry Holt and Company
Release Date: March 13, 2018
Length: 240 pages
Amazon
From the Publisher: "The story begins on an undisclosed island where the unnamed narrator and her father are the two newest and least liked members of a commune that has taken up residence there. Though the commune was built on utopian principles, it quickly becomes clear that life here is not as harmonious as the founders intended. After immersing us in life on the island, our young heroine takes us back to Boston to recount the events that brought her here. Though she and her father belong to a wide Ethiopian network in the city, they mostly keep to themselves, which is how her father prefers it."
My Thoughts: I would have really liked this book had I stopped reading at about the 80% mark. At that point the book just went off the rails for me, but let's begin with the good. The Parking Lot Attendant is a coming-of-age story told by its teenage Ethiopian protagonist. She's had a rough life, living for her first six years with only her mother and since then only with her father. The father-daughter relationship shines in Tamirat's debut. He is a quiet, secretive man who never planned to have the responsibilities of fatherhood, and his daughter (never named) feels the distance that comes with that.
"He wouldn't let me out alone because as much as he wished he could put me to sleep for specific hours of the day, he could have never lived with the guilt of something happening to me. We are similar in this way: by caring too much about what might happen in the future, we end up caring not enough in the present, too worn out to maintain that kind of attention, no matter how genuine."
The voice with which this young woman reflected on her story was honest and clear. I particularly liked that her telling was from a point in the future, where she was able to reflect on the events that led to her and her father being exiled from their lives. The other man in the narrator's life was Ayale, the parking lot attendant, and a quiet leader in the Boston Ethiopian community. The narrator's growing admiration for this man led her down roads that may not have always been legal, and yet she found it almost impossible to say no. Ayale's part of the story grew tedious and more and more difficult for me to believe. When the story returned to the unnamed island where it began and the utopian community being formed there, my tenuous hold on belief was completely severed. Unfortunately, the book's ending overshadowed all that was good in the rest of Tamirat's story. Still, I truly enjoyed her writing and would happily read her future novels. Grade: C+
Note: I received a copy of this book from the Henry Holt & Co. (via NetGalley) in exchange for my honest thoughts.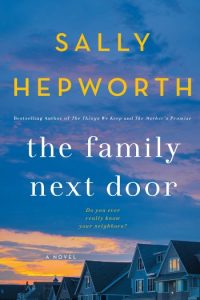 The Family Next Door by Sally Hepworth
Publisher: St. Martin's Press
Release Date: March 6, 2018
Length: 352 pages
Amazon
From the Publisher: "When a new woman named Isabelle moves in next door to Essie, she is an immediate object of curiosity in the neighborhood. Why single, when everyone else is married with children? Why renting, when everyone else owns? What mysterious job does she have? And why is she so fascinated with Essie? As the two women grow closer and Essie's friends voice their disapproval, it starts to become clear that Isabelle's choice of neighborhood was no accident. And that her presence threatens to bring shocking secrets to light."
My Thoughts: Were you a fan of Desperate Housewives? I didn't watch it every week, but sometimes sitting down with a glass of wine and watching the train wreck that was the lives of the women on Wisteria Lane was a fun, guilty pleasure. The Family Next Door was the same guilty pleasure. Set on Pleasant Court in a suburb of Melbourne, the story follows neighbors and friends Essie, Ange, Fran and the mysterious newcomer to the block, Isabelle. Pure chic lit, The Family Next Door has it all: secrets, affairs, illegitimate children, serial cheating, postpartum depression, a meddling mother. There was even a little suspense built in around Isabelle and why a single woman would suddenly move to their family neighborhood. For me Desperate Housewives had an advantage over The Family Next Door: it came in one hour shots. I enjoyed much of this book, but eventually grew weary of all the drama and hand wringing from the women on Pleasant Court. There were a couple times I wanted to toss my Kindle across the room and shout, "Pull your head out of the sand!" or "Come on! Make a decision!" All that being said, I did breeze through The Family Next Door and know that many others have loved it. For those looking for a light beach or vacation read, Sally Hepworth's latest might be perfect. Grade: C+
Disclaimer: There Are Amazon Associate links contained in this post.