This post may include Amazon links. As an Amazon Associate I earn from qualifying purchases.
A Cloud in the Shape of a Girl by Jean Thompson
and
A Well-Behaved Woman by Therese Anne Fowler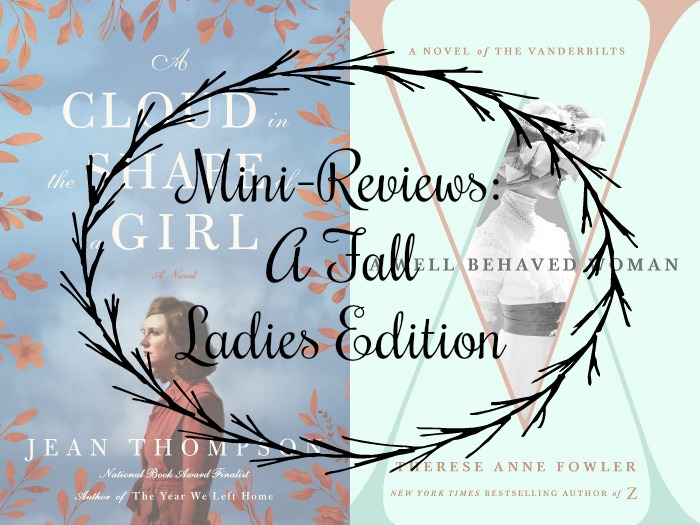 Though the cover of A Cloud in the Shape of a Girl might lead one to think that the book is historical fiction, it is not, leaving it with little in common with A Well-Behaved Woman. And yet, in many ways these two books, centered around women, left me with very similar feelings. Both featured women I could appreciate, but not truly relate to. Both left me feeling a little sad that even with stories set 100 years apart and with women of radically different circumstances, each one consistently put the needs of the men in her life before her own.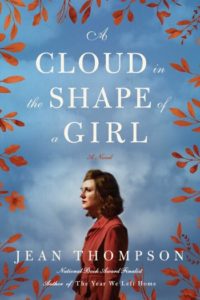 A Cloud in the Shape of a Girl by Jean Thompson
Publisher: Simon & Schuster
Release Date: October 23, 2018
Length: 336 pages
Amazon
From the Publisher: "A Cloud in the Shape of a Girl is a poignant novel about three generations of the Wise family—Evelyn, Laura, and Grace—as they hunt for contentment amid chaos of their own making. Evelyn set aside her career to marry, late, and motherhood never became her. Her daughter Laura felt this acutely and wants desperately to marry, but she soon discovers her husband Gabe to be a man who expects too much of everyone in his life, especially his musician son. Grace has moved out from Laura and Gabe's house, but can't seem to live up to her potential—whatever that might be."
My Thoughts: Generational stories are often among my favorites, as are books about women and those about dysfunctional families. With this trifecta of qualities that appeal to me, I'd expected A Cloud in the Shape of a Girl to be among my favorites for 2018, and there was certainly much I truly enjoyed. As the novel evolved I admired the way Jean Thompson created three unique women, while maintaining many parallels between them. Two found themselves pregnant by men they weren't married to, each having their own interesting circumstances. Two only softened toward their mothers as the end of life approached. Two found themselves involved with men more interested in computers, TV or video games than in relationships.
"When she walked in, Ray was sitting in front of the television with his laptop open. He was playing World of Warcraft and watching SportsCenter. Incredible. When has men decided to stop growing up?"
And sadly, all three catered to the men in their lives.
"Although she had promised herself never to do so, she had ended up with a man just like her father, at least in all the ways that counted."
This was exactly where A Cloud in the Shape of a Girl began to break down for me. I found almost all the men horrid, and grew weary of the women who made it so easy for the men to be that way. Laura, the middle of three women in this story, proved to be the most guilty by putting her entire life second to both her husband and her son. She just continued to take it, to play nice and to forgive. I know this is a common flaw in women, but as a story I simply got tired of it. In the end, Grace left the reader with a bit of hope, but by then I'd stopped caring. Grade: B-
Note: I received a copy of this book from the publisher, Simon & Schuster, in exchange for my honest review. Thank you!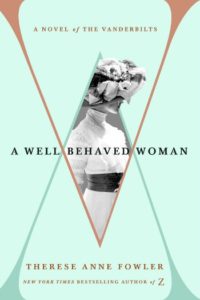 A Well-Behaved Woman by Therese Anne Fowler
Publisher: St. Martin's Press
Release Date: October 16, 2018
Length: 400 pages
Amazon
From the Publisher: "Alva Smith, her southern family destitute after the Civil War, married into one of America's great Gilded Age dynasties: the newly wealthy but socially shunned Vanderbilts. Ignored by New York's old-money circles and determined to win respect, she designed and built nine mansions, hosted grand balls, and arranged for her daughter to marry a duke. But Alva also defied convention for women of her time, asserting power within her marriage and becoming a leader in the women's suffrage movement."
My Thoughts: I generally prefer my historical fiction a little more on the gritty side, but I thoroughly enjoyed taking a trek through late nineteen century high-society with Alva Vanderbilt. This woman was a kick! It seems few women of her day had any illusions about marrying for love, and that was especially true for Alva whose family had the pedigree, but had lost their money. If Alva didn't marry well her family would be left destitute. So, Alva made sure William Vanderbilt and his entire family knew that she was just want they needed to pave their way into the side of society that no amount of their new money could buy. It took some time, but Alva worked magic, securing the Vanderbilts the recognition they craved. Along the way Alva made friends and enemies alike, as she began to see what SHE wanted most from life. I liked Alva best when she fought for herself, claiming as much power as a woman could more than a century ago.
I'm sure Therese Anne Fowler did not intend A Well-Behaved Woman to be a funny book, but many times I found myself chuckling. Between the social concerns that seem ridiculous today, the extreme snobbery, the upper-class obsessed press, and the clueless men I found myself laughing out loud over and over.
"You know, William Whitney's got a fine breeding operation under way at his Stony Ford farm. I've been meaning to pay a visit, get some advice on starting my own farm. Maybe I'll drive out today"
"Today?" Alva said.
"Why not?" he gestured toward the baby. "I took the day off for this. I've nothing better to do."
He took the day off because Alva was giving birth! A Well-Behaved Woman worked best for me when it stuck to Alva: her plots, her schemes, her heart.  Occasionally, the story veered a little too deep into the lives of some of the secondary characters and the social causes of the day. Each time it drifted from Alva, I found myself wanting to skim. Luckily, most of the time Alva, well-behaved or not, remained the star. Grade: B
Note: I received a copy of this book from the publisher, St. Martin's Press, in exchange for my honest review. Thank you!
Disclosure: There are Amazon Associate links included within this post.