This post may include Amazon links. As an Amazon Associate I earn from qualifying purchases.
Look Alive Out There by Sloane Crosley
&
The Girl Who Smiled Beads by Clemantine Wamariya and Elizabeth Weil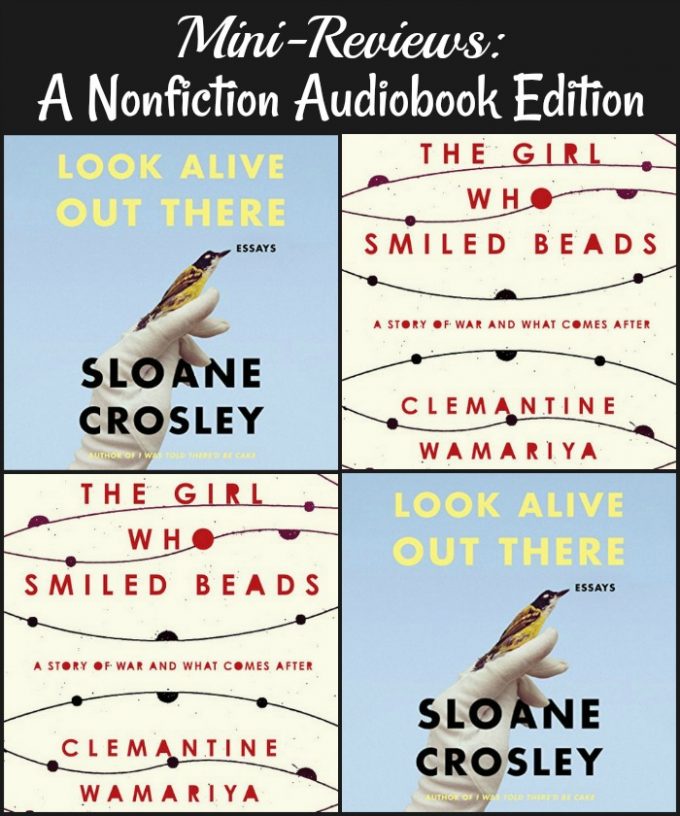 I've had a lot of luck with both nonfiction and audiobooks this spring and that's thanks in large part to Look Alive Out There and The Girl Who Smiled Beads. Each had me so wrapped in their stories, that I found myself looking for excuses for extra listening time. (Always a good sign!)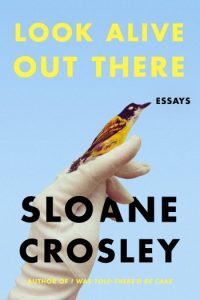 Look Alive Out There by Sloane Crosley
Narrator: Sloane Crosley
Publisher: MCD (Macmillan Audio)
Release Date: April 3, 2018
Length: 256 pages (6 hrs. 13 min.)
Amazon
From the Publisher: "In Look Alive Out There, whether it's scaling active volcanoes, crashing shivas, playing herself on Gossip Girl, befriending swingers, or staring down the barrel of the fertility gun, Crosley continues to rise to the occasion with unmatchable nerve and electric one-liners. And as her subjects become more serious, her essays deliver not just laughs but lasting emotional heft and insight. Crosley has taken up the gauntlets thrown by her predecessors – Dorothy Parker, Nora Ephron, David Sedaris – and crafted something rare, affecting, and true."
My Thoughts: I'm a little embarrassed to admit this, but Look Alive Out There is one of only a couple essay collections I've ever read. Prior to the last couple of years, I'd avoided both nonfiction and short stories. Essays are something of a cross between the two, so I've not given them much of a chance. That changed earlier this year with Tell Me More by Kelly Corrigan and now I'm thrilled to add Look Alive Out There and Sloane Crosley to my growing list of essayists to follow.
I found so many of Crosley's stories just plain laugh-out-loud funny. One of my favorites involved dealing with her noisy teenage neighbor, Jared. Haven't we all had a Jared in our lives? Crosley's trip to Ecuador and her ill-conceived attempt to climb Mt. Cotopaxi was another story I could relate to. I've Been to Ecuador, so both laughed at and admired Crosley's fool-hearted mountain climbing adventure. As a blogger, I had to appreciate and cringe listening to Crosley's essay on "The Wolf of the Dot.com" about a opportunist who snatched up her domain name when she accidentally let it lapse. The hoops she had to jump through and the lengths she had to go for to get it back were just plain terrifying!
Other essays had a more serious bend providing a great balance to Crosley's collection. I especially enjoyed her essay on fertility, aging, still being single, and the desire to be a mother. So many women today will see themselves in Crosley and appreciate her honesty in sharing such a personal journey. With a perfect mix of humor and seriousness, Look Alive Out There is an essay collection well worth reading! Grade B+
Narration: I'm happy to say that i thought Crosley's reading of her own essays was wonderful I can't imagine anyone else could have done a better job or provided the intimacy that Crosley's own voice did.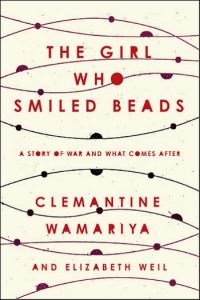 The Girl Who Smiled Beads by Clemantine Wamariya and Elizabeth Weil
Narrator: Robin Miles
Publisher: Crown (Random House Audio)
Release Date: April 24, 2018
Length: 288 pages (8 hrs. 59 min.)
Amazon
From the Publisher: "Clemantine Wamariya was six years old when her mother and father began to speak in whispers, when neighbors began to disappear, and when she heard the loud, ugly sounds her brother said were thunder. In 1994, she and her fifteen-year-old sister, Claire, fled the Rwandan massacre and spent the next six years migrating through seven African countries, searching for safety—perpetually hungry, imprisoned and abused, enduring and escaping refugee camps, finding unexpected kindness, witnessing inhuman cruelty. They did not know whether their parents were dead or alive."
My Thoughts: Wow! The Girl Who Smiled Beads is everything at once: a heartbreaking, terrifying story of war and genocide and an inspirational story of a girl fulfilling her destiny. Clemantine Wamariya's memoir smoothly alternates chapters between the six years she and her sister, Claire, wandered Africa in search of safety and a place to call home, and the years after they gained refugee status in the United States. This dual timeline kept both parts of her story in balance.
At only six years old, Clemantine and her 15-year old sister fled their home, their country to escape the war and massacres that were ravaging Rwanda. Clemantine was too young to truly understand, but she was not too young to feel terror and grief at losing the only life she had known.
"I never learned the right words in Kinyarwanda. I hope they don't exist, but without words my mind had no way to define or understand the awful sounds. Nowhere to store them in my brain. It was cold and green and wet and then bushes and my legs were shaking. And, eyes. So many eyes. My thoughts and senses became jumbled."
I found both Clemantine and her sister Claire to be remarkable. Claire wasn't the mother substitute that young Clemantine longed for, but she was a powerhouse at keeping the two of them alive. Every country they fled to, every new camp they made a home in, Claire found a way to make money. They never had much, but Claire kept them alive and moving toward safety. Along the way, Claire picked up a husband that she wished she hadn't, and gave birth to two children also falling under the wing of her protection. It was Claire who got them to America, where Clemantine thrived and Claire struggled.
In The Girl Who Smiled Beads Clemantine Wamariya laid bare the lifelong wounds of war and how little most of us will ever truly understand them. It's easy to know of wars happening on the other side of the world, but it's much more difficult to truly open our eyes and see the human side of the horrors. With sadness, anger, humor and hope Clemantine Wamariya has managed to shine a light on war and on its survival. I highly recommend, The Girl Who Smiled Beads. Grade; B+
Narrator: I thought Robin Miles did a wonderful job reading The Girl Who Smiled Beads. For listeners, she becomes Clemantine bringing so much emotion and life to her powerful story.
Note: I received a copy of this book from the publisher  in exchange for my honest thoughts.
Disclaimer: There Are Amazon Associate links contained in this post.