This post may include Amazon links. As an Amazon Associate I earn from qualifying purchases.
Sometimes you just want to read a book that makes you feel good. And, when you listen to a book that makes you feel good? Even better! My last two audiobooks have done just that and more. I'm not sure if I'd quite consider Other People's Houses and How To Walk Away "brain candy" or not. In fact, I think I'd categorize them more as just plain "candy," and we all have a sweet tooth every now and again!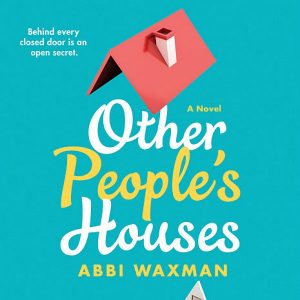 Other People's Houses by Abbi Waxman
Publisher: Berkley (Penguin Audio)
Narrator: Saskia Maarleveld
Release Date: April 3, 2018
Length: 352 pages (9 hrs. 59 min.)
Amazon
From the Publisher: "As the longtime local carpool mom, Frances Bloom is sometimes an unwilling witness to her neighbors' private lives. She knows her cousin is hiding her desire for another baby from her spouse, Bill Horton's wife is mysteriously missing, and now this…"

My Thoughts: Without a doubt Other People's Houses is a fun feel-good story reminiscent of Big Little Lies or Desperate Housewives. Abbi Waxman's novel centers on four families living on a single street in an affluent L.A. neighborhood. Frances Bloom, the perky non-working mom in the bunch, drives carpool for all four families and becomes privy to many of their secrets. When Frances walks in on one of her neighbors in a very delicate situation, she decides to keep this particular secret to herself. But, secrets have a way of getting out and this one does with repercussions that reverberate throughout the neighborhood.
I very much liked the way Waxman used her book to poke fun at some very first-world problems: whether or not a public school should have a cotillion, the intricacies of youth soccer teams, and the cruelty of the gossip-mill. I also like that she made Frances a real woman, with real problems. She battled with her teenage daughter, still missed the brother she'd lost as a child, loved her husband, wrestled with her weight, and swore like a trucker. Frances had a running internal dialogue that kept me smiling.
I liked the first 80% of this story much more than the last 20%. The story developed exactly as I'd predicted and i was fine with that, but it also took a rather mean turn that I found difficult to buy into. The final element of the story and its resolution also felt off to me. I think the ending was just a little forced, moving this story down a few notches in my rating. Grade: B-
Narration: I though Saskia Maarleveld did a terrific job narrating Other People's Houses. It can be challenging when there are so many different characters and lots of dialogue, but Maarleveld handled it all beautifully!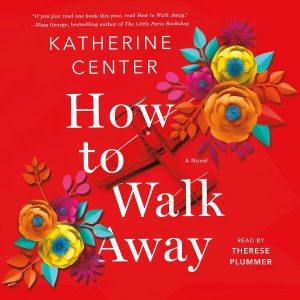 How to Walk Away by Katherine Center
Publisher: St. Martin's Press (MacMillian Audio)
Narrator: Therese Plummer
Release Date: May 15, 2018
Length: 320 pages (10 hrs. 36 min.)
Amazon
From the Publisher: "Margaret Jacobsen is just about to step into the bright future she's worked for so hard and so long: a new dream job, a fiancé she adores, and the promise of a picture-perfect life just around the corner. Then, suddenly, on what should have been one of the happiest days of her life, everything she worked for is taken away in a brief, tumultuous moment."
My Thoughts: I can't seem to put my finger on why I liked this book so much, but like it I did. Some of the credit has to go to narrator, Therese Plummer, but I'll share my thoughts on her later. How to Walk Away tells the story of Maggie Jacobsen who as the book begins seems to have it all. She's a recent MBA graduate on the brink of getting her dream job and she's just been proposed to. She's also getting on a small plane that her fiancé is piloting. Maggie has a fear of flying, but wants to be game, so goes along. Big mistake. On landing, there's a crash and Maggie is left with her legs paralyzed.
While this sounds very serious, Center handled her story in such a warm, friendly way that it didn't ever feel overly so. I very much liked how Center handled Maggie's initial reaction to what happened to her. At first nothing was real to Maggie. She couldn't be fully present and was almost a witness to her own tragedy. She struggled make sense of her new reality.
"Normally memories have a chronology to them. Even if you've lost pieces of the story you usually have a sense of order. At least this led to this. What I recall from the ICU is just a pile of images, sounds and feelings so jumbled it's like a game of pick-up-sticks. They say everybody loses time in the ICU. It's basically Vegas in there, minus the show girls and slot machines."
Helping Maggie to get through her trauma were a whole cast of characters I grew to love, especially her sister Kit and her Scottish physical therapist, Ian. The two added both mystery and fun to Maggie's desperate situation.
Were the characters sometimes presented in black and white, good versus evil? Definitely. Did anything truly unexpected happen? Nope. Was the ending a little bit neat and tidy? For sure. Am I a fan despite all this? YES! Grade: B+
Narration: Honestly, Therese Plummer is probably what I liked best about How to Walk Away. She is quickly becoming one of my favorite narrators. I really think I'd listen to most anything she read. How to Walk Away was told in first person, so she was Maggie, convincingly occupying her devastation, fears, hopes, and triumphs. She handled Ian's Scottish accent and gruff personality with finesse, making listening to dialogue with him a pleasure. Because of Plummer, I highly recommend listening to the audiobook of How to Walk Away.
Other Feel Good Audiobooks You Might Enjoy:
According to a Source by Abby Stern (narrated by Therese Plummer) – The story of a Hollywood gossip reporter whose life hits a major bump in the road. (my review)
Fitness Junkie by Lucy Sykes and Jo Piazza (narrated by Susan Bennett) – A snarky send-up of the fitness/diet industry told by a middle-age woman whose life has hit a turning point. (my review)
Disclaimer: There Are Amazon Associate links contained in this post.