This post may include Amazon links. As an Amazon Associate I earn from qualifying purchases.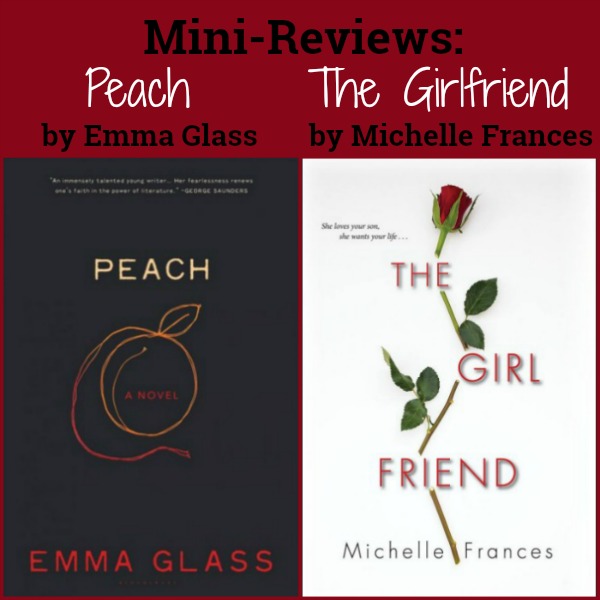 A big part of me wanted to give today's mini-reviews a snarky sub-title like "The Why Edition" or "Books to Skip." Instead, I'll simply share my thoughts and let you decided for yourself!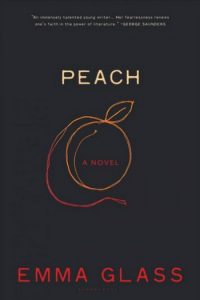 Peach by Emma Glass (debut)
Publisher: Bloomsbury, USA
Release Date: January 23, 2018
Length: 112 pages
Amazon
From the Publisher: "Something has happened to Peach. Staggering around the town streets in the aftermath of an assault, Peach feels a trickle of blood down her legs, a lingering smell of her anonymous attacker on her skin. It hurts to walk, but she manages to make her way to her home, where she stumbles into another oddly nightmarish reality: Her parents can't seem to comprehend that anything has happened to their daughter."
My Thoughts: This little novella is narrated by Peach, a college student who has been brutally assaulted and is trying to process what has happened to her. The people who might help, her parents, her classmates, her boyfriend, are all oblivious to the changes in Peach. Terror seems to be radiating off of her, yet only she knows it. Her own perceptions are so blurred it's difficult for the reader to ever really know what is happening to her, making Peach a most unreliable narrator.
In Peach Emma Glass uses a very choppy, staccato writing style. In the beginning, I liked it because it fit the initial terror and jumbled thoughts that would come with what happened to Peach. But, it began to get old and that, coupled with some really weird food imagery that ran throughout this story, made me like it less and less the more I read. Other parts were thrown in that seemed to have no connection at all to the rest of the story. (Think an excessively hairy girl and Mr. Custard?!?) Glass's writing style reminded me a lot of Megan Hunter's in The End We Start From. (my review) Both women use a sort of poetry-prose hybrid that places a lot of interpretive demands on the reader. I, for one, don't like feeling like I'm back in a college lit class. Grade: D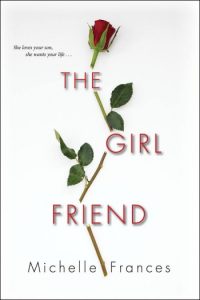 The Girlfriend by Michelle Frances (debut)
Publisher: Kennsington
Release Date: January 30, 2018
Length: 432 pages
Amazon
From the Publisher: "Laura has it all. A successful career, a long marriage to a rich husband, and a twenty-three year-old son, Daniel, who is kind, handsome, and talented. Then Daniel meets Cherry. Cherry is young, beautiful and smart but hasn't led Laura's golden life. And she wants it."

My Thoughts: The Girlfriend is your typical gold-digger girlfriend story, but with a twist. Michelle Frances did a nice job setting up her story, giving each of the characters fairly convincing backstories that wove together nicely. From the very start you know that Laura, the devoted mother, and Cherry, the conniving girlfriend. are going to have issues. You're just not sure how they'll play out. The tension between the two rises with each chapter, and then the story takes a surprising twist, followed by one big lie that turns the story on end.
Sounds pretty good so far, right? Well, it was, but the lie is also the point where this fun story began to derail for me. First of all, the lie itself was was a whopper and one that I had a really difficult time seeing anyone make. The revenge for the lie also took some unlikely turns and the ending had two big problems. First, you clearly see it coming, and second? Really! Just too unbelievable. Still, if you're willing to overlook the over-the-top drama, you just might enjoy The Girlfriend. Grade: C
Note: I received copies of both books from their publishers (via netGalley) in exchange for my honest reviews. My thanks to all.
Disclaimer: There are Amazon Associate links contained in this post.