This post may include Amazon links. As an Amazon Associate I earn from qualifying purchases.
Hosted by Kathryn at Book Date
I hope everyone had a wonderful week and a very happy Easter. My week off was amazing, filled with family, love and laughter. It will be a little jarring heading back to work, but the great news is that there's only one more quarter and then it's Summer Vacation. One of the best (or worst?) things about being a teacher is that you're eternally on a school schedule with a student mindset!
Last Week's Reads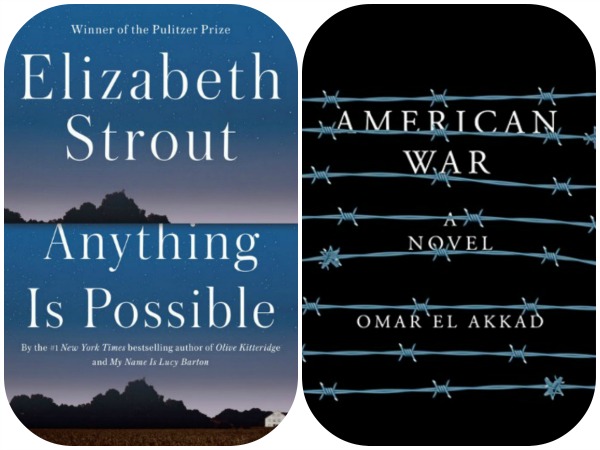 I actually was able to get a little more reading done than I had expected last week, primarily because Anything is Possible was such a fast read. This companion piece to Elizabeth Strout's much loved My Name is Lucy Barton (my review) is really a collection of short stories about some of the people living in and around Lucy's Illinois hometown. Short stories are not typically my favorite, so I was pleasantly surprised at how much I enjoyed many of Strout's. American War by Omar El Akkad was excellent. This story of the second Civil War, fought over the right to use fossil fuels, reminded me both of an old-fashioned western AND a post-apocalyptic saga. The writing was strong, the creativity fantastic, and the characters well-developed. I'll most likely review these books next week.
Currently Reading/Listening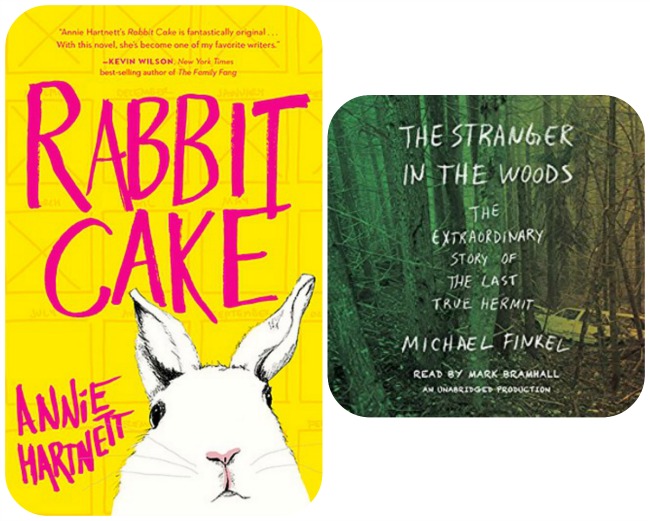 I'm not very far into either book, but am already loving both! After finishing Anything is Possible, I was at a loss as to what to read next, but had a sample of Annie Hartnett's Rabbit Cake on my Kindle. The sample was all it took to hook me in. I'm really enjoying the voice of 12-year old Elvis, who narrates. Two years earlier, Elvis's mother drowned while sleep-swimming. This is her account of how her family has dealt with their grief. It's both funny and heartwarming. While doing a little gardening on Saturday I finally started listening to The Stranger in the Woods by Michael Finkel. The narrator, Mark Bramhall, is terrific.  He already has me fascinated with the life of Christopher Knight, a hermit living alone in the woods of Maine for 27 years. Yes, 27!
Likely to Read Next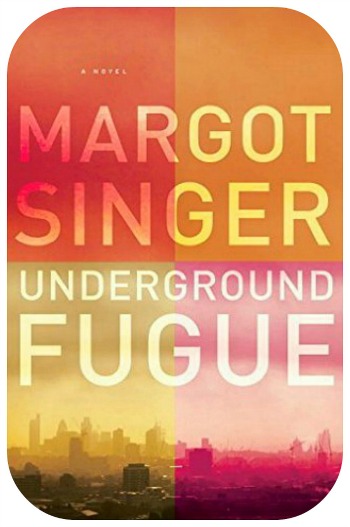 Underground Fugue by Margot Singer is definitely the next book I'll read. I'm so confident that I've already pre-ordered a copy for my Kindle. I've really looked forward to this fictional account of an American woman living in London at the time of the July 2008 bombings. The clash of fiction with reality so often delivers an amazing story. I hope I'm right about this one!
What are you reading this week?
Disclaimer: There are Amazon Affiliate links contained in this post.