This post may include Amazon links. As an Amazon Associate I earn from qualifying purchases.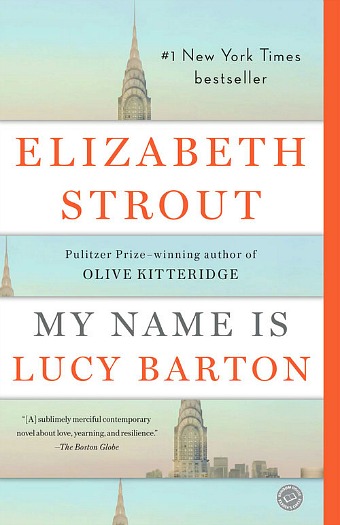 My Name is Lucy Barton by Elizabeth Strout
Publisher: Random House
Release Date: January 12, 2016
Length: 208
Buy on Amazon
Single Sentence Summary: While in the hospital, Lucy Barton has a five-day visit from her estranged mother that alters the course of her life.
Primary Characters: Lucy – a married woman with two young daughters, confined to a hospital after a tricky post-surgery infection. Lucy's mother – from a very small town in Illinois, she comes to visit after not seeing Lucy for many years.
Synopsis: Lucy lies in a hospital bed fighting a lingering post-surgery infection. When she wakes and finds her mother sitting beside her bed, Lucy is alternately irritated and delighted. Having had little contact with her mother for many years, Lucy finds that her mother's words and attention are things she now craves. Their conversations over the five-day visit stir memories from Lucy's childhood and leave her reconsidering her own life.
Review: I'm very late to the party when it comes to My Name is Lucy Barton. I resisted reading the book for all of last year because I wasn't a huge fan of Olive Kitteridge, Elizabeth Strout's Pulitzer Prize winning novel. (I blame that on my own personal Pulitzer curse, but that's something for another time.) After seeing Lucy Barton appear on so many people's lists for "Best Books of 2016," I knew I had to give Elizabeth Strout's latest book a chance, and I'm so glad I did.
My Name is Lucy Barton is a beautifully laid out story of a woman's many changes throughout her life. Lucy narrated the story as she looked back from some point many years after her time in the hospital. The visit from Lucy's mother provided the perfect catalyst for Lucy to reflect on her life. While listening to her mother's gossipy stories of people from home, Lucy took solace.
"I stopped listening. It was the sound of my mother's voice I most wanted; what she said didn't matter. And so I listened to the sound of her voice; until these past three days it had been a long time since I had heard it, and it was different"
And yet, her mother's visit also stirred memories of Lucy's own childhood. A childhood she had escaped from, something her mother had never been able to acknowledge. In the hospital, the two come closer to understanding each other without ever really getting there.
I absolutely loved the simple, straightforward writing in this book. It wasn't filled with flowery prose, just powerful words that dove right into Lucy's life. There was a lot of jumping around in time and place, but in this case that added to the story of Lucy's life. The reader was able to put the pieces together from many directions into the really stunning work it turned out to be. I so enjoyed My Name is Lucy Barton, that I'm eager to read Elizabeth Strout's new novel, Anything is Possible (out in April). In this book we'll be treated to more stories of the people in Lucy's small hometown and Lucy makes an appearance, as well. Grade: A
If you liked this book you might also enjoy:
Disclosure: There are Amazon Associate links included within this post.