This post may include Amazon links. As an Amazon Associate I earn from qualifying purchases.
Hosted by Kathryn at Book Date
Bravo to everyone who participated in Dewey's 24 Hour Readathon on Saturday! I really want to participate one of these years, but always seem to have too much I need to get done. Maybe next year I'll take Friday off so I can free up my Saturday. My reading has hummed along nicely with more good books, but no WOWS! So, the curse continues as I talked about in last week's post, The Booklover's Curse. All that aside, I've been looking at 2018 releases and see quite a few I'm very excited to get my hands on!
Last Week's Reads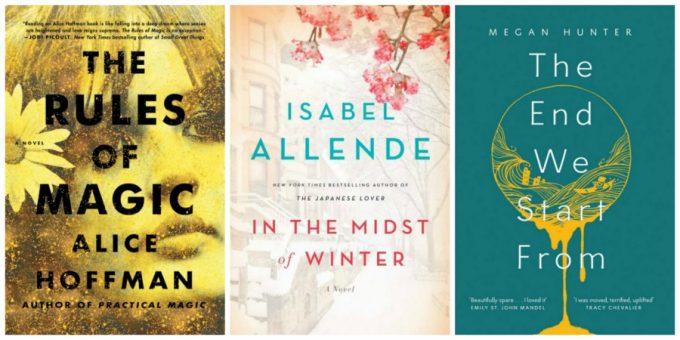 Yes, I had a three book week, but it's not really what it seems. I was almost done with The Rules of Magic at the end of last week, so finished it early on. I'll be reviewing Alice Hoffman's latest later this week. Most of the week I spent with Isabel Allende's beautiful new novel, In the Midst of Winter. As always, her writing is superb. The story itself was slow to build, but in the end I enjoyed it very much and will review it next week. I read the much talked about debut from Megan Hunter, The End We Start From, in about two hours. (And, I'm not that fast a reader.) The publisher claims her book is 160 pages, but the paragraphs are very short (3-5 sentences) and after each is a space. Had the formatting been different, I doubt her story would have been much more than 100 pages. This is definitely a novella and could even be considered a longer short story. All that being said, the book is original, almost poetic in its structure and imagery. Billed as dystopian, that element was minor. The End We Start From puts a lot of responsibility for the story on the reader and at this point, I'm still digesting.
Currently Reading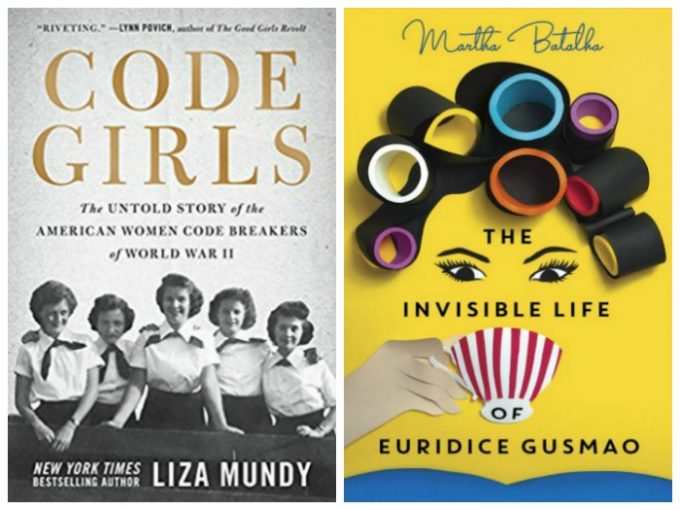 Yes, I'm still listening to Code Girls by Liza Mundy. It's long! I do enjoy the book and am anxious to get in my car every day and hear more, but I'm not so interested that I'm doing any listening at home. I think it could have been shorter because I feel like she's repeating similar ideas in different places. Still, it's a fascinating study in women's history. I started The Invisible Life of Euridice Gusmao by Brazilian writer, Martha Batalha yesterday. After about 15%, I'm very interested. It's looking like the book is going to include Euridice's story surrounded by vignettes of other's lives in Rio during the 40's, 50's, and maybe 60's. Love the writing!
Likely to Read Next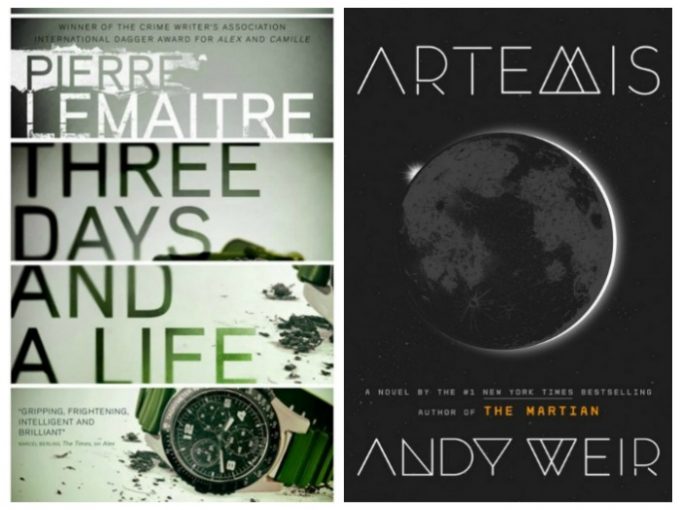 I'm firmly into November books with these two! Three Days and a Life by French writer Pierre Lemaitre tells the story of a man whose dark childhood secret and present indiscretion are colliding to wreak havoc on his life. I very unexpectedly loved The Martian so I'm terrified to read Andy Weir's new novel, Artemis. I've seen some mixed reviews on this story of a woman involved in the "perfect crime" in Artemis, the moon's first city. I like that this is still set in space, but that the actual premise is so different from The Martian. Let's hope Weir has avoided the dreaded sophomore slump! And, of course, I'll be turning to some wonderful nonfiction books during Nonfiction November.
I hope you have a great week in books!
Disclaimer: There are Amazon Associate links contained in this post.