This post may include Amazon links. As an Amazon Associate I earn from qualifying purchases.
Hosted by Kathryn at Book Date
It's October and it always amazes me how quickly time passes during the fall season. Ping ponging from one holiday to another, these next few months always fly by. After sunshine last week, the weather here is lining up with the calendar and turning a little more dreary. It's the ideal time of year to curl up with books. (If only the rest of our lives would co-operate!) Mine won't be doing so this week, but I'm hopeful for the next. I also hope your October is happy, fun and filled with great books.
Last Week's Reads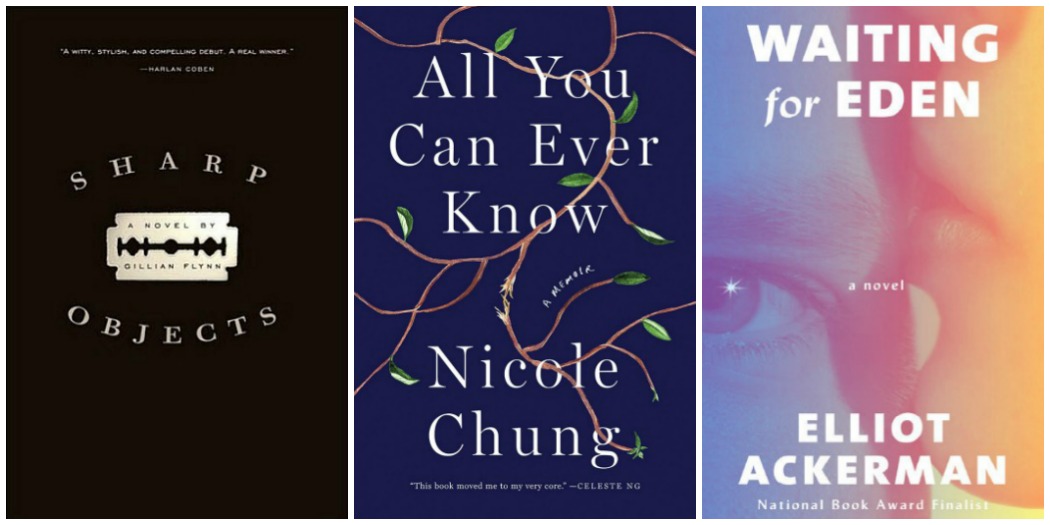 I finished the last few hours of Sharp Objects by Gillian Flynn early in the week and really liked this audiobook. Many parts made me squirm, and the story was a little out there, but it was compelling and easy to listen to. Narrator Ann Marie Lee was terrific. It had been a while since I'd read any nonfiction, so All You Can Ever Know by Nicole Chung turned out to be a great sort of palate cleanser. Chung's memoir of growing up Korean in a caucasian family and her search for her birth family gave me a lot to think about. I suspect that it will resonate loudly with both adoptees and their families. An interesting side note: Julie Buntin, author of Marlena (my review) edited Chung's book. And finally, Waiting for Eden by Elliot Ackerman – the perfect book to round out September. I first notice it on The Washington Post's Books to Read this Fall, but had forgotten about it. Thursday, I was reminded when Annie Jones raved about it on her From the Front Porch podcast. Friday evening I downloaded the sample and I finished the book by noon on Saturday. It's under 200 pages, so that's no great feat, but I also couldn't stay away from this book. It's a unique, beautifully told story of a severely injured war veteran, his wife and the soldier who died at his side. If I can pull my thoughts together, I hope to have a review up on Thursday.
Currently Reading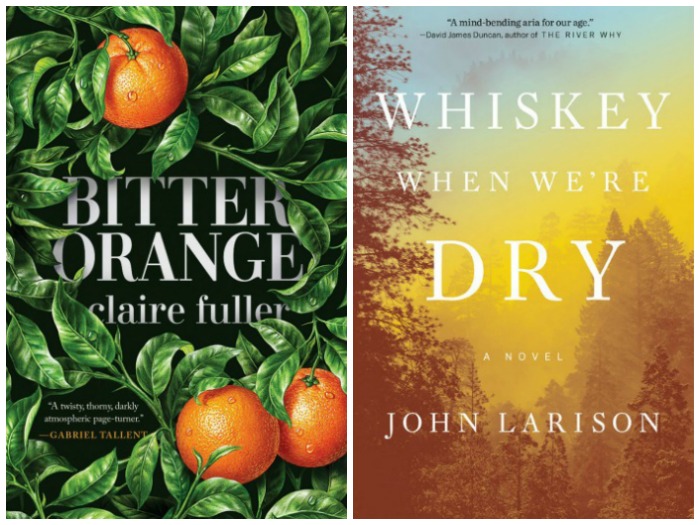 After the first 12% of Bitter Orange, Claire Fuller's new book, I strayed to read Waiting for Eden. That's never a good sign, but I've returned to it, and am still undecided about Fuller's third book. Something is keeping me going, but so far the story is a little on the dull side. Beth from Beth Fish Reads raved about the audio version of Whiskey When We're Dry by John Larison. Beth rarely steers me wrong when it comes to audiobooks, so I took note. But, for me it had two things going against it: it's a western which I rarely read, and it's over 15 hours long which is about 5 more than I like in an audiobook. Still, I couldn't stop thinking about the book, so finally took the plunge and downloaded it. After and hour and a half, I'm glad I did.
Likely to Read Next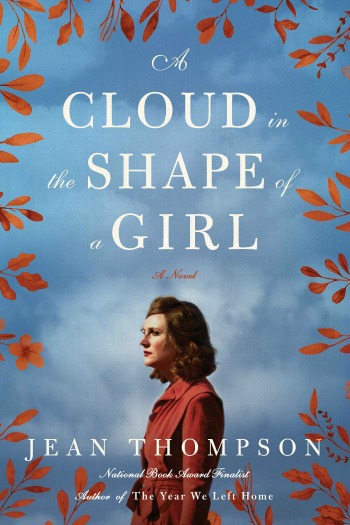 Next up will definitely be A Cloud in the Shape of a Girl by Jean Thompson. I'm looking forward to reading this quiet character driven novel that I've already been hearing great things about.
I hope you have a great week in books!
Disclaimer: There are Amazon Associate links contained in this post.