This post may include Amazon links. As an Amazon Associate I earn from qualifying purchases.
It's been a busy couple of weeks, but much was done. My sister, brother and I spent nearly a week moving our mom from independent living into a very nice assisted living apartment. It was a big job with many decisions to be made, but we made a great team. Though the task was exhausting and sad, there was also a lot of laughter. Mom seemed to like her new place and is in the process of adjusting to her new living arrangements. It was great to see her (we each had to pass tow COVID tests to be in her new building) and to be able to do this for her. I returned to work on Friday and conferences start on Monday, so I have had A LOT of catching up to do. It was definitely a working weekend, but I think life will get back to normal soon. For obvious reasons, my reading was on the slow side these last couple of weeks, but what I lacked in quantity, I made up for with quality! I hope your reading has been going as well.
Hosted by Kathryn at Book Date
Last 2 Week's Reads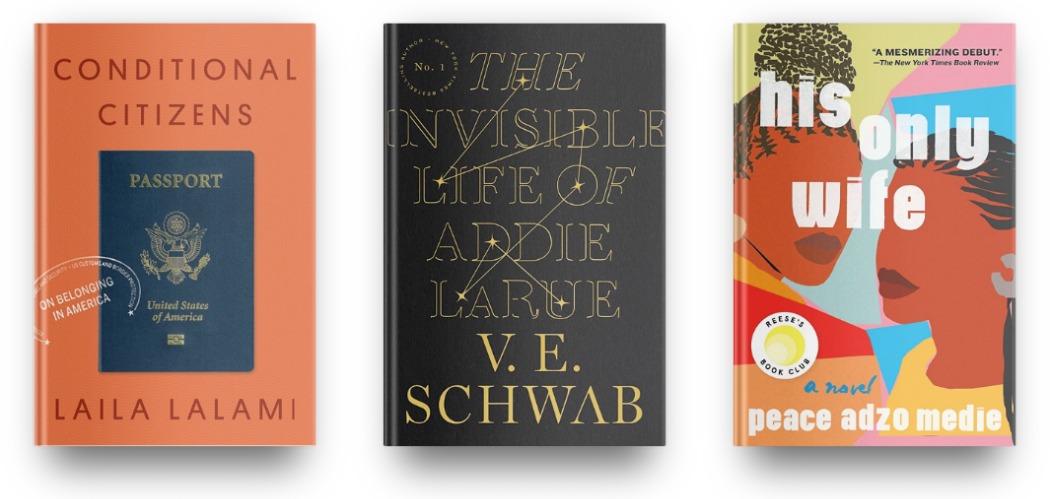 While traveling, audiobooks made up almost all my reading. The first of those was Conditional Citizens, by Laila Lalami. She is the author of one of my favorite books last year, The Other Americans (my review) and I was eager to hear her thoughts on citizenship in America from the point of view of naturalized citizen. She did not disappoint! This was a great little memoir which I'll be reviewing on Thursday in my

October 2020 Reviews

.
BOOK LOVE! I adored The Invisible Life of Addie LaRue by V.E. Schwab SO much. I did my first combination read/listen with this book because I had a six hour drive and could not be away from it for that long. I have full review posting tomorrow, but I can tell you now that Addie will be near the top of my list for

Best Books of 2020

.
For my return drive home, I started His Only Wife by Peace Adzo Medie and it was a perfect book for a drive. I was immediately into this story and now am eager to hear what the author has to say. She's Sarah's guest on Sarah's Bookshelves Live next week, and I'll have a review up on Thursday. And, this book marked the completion of this year's Goodreads Reading Challenge for me! With two months to go, 2020 may turn out to be my top reading year in terms of numbers.
Currently Reading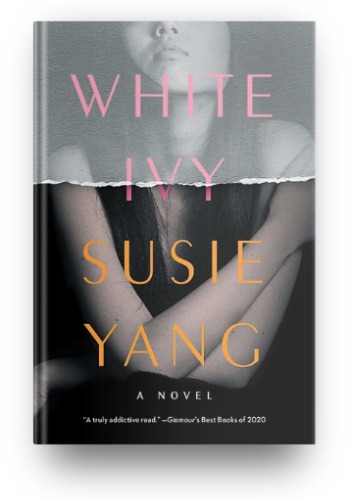 I'm not sure where I'll go next with audiobooks, but I'm really enjoying reading White Ivy by debut author Susie Yang in print. It started out a little slowly for me, but I'm glad I stayed with it because the further I go, the better it gets. At about 60%, I can't wait to see what happens next!
Likely to Read Next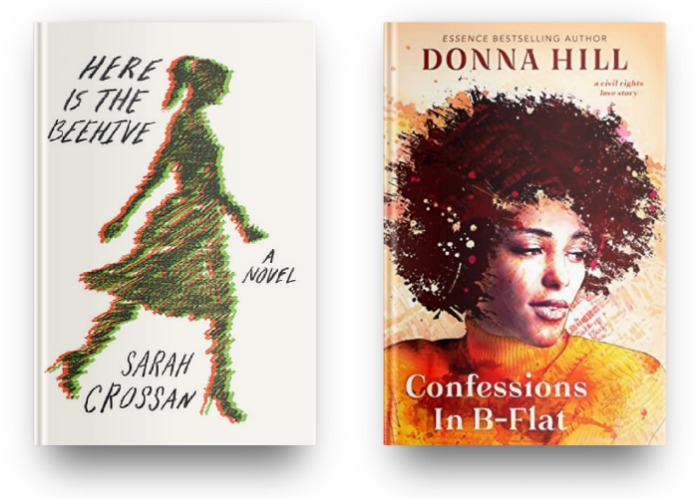 I passed on quite a few October books and may eventually go back to some, but I'm more inclined to move on to my last two ARC's for the year, both coming out in November. The first is Here is the Beehive by Sarah Crossan. Described as funny, frank and strange, I'm very curious about this debut featuring a woman whose lover has died and her budding friendship with his widow.
Confessions in B-Flat by Donna Hill is a bit of a love story set against the Civil Rights Movement in 1963 Harlem. It's an era I love, a topic I'm always interested in learning more about, and the fact that it's done through  a couple with opposing ideologies seems like a great way of really digging in. I've heard nothing about Confessions in B-Flat, so I may be alone on this one!
I hope you have a great week in books!