This post may include Amazon links. As an Amazon Associate I earn from qualifying purchases.
All You Can Ever Know by Nicole Chung
This Will Only Hurt a Little by Busy Philipps
Missoula by Jon Krakauer
The Year of Less by Cait Flanders
Fly Girls by Keith O'Brien

Today marks the halfway point of Nonfiction November, so it seems like a good time to do official mini-reviews of multiple books I've already mentioned several times this month. Three are memoirs, one a piece of investigative journalism, and the last, a historical account of early female flyers. All are great works that many will want to add to their nonfiction TBR stacks!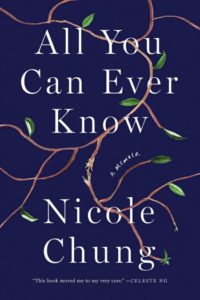 All You Can Ever Know by Nicole Chung
Publisher: Catapult
Release Date: October 2, 2018
Length: 240 pages
Amazon
From the Publisher: "With warmth, candor, and startling insight, Nicole Chung tells of her search for the people who gave her up, which coincided with the birth of her own child. All You Can Ever Know is a profound, moving chronicle of surprising connections and the repercussions of unearthing painful family secrets―vital reading for anyone who has ever struggled to figure out where they belong."
My Thoughts: Nicole Chung was born prematurely at a Seattle hospital. Shortly after birth, she was given up for adoption by parents who felt ill-equipped to care for her. Nicole was welcomed into the home of a childless caucasian couple. Growing up in small town in Oregon, Nicole often felt the sting of being different and soon came to realize the pain this caused was not something she could share with her parents. As Nicole Chung grew toward adulthood her desire to find out more about her birth family grew stronger and stronger. All You Can Ever Know is her moving account of her journey toward making the initial decision to reach out in search of this family and all that came after. I thoroughly enjoyed Chung's memoir and especially think it's an important book to read for anyone involved in a cross-cultural adoption. She gives the reader a lot to think about while remaining true to BOTH her families. Grade: B
Note: I received a copy of this book from Catapult (via Edelweiss) in exchange for my honest review. Many thanks!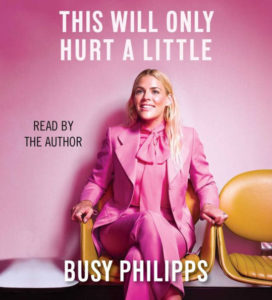 This Will Only Hurt a Little by Busy Philipps 
Publisher: Touchstone (Simon & Schuster Audio)
Release Date: October 16, 2018
Length: 320 pages (7 hrs. 56 min.)
Amazon
From the Publisher: "There's no stopping Busy Philipps. From the time she was two and "aced out in her nudes" to explore the neighborhood (as her mom famously described her toddler jailbreak), Busy has always been headstrong, defiant, and determined not to miss out on all the fun. These qualities led her to leave Scottsdale, Arizona, at the age of nineteen to pursue her passion for acting in Hollywood. But much like her painful and painfully funny teenage years, chasing her dreams wasn't always easy and sometimes hurt more than a little."
My Thoughts: I barely know where to begin with this one because I loved so many things about it. As you would expect, Philipps' own narration is terrific, but there's much, much more to it. I'll start by saying that I'm not especially a fan of celebrity memoirs in general or Busy Philipps in particular, but This Will Only Hurt a Little just might have changed my feelings on both. With equal parts humor and honesty, Philipps shares her lifelong desire to be noticed. Growing up in Scottsdale, Arizona this didn't always go over well and Busy found herself in trouble on more than one occasion. Luckily for Busy her mother was amazing. (Seriously, you will wish you had Mrs. Philipps for a mom!) Once Philipps arrives in Hollywood, the reader is treated to behind-the-scenes drama of auditions, TV shows, friendships, parties, and more. The more Philipps shared about her life, the more relatable she became until by the end, I was a Busy Philipps fan. Grade: A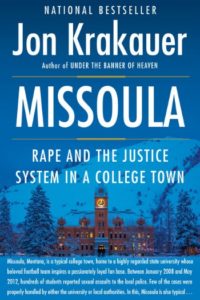 Missoula by Jon Krakauer 
Publisher: Doubleday.
Release Date: April 21, 2015
Length: 384 pages
Amazon
From the Publisher: "Missoula, Montana, is a typical college town, with a highly regarded state university, bucolic surroundings, a lively social scene, and an excellent football team — the Grizzlies — with a rabid fan base. 
The Department of Justice investigated 350 sexual assaults reported to the Missoula police between January 2008 and May 2012. Few of these assaults were properly handled by either the university or local authorities. In this, Missoula is also typical."
My Thoughts: I found Krakauer's examination of a series of rapes in the span of a few years in Missoula, Montana to be incredibly sad, not just for the victims, but for the usualness of the crimes. Missoula and the University of Montana came under close scrutiny mainly because of one brave local reporter. She was willing to go against the community, the college, the police and the local district attorney's office to bring rapes perpetrated by members of the university's beloved football team to light. Missoula got a lot of unwanted attention from the Department of Justice for the mishandling of many local women's cases, but as Krakauer made clear, Missoula is just one of hundreds of similar college towns. Towns where young women aren't heard or worse still, not believed. I appreciated his thorough job of covering multiple cases through the lens of the women, their families, police, prosecutors, as well as the men they accused. With more than 3 years since Missoula's publication, I'd love to see Krakauer do a follow up piece, investigating any lasting changes that may have come about in the culture of rape. Grade: B+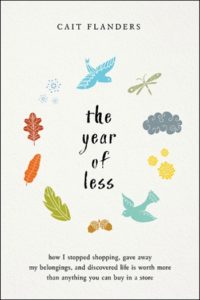 The Year of Less by Cait Flanders 
Publisher: Hay House Inc.
Release Date: January 16, 2018
Length: 216 pages
Amazon
From the Publisher: "In her late twenties, Cait Flanders found herself stuck in the consumerism cycle that grips so many of us: earn more, buy more, want more, rinse, repeat. Even after she worked her way out of nearly $30,000 of consumer debt, her old habits took hold again. When she realized that nothing she was doing or buying was making her happy–only keeping her from meeting her goals–she decided to set herself a challenge: she would not shop for an entire year."
My Thoughts: Cait Flanders was not new to challenging herself to set high goals and accomplish them. At under thirty she'd already dug herself out of debt, put an end to a very, very bad drinking problem, and found a rich career path she enjoyed. But, Cait still wasn't entirely happy and found herself slipping back into a cycle of mindless spending. So, Cait took the radical step of inflicting a yearlong shopping ban on herself. Food, absolutely vital household products, a few specific clothing items, and travel were not part of the ban, but everything else she said no to. Part of Flanders' motivation was to save more money, but part was the realization that she bought things in the hopes of making herself happy, and that just wasn't working. Over the course of the year, Flanders gained many unexpected insights about herself and life in general. While, I could appreciate these, at times i felt like she was being repetitive and at other times just a bit preachy. Still, for anyone looking to live with less The Year of Less will make good reading. Grade: C+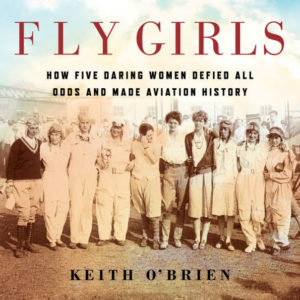 Fly Girls by Keith O'Brien
Narrator: Erin Bennett
Publisher: Eamon Dolan/Houghton Mifflin Harcourt (Highbridge)
Release Date: August 7, 2018
Length: 352 pages (12 hrs. 13 min.)
Amazon
From the Publisher: Between the world wars, no sport was more popular, or more dangerous, than airplane racing. Thousands of fans flocked to multi-day events, and cities vied with one another to host them. The pilots themselves were hailed as dashing heroes who cheerfully stared death in the face. Well, the men were hailed. Female pilots were more often ridiculed than praised for what the press portrayed as silly efforts to horn in on a manly, and deadly, pursuit."
My Thoughts: When you think of early female flyers, the name that comes to mind is inevitably Amelia Earhart, but in Fly Girls author Keith O'Brien shares the stories of the MANY women who put their lives on the line in the pursuit of their own aviation dreams. In the years between the two World Wars, planes and pilots were the rockstars of their day. People followed their exploits, had favorites, came to cheer them on, and wept when lives were lost in crash after crash. Though many felt women were far too delicate to join the ranks of top male pilots, newly minted aviatrixes knew differently. Year after year, these brave women fought to be included in air competitions and cross-country races that swept the country, giving Depression Era fans something to cheer about. From O'Brien's book I learned a great deal about the early aviation industry, but even more about a group of amazing women who were breaking glass ceilings, long before their times. O'Brien's work is nonfiction at its finest and the audio narration by Erin Bennett was also top notch. Grade: A
So, is your nonfiction TBR list growing?
Disclosure: There are Amazon Associate links included within this post.