This post may include Amazon links. As an Amazon Associate I earn from qualifying purchases.
My reading life has been a mess for the last couple of months. Even before school was canceled, and the stay-at-home orders began, there was already a growing sense of uncertainty that still rules today. That has profoundly changed my relationship with books, and today I'm going to go rogue and share a few random thoughts on reading during the era of COVID-19.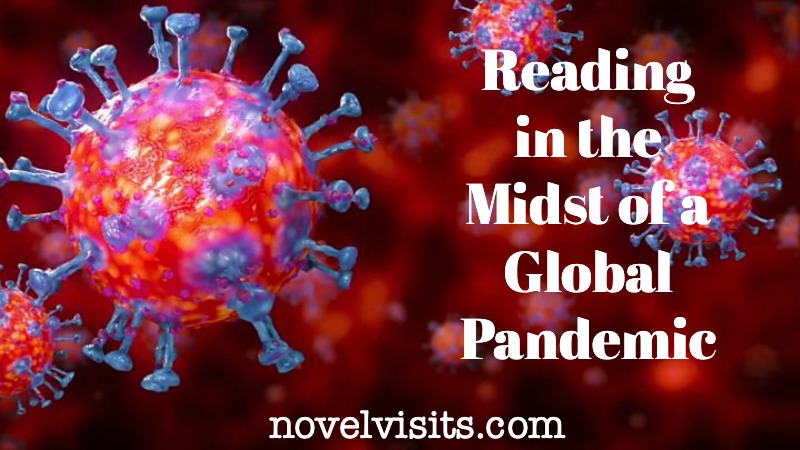 I apologize in advance, if my thoughts seem less than well organized or a bit rambling. I gave myself the freedom to simply capture my feelings in print. I hope you'll join me in the conversation.
Historically, reading has been my solace during hard times, my escape mechanism. For that last two months that just hasn't been true. Even if I'm reading a book I like, I pick it up, put it down, wander around the house, find some other distraction. Sure some books pull me back quicker than others, but I don't think I've sat and read for an hour straight this entire time. No matter how good the book, my mind is busy. That's exhausting and I feel cheated out of the pleasure books usually bring to my life.
For many of you time to read is a big issue since you're working from home and/or managing distance learning from your house. It makes sense that the quality of your reading, not to mention time for reading would suffer. I live alone, so don't have the exact same situation as you might. But, living alone is a double edged sword. I don't have others in my home distracting me, so I should have lots of time for reading, but I also don't have anyone in my home TO distract me, so spend too much time trying to calm myself down.
I'm sure most of you would agree with me that working from home does not mean more reading time. When I went to school and taught, I had clear boundaries between my work and home lives. Home life was where my reading world resided. Now, I NEVER fully leave work. Even when I try, it's always close by, making reading focus even more difficult. At the end of a long work day, I'd often rather binge watch TV than read. It requires so much less brain space!
I don't know if it's the books, the time, or just me, but I feel like the last couple of months my reading life has resided in the land of mediocrity. I have read a couple great books, but I've DNF'd several that others have loved, and I've felt just plain "meh" about many. Of those, I know on one level I really liked some, but they just didn't give me the lift I wanted. Is it even right to expect books to uplift me? Too often I've started a book thinking it was going to be the one, but then grown restless and a little bored by the end. I know it's not the books. It's me, but every time a book fails to rescue me, I feel a nudge of depression trying to worm its way in.
All this makes writing reviews a HUGE challenge. I don't fully trust my own opinions about what I've read, and that, coupled with the fact that writing right now feels like so much work, make mini-reviews about the best I can muster for most books. It's why you've seen me revamping a few of my older booklist posts and sharing those instead.
I hope publishers will be kind and understanding about just how difficult this time is for their readers. I know my NetGalley percentage has dipped below the 80% mark where I usually hover. (This is a percent rating given to those of us reading in advance and is a calculation of books reviewed out of books approved.) I'm giving up on more books than usual, so can offer no reviews on those.
Even Instagam/Bookstagram, a platform that I've come to love, has been a struggle for me during the time of COVID.  Like everyone else, I can't get books from the library, and I usually rely on a lot of those for my photos. It's hard to get many great pics with the limited amount of physical copies available right now. Everything feels like work!
Still, it's NOT all bad news. I HAVE read books I've loved during this time of social distancing. Those have taken me out of the day-to-day doldrums. I only wish their balm on my psyche could last a little bit longer and that I could find a few more to do the same.
Has your reading life changed in the era of COVID-19? How are you coping through this ongoing global crisis?
PIN THIS POST

⇓