This post may include Amazon links. As an Amazon Associate I earn from qualifying purchases.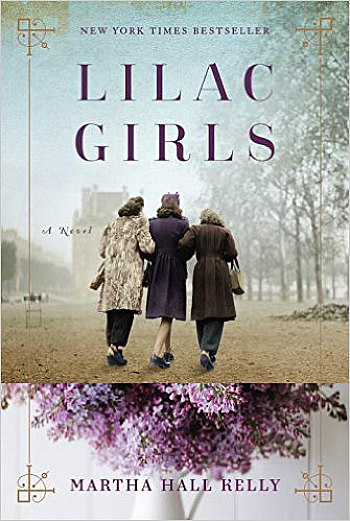 Lilac Girls by Martha Hall Kelly (debut)
Publisher: Ballantine Books
Release Date: April 5, 2016
Length: 497 pages
Single Sentence Summary: Three women: a Polish teenager, a New York socialite, and a German physician, survive World War II in very different ways.
Primary Characters: Of the three main characters, two were women who actually lived through World War II and played significant roles. First, is Caroline Ferriday – as the novel begins, she's a New York socialite working at the French consulate helping displaced French and French orphans. Also, Herta Oberheuser – a doctor working at the only all female concentration camp, Ravensbruck. She was the only female doctor convicted of war crimes. The fictional main character is Kasia Kuzmerick – a Polish teenager working in the Polish resistance as the novel begins and later a prisoner at Ravensbruck. (Her character was a compellation of many Polish women who were at one time in Ravensbruck.)
Review/Synopsis: I have to admit that I'm a real fan of a good World War II story, especially one like Lilac Girls that tells a piece of the War I've never really known about. It's always a little shocking to me how little I really learned about World War II in school. It seems like every time I read a book set in that era I end up being amazed anew with the horrors and heroes from that devastating slice of history. Martha Hall Kelly's fantastic first novel was no exception. Told by the three main characters, the story begins with the reader learning what each woman was doing in their lives that got them to the place they were during the war. Kasia is a typical teenager who loves her friends and family, but takes a stand in the resistance when the war hits Poland. Herta is a young female doctor looking to find a way to really practice medicine as a female physician. She notices a generic job posting for a doctor at Ravensbruck and that seems like the perfect fit. Caroline, is a compassionate single socialite, who at first witnesses the war from New York, but later travels to France. As the story hits its stride, we are introduced to the only all female concentration camp, Ravensbruck, which originally held mainly women from Poland. It's also of great significance because there they used select women prisoners for brutal human medical experimentation. Approximately seventy of these women survived and came to be known collectively as the Ravensbruck Rabbits. Kasia is one of these Rabbits. While in prison she and others endure procedure after procedure and are exposed to multiple infections all under the watch of Dr. Oberheuser and others. The novel paints a vivid picture of the horrors of life in the camp and the Rabbits' fight for survival. The book goes on to cover the struggle of each of these women to get back to a "normal" life after the war, and Caroline Ferriday's tireless efforts to help the Rabbits rebuild some sort of life and get the retribution they deserved. Lilac Girls is a beautifully written story that does a magnificent job of showing us all the power of the will to not just survive, but to flourish. Grade: A+
If you liked this book you might also enjoy:
Disclosure: There are Amazon Affiliate links included within this post.