This post may include Amazon links. As an Amazon Associate I earn from qualifying purchases.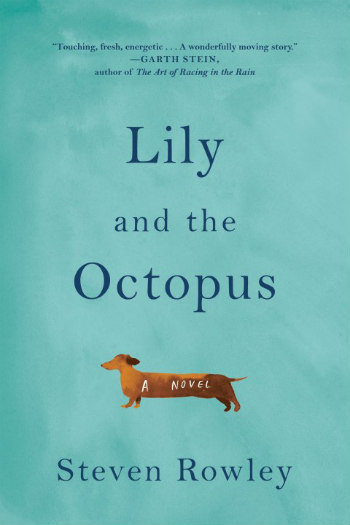 Lily and the Octopus by Steven Rowley (debut)
Publisher: Simon & Schuster
Release Date: June 7, 2016
Length: 320 pages
Buy on Amazon
Single Sentence Summary: Lily and the Octopus is the story of man and a dog living a happy, carefree, slightly odd life until an enemy enters their home, and the battle to defeat him begins.
Primary Characters: Ted – a 42-year old, lonely (without fully realizing it) gay writer who narrates the story. Lily – Ted's 12-year old dachshund that he adores. The octopus – well, that might spoil the story!
Review/Synopsis: Thanks to Steven Rowley and his brilliant first novel, Lily and the Octopus, I now want a dachshund of my very own and I!WANT!MINE!TO!BE!JUST!LIKE!LILY! (This is how Lily talks when she's excited.) Like Ted, a single man living in Los Angeles, I have fallen in love with an amazing dog and nearly perfect friend. But, this is their story, not mine. The day before Ted turned thirty, he went to visit a litter of dachshund puppies and by simply untying his shoelace Lily chose him. The very next day, Ted knew he was truly capable of being in love. Twelve years later, Ted was 18 months out of his last relationship and he and Lily led a life of their own creation (or more accurately, Ted's creation). They had movie nights, talked about boys, and played Monopoly. It was a life where Lily was fiercely loved and she, in turn, filled many (too many?) of the empty spots in Ted's life. And then….the octopus! Neither was prepared for the octopus. How did he get there? How to make him go away? This is Ted's struggle for much of this delightful novel. I don't want to say much more as it might spoil the story. Instead, I'll simply say that Lily and the Octopus was wonderful and weird, joyful and heartbreaking, real and imagined, and ultimately extremely satisfying. I loved it and YOU!WILL!LOVE!IT!TOO! Grade: A+
If you liked this book you might also enjoy:
Disclosure: There are Amazon Affiliate links included within this post.