This post may include Amazon links. As an Amazon Associate I earn from qualifying purchases.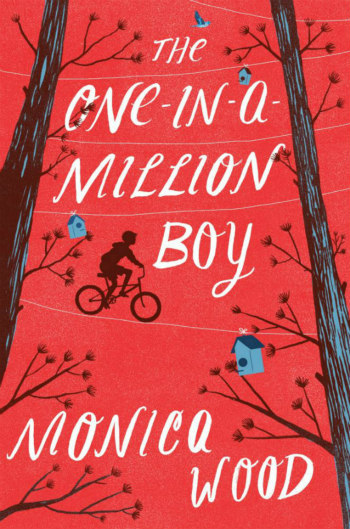 Review: The One-in-a-Million Boy by Monica Wood
Publisher: Houghton Mifflin Harcourt
Release date: April 5, 2016
Length: 336 pages
Single sentence synopsis: Unique boy leads his father and 104-year old friend on incredible adventures of all kinds from beyond the grave.
Main characters: The boy – we never know his name, and he passed away before the story began, but this 11-year old boy drives the entire book. Ona Vitkus – a 104-year old woman that the boy had been helping out as part of earning a Boy Scout badge. Quinn Porter – the boy's largely absentee father.
Review/Synopsis: The One-in-a-Million Boy is truly a wonderful, unique new novel! I always appreciate a brand new theme in a story and Monica Wood has definitely given us one here. The main characters are all richly drawn and well developed. This is most especially true of the boy, who has tragically died before the story begins. He is the driving force for the entire novel. The boy was a different kind of kid – no real friends, on the odd side and he was obsessed with the Guinness Book of World Records. In order to earn a Boy Scout badge, he had been helping out 104-year old Ona Vitkus around her house every Saturday. Ona became his friend and he shared his love of records with her even inspiring her to try for some of the "old age" records. After the boy's death, his musician father, Quinn, sets out to complete the seven Saturdays the boy had left for his badge. Quinn is doing this at his ex-wife's suggestion and as a sort or penance for being absent from much of his son's life. With Ona, Quinn gets more than he bargained for. She really knew the boy, unlike Quinn. Over the seven weeks, Ona teaches Quinn much about the boy and life in general, but their friendship works both ways as Quinn helps Ona achieve dreams that were inspired by the boy. This is a novel where you fall in love with the characters – every single one of them! The story will make you feel sorrow and joy, hope and healing. You'll be telling all your book-loving friends that The One-in-a-Million Boy is a must read. Grade: A+
If you like this book you might also enjoy:
Disclosure: There are Amazon Affiliate links included within this post.