This post may include Amazon links. As an Amazon Associate I earn from qualifying purchases.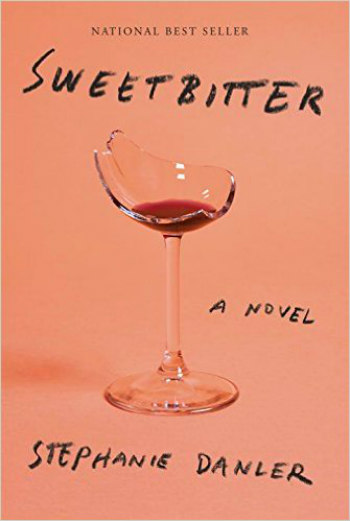 Sweetbitter by Stephanie Danler (debut)
Publisher: Knopf
Release Date: May 24, 2016
Length: 368 pages
Buy on Amazon
Single Sentence Summary: Small town girl arrives in NYC and spends the next year in the world of food, wine, and drugs learning about friendship, love, betrayal and most of all herself.
Primary Characters: Tess – 22-year old young woman who comes to NYC with no real plan and little money, but a desire to learn about all she doesn't know. Simone – lead server at the story's high-end restaurant who takes Tess under her barbed wing. Jake – a dark, elusive bartender who Tess is attracted to from the start.
Review/Synopsis: With her first novel, Sweetbitter, Stephanie Danler brings us a brilliant, intriguing coming-of-age story set in a high-end restaurant in Union Square. The cast of wonderfully drawn, unique characters all work at this restaurant. The story revolves around, and is told by Tess who arrives in 2006 NYC with little more than the desire to figure out who she is and what she wants. When Tess somehow manages to land a job as a backwaiter at a very popular restaurant where employees rarely leave she is happy and excited, but also terrified to the point where she can barely speak. Tess learns lessons from all of her co-workers, but two have a pull on Tess that she cannot resist. Simone is a senior server, who seems to know everything about food, wine and life. Simone teaches Tess about cheese, mushrooms, champagne, wine, people and much more, but she holds most of her personal life as a mystery. Tess wants to be like her. Jake is a dark, brooding bartender that Tess is immediately drawn to, but who mostly ignores Tess. Tess struggles with the connection between Simone and Jake that might be many things, but is always there. Over the course of the year, Tess learns lessons not only about food and wine, but also about drinking and cocaine, sex and friendship, the city and art, living well and living to excess. She experiences both joy and pain, but takes it all in and grows stronger, becoming a person who knows herself and who she wants to be. Tess at one point reflects, "Didn't you run away to find a world worth falling in love with, saying you wouldn't care if it loved you back?"
Sweetbitter is a beautifully written novel. The voice of Tess is so strong and consistently clear that the reader learns about the restaurant world along with Tess. We share her fear and wonder. The descriptions are so clear that we crave a glass of champagne and an oyster along with Tess. We're in that dive bar at three in the morning watching Tess take a line of cocaine. We hurt for her and root for her, and in the end, I was proud of her. Grade: A-
If you liked this book you might also enjoy:
Disclosure: There are Amazon Affiliate links included within this post.