This post may include Amazon links. As an Amazon Associate I earn from qualifying purchases.
Spring is almost upon us! I'm always eager for spring to arrive and this year more than ever. It's been a long, long winter that's still going on for much of the country. The gentleness and hope of spring is a welcome respite. Add to that, lots of fabulous new books to look forward to and really, what could be better? Thanks to The Broke and the Bookish for hosting this week's spring themed Top Ten Tuesday.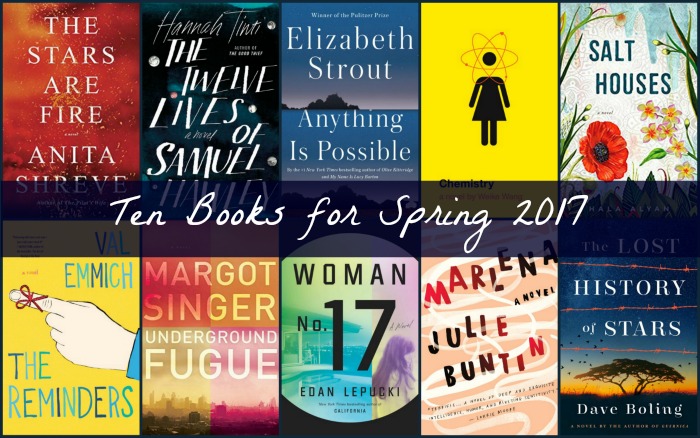 The books below are just a sampling of the many wonderful sounding books being released this spring.
The Twelve Lives of Samuel Hawley by Hannah Tinti (March 28th) – This, a father-daughter story, may be my first book of the spring. In it teenage Loo uncovers her dark family history, one scar at a time. At the same time,  her father's past demons threaten to spill over into the present.
Marlena by Julie Buntin (debut – April 4th) – Inexperienced Cat becomes friends with pill-popping Marlena. Within a year Marlena is dead and Cat is left with memories that will haunt her for decades. This book looks to take Cat's coming-of-age story well beyond her pivotal year with Marlena
Underground Fugue by Margot Singer (debut – April 18th) – This story is built around the 2005 attacks on the London Underground. It follows an American woman caring for her dying mother, and the father and son living next door. After the chaos of the bombings, new friendships are ruptured.
The Stars Are Fire by Anita Shreve (April 18th) – Despite the fact that I've been disappointed in a couple of her books, Shreve is still one of my favorite writers. Based on the largest fire in Maine's history, her new novel tells the story of Grace, a young pregnant mother of two who watches as her house burns to the ground while her husband is away fighting the fires. Through her loss, Grace discovers much about herself.
Anything is Possible by Elizabeth Strout (April 25) – I was late to read My Name is Lucy Barton, but from the moment I finished it, I knew I wanted to read Strout's companion novel. This books promises to give us a deeper look at the cast of characters from Lucy's hometown that her mom was so good at entertaining her with. Lucy Barton will also be making an appearance in Anything is Possible.
Salt Houses by Hala Alyan (debut – May 2nd) – A Palestinian family uprooted and fractured by the the Six-Day War of 1967, finds it happening again when Saddam Hussein invades Kuwait in 1990. This is the story of a family scattered, the lives they build, and the new homes they create. Apt topics in today's political climate.
Woman No. 17 by Edan Lepucki (May 9th) – Lady Daniels hires S (off of Craigslist) to help her care for her children while she's taking a break from her husband. Both women hold secrets and over the course of one hot LA summer, those secrets threaten to erupt. Billed as comic, dark and twisty, this spring release sounds amazing!
Chemistry by Weike Wang (debut – debut May 23rd) – A young graduate student in chemistry is increasingly distressed by her failed research, her boyfriend, and her parents. When the pressure gets too great, she puts it all aside in search of the answer to that age-old question, "What do I really want?"
The Reminders by Val Emmich (debut – May 30th) – Grieving over the loss of his partner, Gavin Winters goes a little crazy and flees LA for the home of old friend in New Jersey. There he meets Joan, a 10-year old with an amazing ability to remember. Can Joan's memories help Gavin to get past his grief and find a future?
The Lost History of Stars by Dave Boling (June 6th) – I really liked Boling's earlier novel of the Spanish Civil War, Guernica, so am eager for The Lost History of Stars. His new historical fiction follows a family of Dutch Afrikaners struggling to survive while being held in a concentration camp during the Boer War.
What are you looking forward to reading this spring?
Disclaimer: There are Amazon Associate links contained in this post.