This post may include Amazon links. As an Amazon Associate I earn from qualifying purchases.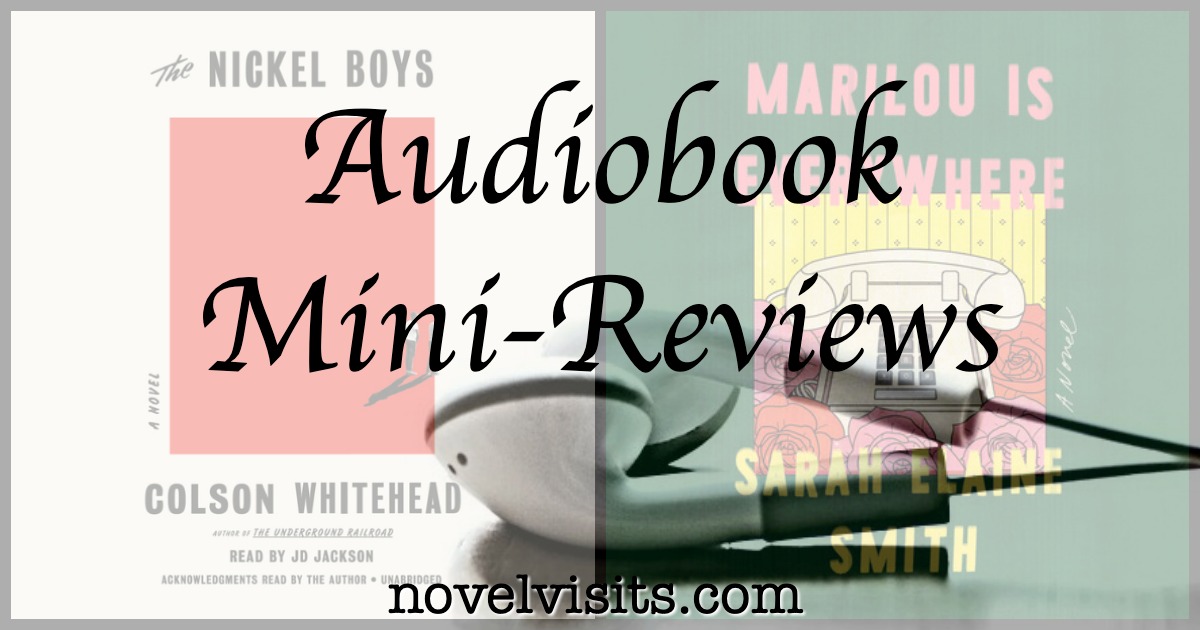 This summer I've had the time to listen to a few more audiobooks than I normally can squeeze in. I've kept a lot of the listening on the lighter side, but recently listened to back-to-back books that were definitely a little more serious and a little more literary. I liked both The Nickel Boys and Marilou Is Everywhere and want to share a few thoughts on each with you today.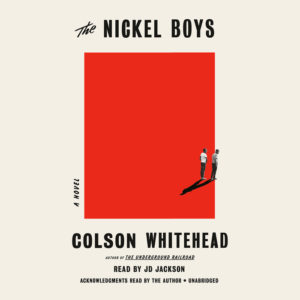 The Nickel Boys by Colson Whitehead
Narrator: JD Jackson
Publisher: Doubleday (Random House Audio)
Release Date: July 16, 2019
Length: 224 pages (6 hrs. 46 min.)
Amazon
From the Publisher: "As the Civil Rights movement begins to reach the black enclave of Frenchtown in segregated Tallahassee, Elwood Curtis takes the words of Dr. Martin Luther King to heart: He is "as good as anyone." Abandoned by his parents, but kept on the straight and narrow by his grandmother, Elwood is about to enroll in the local black college. But for a black boy in the Jim Crow South of the early 1960s, one innocent mistake is enough to destroy the future. Elwood is sentenced to a juvenile reformatory called the Nickel Academy, whose mission statement says it provides "physical, intellectual and moral training" so the delinquent boys in their charge can become "honorable and honest men…"
My Thoughts: Nothing about The Nickel Boys is easy to read, or in this case listen to. Making it even harder is the fact that Colson Whitehead based his story on the records of an actual Florida reform school, The Dozier School. The horrific treatment of boys sent to this reform school in the early 60's was not a surprise to me. I'd read enough about Whitehead's book to know what to expect. What got to me was how a boy who had so much going for him, had his life completely destroyed because he was in the wrong place at the wrong time and even more because he was black, poor, and living in the Jim Crow South. Even as the Civil Rights movement was hitting its stride, the reformatory went unchecked. What got to me most was the pervasiveness of the abuse and the ease with which so many looked the other way.
The story of The Nickel Boys focused on Elwood Curtis and his friend Turner. The story took place mainly in those early 60's when the boys were held captive in the Nickel School, but interspersed were short chapters from Elwood as an adult making a life for himself in New York City. This back and forth sometimes made me feel a little off balance and I wasn't clear where Whitehead was going with it or how the arc of his story would come together. It wasn't until the very end that I saw the full picture and it was WELL worth the wait. I admired Whitehead's writing throughout, but the ending took his story telling to a whole other level. Grade: A-
"It was crazy to run and crazy not to run. How could a boy look past the school's property line, see that free and living world beyond and not contemplate a dash to freedom, to write one's own story for once? To forbid the thought of escape, even that slightest butterfly thought of escape, was to murder one's humanity."
Narration: JD Jackson is a new-to-me narrator, and he's quickly made me a fan. His reading was both clear and smooth. He made me really feel Elwood's pain and frustration, both as a boy and later as a man. I definitely want to listen to more from Jackson. Grade: A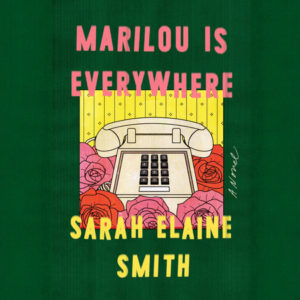 Marilou Is Everywhere by Sarah Elaine Smith (debut)
Narrator: Kristen Sieh
Publisher: Riverhead Books (Penguin Audio)
Release Date: July 30, 2019
Length: 288 pages (6 hrs. 45 min.)
Amazon
From the Publisher: "Fourteen-year-old Cindy and her two older brothers live in rural Pennsylvania, in a house with occasional electricity, two fierce dogs, one book, and a mother who comes and goes for months at a time. Deprived of adult supervision, the siblings rely on one another for nourishment of all kinds. As Cindy's brothers take on new responsibilities for her care, the shadow of danger looms larger and the status quo no longer seems tolerable. 
So when a glamorous teen from a more affluent, cultured home goes missing, Cindy escapes her own family's poverty and slips into the missing teen's life…"
My Thoughts: When I read the premise of this book, one teen slipping into another teen's life, I was completely intrigued. How could this possibly happen? How could both families allow it? I needed to understand HOW! Fourteen year old Cindy had grown up with a mother who was frequently absent and not much of a parent when she was there. As the story opens her mother was once again gone and Cindy was relying on her two older brothers, Virgil and Clinton, to keep a roof over their heads and some food on the table. When Virgil's ex-girlfriend, Jude, disappeared Cindy began helping out around Jude's house and the story took off from there. I don't want to give anything away, so that's all I can say. Just know that eventually my questions were answered.
However, a whole new set of questions arose. There was so much about Marilou Is Everywhere that I liked, especially Cindy in her fragility and confusion. Cindy told the story as an adult looking back on what had happened with her 14-year old self and that perspective was excellent. Still, I think I'd have enjoyed this book more in print than on audio. Too many times I had questions and wanted to look back, or the writing was so beautiful that I wanted to go back and savor it. That's harder to do on audio. I also didn't love the resolution of the story, not for what happened, but for those new unanswered questions. Grade: B
"The very world met me where I was and it was shadow and horrible light, with not a great deal of the between. I have never again been so old as I was that spring."
Narration: Kristen Sieh is another new narrator to me and I liked her very much for Marilou is Everywhere. She came across perfectly as a woman looking back on her teenage self with compassion. I found Sieh extremely pleasant to listen to. Grade: A-
PIN THIS POST ⇓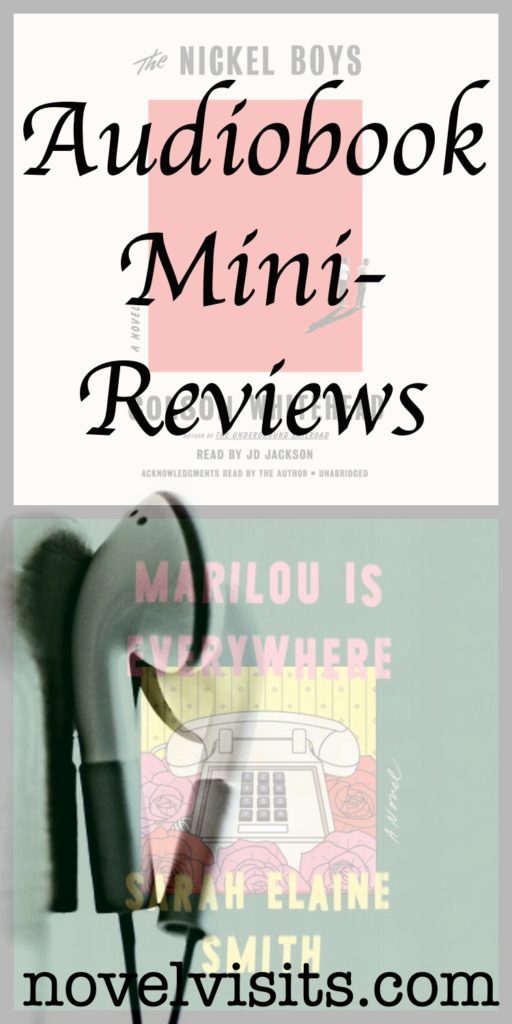 Disclaimer: There are Amazon Associate links contained in this post.