This post may include Amazon links. As an Amazon Associate I earn from qualifying purchases.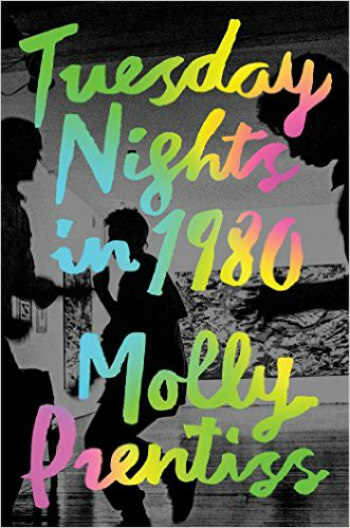 Tuesday Nights in 1980 by Molly Prentiss (debut)
Publisher: Gallery/Scout Press
Release Date: April 5, 2016
Length: 336 pages
Buy on Amazon
Single Sentence Summary: A quirky art critic, a struggling Argentinian artist, and a small-town girl from Idaho collide in 1980 NYC.
Primary Characters: James Bennett – a semi-successful art critic with an unusual condition that enables him to take in the world with all his senses magnified; Raul Engales – a painter from Argentina who still carries the scars of all he left behind there; Lucy Olliason a young woman who leaves Idaho looking for a connection to the art world and finds it when she and Raul meet.
Review/Synopsis: I loved this character driven first novel. Every character in this story, from the three major players to those more minor, is interesting, well developed, and for the most part likeable. Thank you, Molly Prentiss! Tuesday Nights in 1980 opens on New Year's Eve 1979 where we are introduced to all of the characters. James Bennett and his wife are at a fancy party held by a well know gallery owner. At the party James catches a glimpse of Raul Engales and because of his synesthesia (a condition where all senses are heightened to an extreme degree) feels a profound pull toward the man. Raul, a painter who left his sister behind in Argentina nearly ten years earlier, isn't that interested in the party and leaves with a friend ending up at a bar where he meets Lucy Olliason. Lucy left Idaho more than a year ago, following a set of coincidences that she felt were drawing her to New York in general and the art scene in particular. The connection between Raul and Lucy is instantaneous and deep. As they become closer and closer, Raul's paintings become better and better and begin to finally gain more notice. At the same time James and his wife face a tragedy that changes the very core of the man James is. From there the story gets deeper and darker, but also richly moving, and ultimately very satisfying as the lives of these characters connect and overlap in unexpected ways. Tuesday Nights in 1980 is a novel that I find myself thinking about over and over. It was a delightful read! Grade: A+
If you like this book you might also enjoy:
 Disclosure: There are Amazon Affiliate links included within this post.