This post may include Amazon links. As an Amazon Associate I earn from qualifying purchases.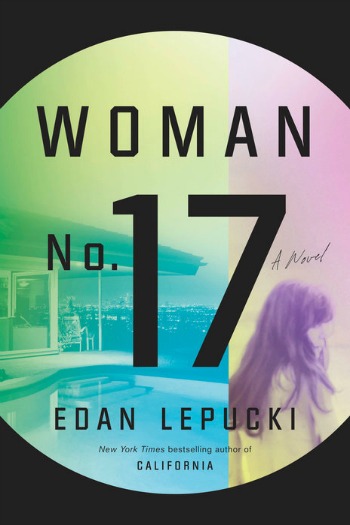 Woman No. 17 by Edan Lepucki
Publisher: Hogarth
Release Date: May 9, 2017
Length: 320 pages
Buy on Amazon
Single Sentence Summary: A woman, taking a break from her husband, is in need of a nanny, but gets much more than she expected when she places a Craigslist ad, and hires a young artist with issues of her own.
Primary Characters: Lady – A 40ish woman, separated from her husband. Lady has two sons and is hiring a nanny to care for her younger son, Devin. Esther – Esther is a recent UC Berkley grad who has decided to reinvent herself (as a form of art) using her own mother for a model. She's also decided to go by S. Seth – Lady's 18-year old son, normal in all ways except for the fact that he has never spoken.
Synopsis: Lady seems to have it all. She's married to a truly nice man who loves her, has money, a beautiful home in the Hollywood Hills, and two amazing sons. But, Lady isn't happy. She's forced a separation from her husband and is in need of a nanny to care for 2-year old Devin so she can get to writing a memoir she's not sure she wants to share. Her Craigslist ad brings S. to her door. Funny, quirky, slightly unattractive, Lady hires S. on the spot. The arrangement seems ideal, until S. and Lady's older son Seth, a nonverbal young man, develop a closeness that becomes more than a little disturbing.
Review: In reading Woman No. 17, I almost felt like Edan Lepucki had two very different stories she wanted to tell. The first was the story of Lady Daniels and her older son, Seth. Lady had Seth at 22 and soon was raising him completely on her own. To make life even more complex, Seth did not speak. This led to endless appointments, therapies, schools in Lady's determination to do everything possible to make Seth's world right. It also led to an incredibly special bond between Lady and Seth; a bond that began to change as he grows older.
"I let him have the universe, but now he was floating farther and farther out of my orbit."
The second story was the story of Esther, or S., a young woman who grew up with divorced parents:
"I'd always been a loner; chalk it up to having a cool dad and a fuck-up mom: I was either hanging out with him or taking care of her."
With a major in psychology and a minor in art, S. floundered after graduating from college and decided she needed to try something different: to know her mother by becoming her. Imitating her personality. Dressing like her. Drinking, just like Mom. Doing this at the same time she'd taken on a new nanny job presented problems for S., but the bigger problems arose as she grew close to both Seth and Lady. S. realized she was on a destructive path, but didn't seem to be able to stop.
Of the two stories, I wanted to know much more about Lady's journey in life. Her challenges with Seth and her determination in doing everything possible to make his life whole were inspiring. Being Woman No. 17, after posing for a famous photographer, was a part of her story I'd like to have known more about. The tension between Lady's past and her present seemed real and worth exploring. S.'s story of transforming herself into her mother felt contrived even if it was for art. She was definitely the harder character for me to understand and her choices often made little sense. The real problem, however, was in the intersection of the two stories. That felt very forced. On the one hand Lady was this sort of fierce tiger mom who would protect her sons at all cost, but when it came to S., she continued to look the other way. Lady's need of S. in the role of a friend never rang true to me. The side stories around Lady and Seth often felt incomplete. I'd have liked to see Lady and Seth in a story focused solely on them. Grade: C+
If you liked this book you might also enjoy:
Harmony by Carolyn Parkhurst – Just as Lady tried to give Seth a normal life, the Hammond family goes to great lengths to help their autistic daughter. (My Review)
Lesson in French by Hilary Reyl – A recent college grad sets out for Paris to be the personal assistant to a famous photographer. The job is far different than she expected.
This Is How It Always Is by Laurie Frankel – A family navigates new territory when they realize their youngest son truly wants to be a girl. (My Review)
Note: I received a copy of this book from the publisher (via NetGalley) in exchange for my honest review.
Disclosure: There are Amazon Associate links included within this post.