This post may include Amazon links. As an Amazon Associate I earn from qualifying purchases.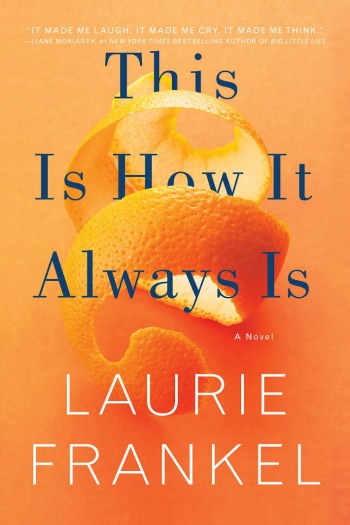 This Is How It Always Is by Laurie Frankel
Publisher: Flatiron Books
Release Date: January 24, 2017
Length: 336 pages
Buy on Amazon
Single Sentence Summary: A quirky family tries to navigate unfamiliar territory with compassion and humor when their youngest son wants to wear dresses and be a princess.
Primary Characters: Rosie Walsh – Mother in this clan of seven. Rosie is a physician and the monetary support of her family. Penn Adams- Rosie's husband, father to the boys. Penn is an always involved stay-at-home dad and a writer. Claude/Poppy – The youngest of Rosie and Penn's five sons. Claude feels from a young age, that he wants much of what girls have.
Synopsis: Claude is a sweet little boy, the youngest in his family of five boys. Claude is a happy well-adjusted, precocious child who knows what he wants. He wants to wear dresses, carry a purse for a lunchbox, play princess, and be a girl when he grows up. Rosie, Penn and his brothers want Claude to be happy with whoever he is, but there is no road map for how to do this. Soon the whole family is keeping secrets to protect Poppy. Secrets too big to be secrets for long.
Review: In This Is How It Always Is Laurie Frankel beautifully told a timely story that some might consider controversial. Frankel herself has a transgender daughter, which gives her some gravitas in the telling of Poppy's story. In the author's notes at the end of the book, Frankel made clear that this is not her family's story. This is the Walsh-Adams's story, and what a wonderful family she created!
Any child would be lucky to grow up in the Walsh-Adams household because they are the most unusual of families. Made up of parents who love and respect each other, five boys born in a span of ten years, all unique yet still comfortable in their own skin. This is a fully functional family. I wanted to live with the Walsh-Adams family! There was no better setting in which to place a sweet little boy who yearned to be a girl.
"When he grew up, he said, he wanted to be a chef, a cat, a vet, a dinosaur, a trainer, a farmer, a recorder player, a scientist, an ice-cream cone, a first baseman, or maybe an inventor of a new kind of food that tasted like chocolate ice cream but nourished like something his mother would say yes to for breakfast. When he grew up, he said, he wanted to be a girl."
As Rosie and Penn's fifth child, they had learned to take their children's many quirks in stride. When it became apparent that Claude's yearning was more than a phase, they didn't panic as many parents might. Instead, Rosie and Penn did all they could to help Claude be the person he felt himself to be, Poppy. When it became too difficult in the small Wisconsin community where they lived, they moved their family to Seattle for a fresh start. I so loved the way the entire family took everything about Poppy in stride. Her brothers were amazingly off-handed about it, but never to the point where it didn't ring true. Poppy was just another piece of their busy lives.
I though Frankel's story telling was especially fine in the exploration of some of the more difficult issues for transgender children and their families. Every member of the Walsh-Adams family kept Poppy's secret without ever explicitly being asked to do so. The toll of such a big family secret was extremely hard on everyone, just as it would be for any family hiding something so large. Frankel particularly explored the brothers' stress at hiding Poppy's truth. Similarly, the different sides of what to do for a transgender child as they approach puberty were clearly studied and explained.
Two additional elements in This Is How It Always Is were used to move the story along. One was a fairytale that Penn told the children throughout their lives. As Claude/Poppy got older, it became a vehicle to explain aspects of life to her and help Poppy to feel more normal. Overall, I really liked this part of the story, but there were a few times when I wanted Rosie and Penn to talk to Poppy more openly. In a difficult time, Rosie took Poppy on a trip to Thailand. I didn't think this was really needed. Frankel did such an amazing job of building a powerful family unit. I was a little disappointed she chose to step away from that even for a short time. Despite that, This Is How It Always Is is a book that everyone who has anything to do with children needs to read, and that many others should read. You'll be glad you did. Grade: A-
If you liked this book you might also enjoy:
Paris Was the Place by Susan Conley – This book takes place in another time and era, 1989 Paris, but explores a powerful family connection between a sister and her ailing brother.
The One-In-A-Million Boy by Monica Wood – The boy in this book has some unusual quirkiness that makes everyone in his life adore him. (My review here.)
The Story Sisters by Alice Hoffman – After a tragic event, three sisters, their mother and grandmother live in their own little world until the oldest begins to rebel.
Disclosure: There are Amazon Associate links included within this post.