This post may include Amazon links. As an Amazon Associate I earn from qualifying purchases.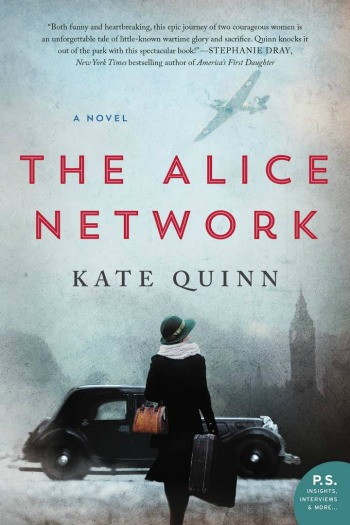 The Alice Network by Kate Quinn
Publisher: William Morrow Paperbacks
Release Date: June 6, 2017
Length: 528 pages
Buy on Amazon
Single Sentence Summary: Pregnant American college student Charlie St. Claire and Eve Gardiner, a one-times spy in WWI's Alice Network, seem like unlikely allies, but by fate they become just that.
Primary Characters: Charlotte St. Claire – an affluent young American woman, in search of her French cousin, Rose, who went missing during WWII. Eve Gardiner – Eve is an angry British woman, haunted by her past. After WWII, Eve worked with an agency looking for displaced people and that brought Charlie to her. Finn – Eve's handyman, cook, driver. Finn has issues in his own past.
Synopsis: Pregnant Charlie St. Claire is sent to Europe to have her "little problem" taken care of. Instead, she flees to London in search of her cousin, Rose, who vanished during WWII. Charlie's search lands her on the doorstep of Eve Gardiner, a bitter drunk, haunted by her betrayal of the Alice Network, a group of French spies during the previous World War. Undeterred by Eve's initial rejection, Charlie forges on with her quest. Eve soon realizes the man Charlie seeks might be the very same as the one who brought Eve down during her days as a spy.
Review: When I picked up The Alice Network by Kate Quinn, I was most looking forward to finding out more about the spy role women played in World War I. I've read a lot of World War II historical fiction, but far less from the Great War. The fact that The Alice Network also had a storyline taking place just after the end of WWII made it seem like a win-win for me. Unfortunately, that didn't prove to be the case.
I thoroughly enjoyed the story of Eve Gardiner during her stint as a young spy in the real-life Alice Network. This group of English and French Resistance workers was headquartered in and around Lille, France during the First World War. Though Eve was fictional, Louise de Bettignies, a prominent character in the book, was indeed the real-life "Alice," leader of this impressive band of spies. Eve's storyline placed her in an elite Lille restaurant where she was able to eavesdrop on top German brass as they dined. Quinn brought Eve to life with a realistic back-story, as well as plausible character traits that led her to become a successful spy. Her efforts for the war were both exciting and valuable, but just as importantly her story rang true.
"Everyone breaks down the first night. Eve would hear that from her fellow prisoners. Bur Eve came to Siegburg already broken. The darkness was not nearly as terrible as the inside of her own mind….."
Sadly, Eve's story was only half of this book. The parts surrounding Charlie and her hunt for her cousin proved to be a disappointment for me. Filled with unlikely coincidences of "fate," Charlie's story did not ever feel authentic. It was frustrating wading through her 1947 story so I could get back to the more interesting WWI storyline. The two stories converged in a very neat and tidy ending, which was just too pretty for my taste. I'd have enjoyed The Alice Network much more, had it been entirely focused on the women of the Alice Network. Grade: C
If you liked this book you might also enjoy:
The Nightingale by Kristin Hannah – French sisters, Vianne and Isabelle, work with the Resistance during WWII. Loved this book!
We Were the Lucky Ones by Georgia Hunter – A family fights to survive WWII and reunite after the War's end. (My review)
Note: I received a copy of this book from the publisher (via Edelweiss) in exchange for my honest review.
Disclosure: There are Amazon Associate links included within this post.