This post may include Amazon links. As an Amazon Associate I earn from qualifying purchases.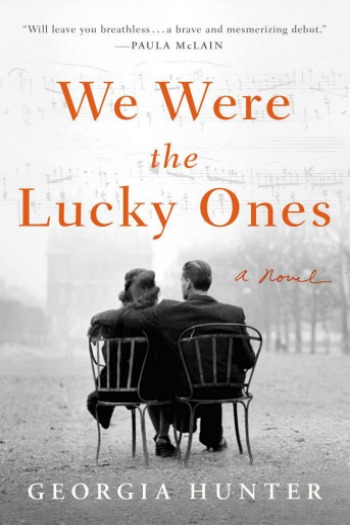 We Were the Lucky Ones by Georgia Hunter (debut)
Publisher: Viking
Release Date: February 14, 2017
Length: 416 pages
Buy on Amazon
Single Sentence Summary: As World War II ravages Poland from Germany in the east and Russia in the west, the Kurcs, a large, very close Jewish family, try to survive by any means possible.
Primary Characters: This story is really about the entire Kurc family, too many to list. Sol and Nechuma, 52 & 50 at the story's onset, head the family. They have five children, ranging in age from 31 to 21. Some are married. Others marry. They have one grandchild.
Synopsis: In 1939, the members of the Kurc family were leading an unremarkable life in Radom, Poland. They were a very close-knit Jewish family who truly enjoyed spending time together. As the threats from Germany and Russia became all too real, it was evident that in order to be a family again, they'd first have to fight, in ways they'd never imagined, to survive the war. The path to survival was different for each and therein lays the story of We Were the Lucky Ones.
Review: I've read a lot of World War II novels. I migh go as far as to say that I'm somewhat of an aficionado in that genre. Last fall I even did a post on "Favorite WWII Novels." Yet even with all that background, I have never read another WWII book remotely like We Were the Lucky Ones, Georgia Hunter's sweeping debut. Taken from her own family's history (do not overlook the afterward), Hunter delivered a novel that was exclusively about a Jewish family from Poland trying to stay alive. There were no characters appearing for more than a few pages who were not in the Kurc family or directly connected to their survival. It was a refreshing take!
The title of this novel is apt, for in many ways the Kurcs were extremely lucky. Yet, make no mistake about it, the Kurcs lived through horrors during the War.
"It was the soft thud of the infant's body meeting the earth that broke Herta, causing the numbness to give way to a hate that burned so deeply within, she wondered if her organs might catch fire."
They were not left unscarred, but were lucky in that they were largely able to avoid the death camps. As the truths of what was happening all around them became evident, the Kurcs were unwavering in their common goals of surviving the War and being reunited again. You cheered the Kurc family as they used any means possible to meet these goals: forging documents, crawling on hands and knees trough a muddy field, passing as gentiles, hiding a child among bolts of fabric, fleeing the continent.
I was also a big fan of Hunter's writing in We Were the Lucky Ones. She used several techniques that really made the story. To start, the story was told chronologically and along the way Hunter included short bits on what major events were happening in the War. This was great for overall perspective. She also moved the story along in short chapters highlighting different members of the family. This made the reader invested in the entire Kurc family. And finally, Hunter kept the story to the Kurc family, almost exclusively – no tangents, no side stories, no long-winded descriptive passages. This was a family saga at its best, bringing tears not where you might expect, but in the happy moments. If you're a fan of World War II novels you should definitely read We Were the Lucky Ones. If you're not, this book will make you one! Grade: A
If you liked this book you might also enjoy:
Note: I received a copy of this book from Viking and the author (via NetGalley) in exchange for my honest review. Thank you!
Disclosure: There are Amazon Associate links included within this post.