This post may include Amazon links. As an Amazon Associate I earn from qualifying purchases.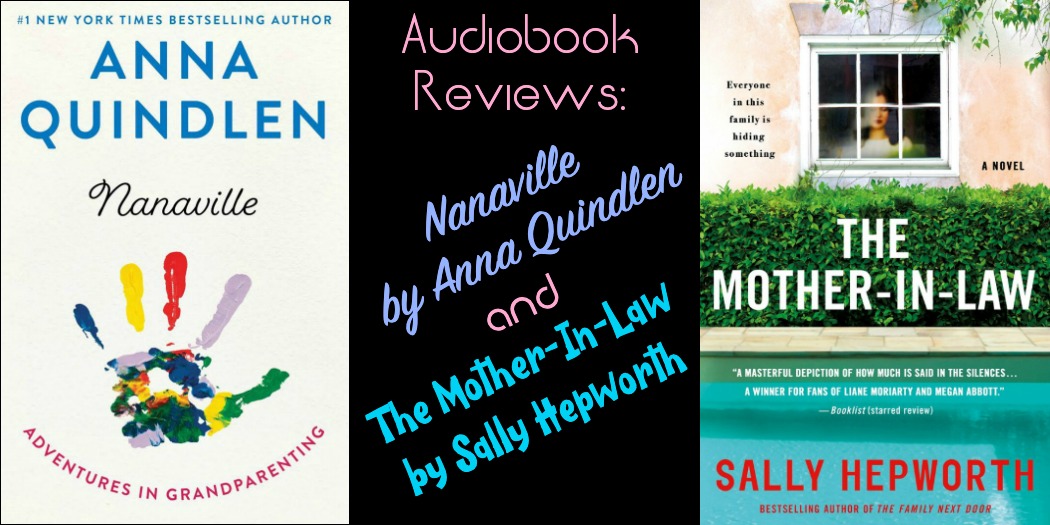 Listening to books the last couple of weeks has been pure pleasure. First, I became enmeshed in the latest from Sally Hepworth, The Mother-In-Law, a family drama perfect for summer reading. Then I turned to the wise and wonderful Anna Quindlen, who as expected, totally gets grandparenting in Nanaville. Both books were all about family and I'm excited to share them with you today.
Nanaville: Adventures in Grandparenting by Anna Quindlen
Narrator: Cynthia Farrell
Publisher: Random House (Brilliance Audio)
Release Date: April 23, 2019
Length: 176 pages (3 hrs. 34 min.)
Amazon
From the Publisher: "Candid, funny, frank, and illuminating, Quindlen's singular voice has never been sharper or warmer. With the same insights she brought to motherhood in Living Out Loud and to growing older in Lots of Candles, Plenty of Cake, this new nana uses her own experiences to illuminate those of many others."
My Thoughts: Let me start out by saying Mother's Day is next Sunday and Nanaville would make an absolutely perfect gift for any soon-to-be or newish grandmother. Giving this book to your mother would also be a lovely way to announce a pregnancy.
Anna Quindlen gets it right every single time. For me, with four grandkids under 6, and relatively new in the grandparenting game she beautifully summed up everything I've learned so far and gave me a few things to ponder. She talks about the incredible, unexpectedly deep and rapid love you feel for these little beings that came from your own children. She talks about all the simple little joys: rocking a newborn, pushing a stroller, the excitement of finding a frog, reading Goodnight Moon, and much, much more.
But, throughout Nanaville she tempered all that with something parents will also love.
"These are useful moments when we are made to understand where we rate in the topography of family, if we are smart enough to pay attention, and humble enough to accept the verdict. I know you don't want to consider this if you're in the same position I am and I keep hearing there are people who pay the notion no mind, but we grandparents are secondary characters, supporting actors. We are not the leads. Mama, Daddy, these are the bedrock."
We need to understand that our opinions and suggestions are only helpful when they're asked for. It's a hard lesson, one I've learned, too, but there is also ease in simply being there, without power or control, but love in abundance. With the wisdom and humor we've come to love from Anna Quindlen she got right to the heart and soul of what being a grandparent should be. I highly recommend Nanaville for all grandparents, and parents, too. Grade: A
Narration: Cynthia Farrell was new to me, but I'm adding her to my list of favorites. She became Anna Quindlen for me while listening to this book.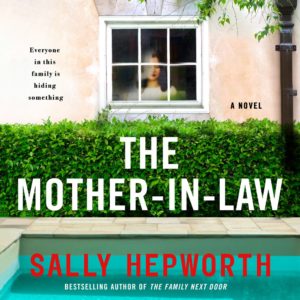 The Mother-In-Law by Sally Hepworth
Narrator: Barrie Kreinik
Publisher: St. Martin's Press (Macmillan Audio)
Release Date: April 23, 2019
Length: 352 pages (9 hrs. 12 min.)
Amazon
From the Publisher: "From the moment Lucy met her husband's mother, she knew she wasn't the wife Diana had envisioned for her perfect son. Exquisitely polite, friendly, and always generous, Diana nonetheless kept Lucy at arm's length despite her desperate attempts to win her over. And as a pillar in the community, an advocate for female refugees, and a woman happily married for decades, no one had a bad word to say about Diana…except Lucy."
My Thoughts: I'll be honest, I hadn't really planned on reading The Mother-In-Law because I wasn't wild about Sally Hepworth's last book, The Family Next Door (my review). I found it a little too soap opera-ish, but Sarah from Sarah's Book Shelves thought I'd like this one and she rarely steers me wrong, so I picked it up on audio. Thank you, Sarah!
I loved how Hepworth structured this story telling it from both the perspective of Diana, the mother-in-law, and her daughter-in-law, Lucy. Other than one unfortunate incident, the two weren't battling in-laws, but there was always unease and a bit of tension between them. The story also moves back and forth in time, alternating between the time when the two women first met, moving forward, and from the days after Diana's death which was being investigated as a possible murder. Both women were interesting characters, with a lot of depth to them and the mystery surrounding Diana's sudden death played out very nicely.
A great cast of secondary characters filled out The Mother-In-Law giving the reader characters to like, dislike, and suspect? The telling was sharp, making this a really easy book to listen to. I found myself going on extra long walks just to get in more listening time. There was a time or two I felt certain characters acted in ways that didn't fit with how I'd come to know them, but those were minor flaws. The Mother-In-Law is a book you should be tucking in your beach bag! Grade: B+
Narration: I had the pleasure of listening to Barrie Kreinik's narration earlier this year in An Anonymous Girl. (my review). She knocked it out of the park again with this one, easily bringing both Diana and Lucy to life.
Disclosure: There are Amazon Associate links included within this post.