This post may include Amazon links. As an Amazon Associate I earn from qualifying purchases.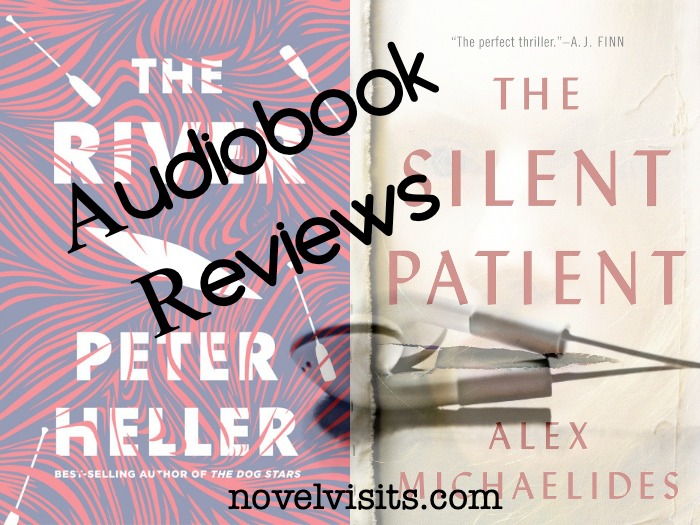 For several weeks earlier in the winter I was struggling to find an audiobook that would really work for me. I DNF'd a couple and that's not usual for me. Beginning with the books I'm sharing today, all that has changed! I've got my audiobook grove back and am happy to share two reasons why with you today.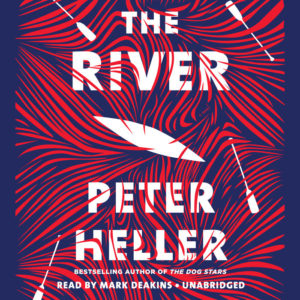 The River by Peter Heller
Narrator: Mark Deakins
Publisher: Knopf (Random House Audio)
Release Date: March 5, 2019
Length: 272 pages (7 hrs. 18 min.)
Amazon
From the Publisher: From the best-selling author of The Dog Stars, the story of two college students on a wilderness canoe trip–a gripping tale of a friendship tested by fire, white water, and violence.
My Thoughts: I'd never read anything by Peter Heller and didn't really know what to expect. An adventurous story of two young men paddling a river in northern Canada doesn't at first glance appear like my sort of book. And yet, I couldn't resist the allure of a friendship tested by wildfire and violence. I definitely made the right call. I loved The River!
This is the story of best friends. Two intelligent young men who met at freshman orientation and discovered a joint love of nature and all things outdoors. They "got" each other right from the start. Jack came from Colorado where his parents owned a ranch. He grew up in a home filled with love, knowing how to survive in almost any environment, but all was not perfect. Tragedy marred Jack's childhood, and still haunted his world. Wynn, a gentle man with an artist's soul, grew up across the country in Vermont, sharing with Jack a love of family and any sort of outdoor adventure. After working hard all summer, the friends embarked on a challenging canoe trip they'd long dreamt of making. All was perfect on the trip, until suddenly it wasn't. They smelled the smoke from a wildfire not far away, encountered a pair of drunken Texans, and heard alarming shouts between a man and woman. Their idyllic journey quickly turned from fun to danger.
Peter Heller did a masterful job telling the story of Jack and Wynn. He made me feel like I understood the hearts of both men. He put his characters in situations where hard decisions had to be made and made quickly, straining the bonds of their friendship when they most needed to work together. His writing was gorgeous, much more literary than I'd expected. For me, The River was pure pleasure.  Grade: A
"He heard a loon call, piercing and forlorn, and it poured into his spirit like cool water. It was a sad cry and he realized as he listened how barren the river had felt in the days without it. Why was a wail that seemed so lost and lonely so…what? Essential and lovely."
Narration: Mark Deakins is a new narrator for me and he's already on my list of favorites. He was so easy to listen to with just the right amount of expression and perfect pacing. Deakins has A LOT to do with why I liked The River so much. In print I think I may have grown tired of some of the more descriptive passages. Instead,  Deakins brought the place and the people to life for me – a great example of how a narrator can really make an audiobook.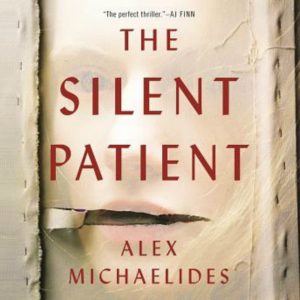 The Silent Patient by Alex Michaelides (debut)
Narrators: Jack Hawkins & Louise Brealey
Publisher: Celadon Books (Macmillan Audio)
ReleaseDate: February 5, 2019
Length: 336 pages (8 hrs. 43 min.)
Amazon
From the Publisher: Promising to be the debut of the season, The Silent Patient is a shocking psychological thriller of a woman's act of violence against her husband – and of the therapist obsessed with uncovering her motive….
My Thoughts: I didn't have a huge interest in The Silent Patient until last month when I started seeing it EVERYWHERE! Sometimes that makes me want to run from a book, but I'd been struggling to find a good audiobook and decided it was at least worth a try. From the very start, I was hooked.
This is the story of Alicia, a well known artist accused of shooting her husband five times in the face and then never speaking again. For seven years she's lived silently in a mental hospital. It's the story of Theo, a psychotherapist determined to break Alicia's long silence and find out what really happened. But, Theo's motives might not be quite as altruistic as he'd like you to believe.
I love an unreliable narrator and in The Silent Patient we get two! Theo narrates most of the book and right from the start begins to hint of more to come, that he knows much more than he's slowly parsing out. He's terribly arrogant and becomes less likable as the story goes. Something about Theo seems off. Can he be trusted? Alicia doesn't speak, but before the murder she kept a journal and from this she shares snippets of what was happening in her life in the weeks leading up to the murder. She too hints at more than she's telling, leaving the reader completely off balance.
For me this is the best sort of psychological thriller. There's just something about a psychologist messing with minds, that so often seems to work. One small criticism would be that there were too many minor female characters in the book who were portrayed really harshly. After a few, that began to bother me. I had heard the ending of The Silent Patient had quite the twist, so all along I was looking for an out-there ending, and I guessed it. In no way did that alter my feelings for this book. I liked that Michaelides gave just enough hints to get me there. I know I'll be looking forward to reading more from this debut author. Grade: B
Narration: I thought the narration for The Silent Patient was good, not outstanding, but good. Louise Brealey's parts were brief and well done. There wasn't enough to really get to know her narration. Jack Hawkins carried the bulk of the story and did a great job of making me go back and forth on Theo, who was telling his part of the story in first-person. Where Hawkins fell down for me was with dialogue involving female characters. Too many sounded sharp, shrill, and largely shrewish. Perhaps this is why female characters seemed to be portrayed harshly.
What audiobook has been your favorite this winter?
Disclaimer: There are Amazon Associate links contained in this post.