This post may include Amazon links. As an Amazon Associate I earn from qualifying purchases.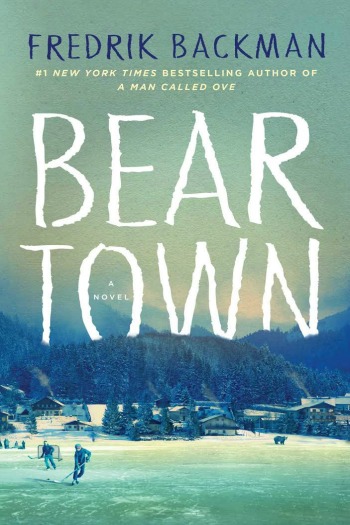 Beartown by Fredrik Backman
Publisher: Atria Books
Release Date: April 25, 2017
Length: 432 pages
Buy on Amazon
Single Sentence Summary: Ice hockey is the one thing that unites the Beartown community, until a violent act by the team's star player forces the people of Beartown to take a hard look at themselves.
Primary Characters: Beartown is a story with a huge cast of characters, all with important roles in its telling: the players on the Junior's team, the ice hockey club's general manager and his family, a girl and her best friend, parents of players, a teacher, a sister. Too many to name!
From the Publisher: People say Beartown is finished…But down by the lake stands an old ice rink, built generations ago by the working men who founded this town. And in that ice rink is the reason people in Beartown believe tomorrow will be better than today. Their junior ice hockey team is about to compete in the national semi-finals…Being responsible for the hopes of an entire town is a heavy burden, and the semi-final match is the catalyst for a violent act that will leave a young girl traumatized and a town in turmoil. 
Review: In Beartown, Fredrik Backman built a story around hockey, but the star of his story wasn't hockey. It was the town itself. Nestled deep in a Swedish forest, Beartown was slowly dying. Jobs were on the decline. Young people left as soon as they could. The town was tired. Hockey, and more specifically the Junior hockey team, was the town's hope for a different sort of future. All eyes were on this team. They were rock stars in Beartown. They could do no wrong. Until one of them did, leaving a town divided.
Almost everyone living in Beartown was rabid about hockey, but that's where their commonalities ended. The Hockey Club's president was at odds with its general manager, who was uncomfortable with the Junior's coach. The players were a sort of pack, a gang, except for those who didn't quite fit in. The girls in town loved hockey almost as much as the boys, but were relegated to groupie status by a club that made no place for them.
Packed into Beartown were many touching stories of family, friendship, loyalty, and love. When 15-year old Maya is raped, her best friend, Ana will do anything to protect her, including staying away. A mother puts her own feelings aside to support the son she's watched fight to earn his place on the team. A young player chooses what's right over what's easy. As the town turns against them, a husband and wife cling to each.
"She and the girl rest their foreheads together. Say nothing, because they couldn't have heard anything anyway, the echo of the screams in their hearts is deafening."
As expected, Fredrik Backman once again proved himself to be a truly masterful storyteller, weaving together a huge cast of well-developed, distinct characters. Even the ones you didn't like, you still knew and understood the choices they made. At the end of many scenes, Backman had these brief sentences that either offered a small pearl of wisdom, or foreshadowed what was coming. They often gave me chills!
"In the meantime Amat is sitting in a corner, hearing himself laugh. Because it's a release. Because it makes him feel part of a team. Because there's something wonderful about making the same noise as everyone around him. He'll feel ashamed of that forever."
While it's true there was a lot of hockey, especially in the first half of the book, it really was necessary for understanding the people of Beartown. That made for a bit of a slow start, and then, Backman's story soared in its second half. Beartown will tug at your heart and make you want to hold your own children just a little closer. With no reservations, I highly recommend Beartown to everyone. Grade: A-
If you liked this book you might also enjoy:
The Boys in the Boat by Daniel James Brown – This nonfiction follows unlikely members of the 1936 gold medal winning crew team, but like Beartown is much more.
A Man Called Ove by Fredrik Bachman – I now consider Ove Backman's second best book, but also excellent.
Anything is Possible by Elizabeth Strout – Another book where the community and its many citizens are what make the story. (my review)
Disclosure: There are Amazon Associate links included within this post.