This post may include Amazon links. As an Amazon Associate I earn from qualifying purchases.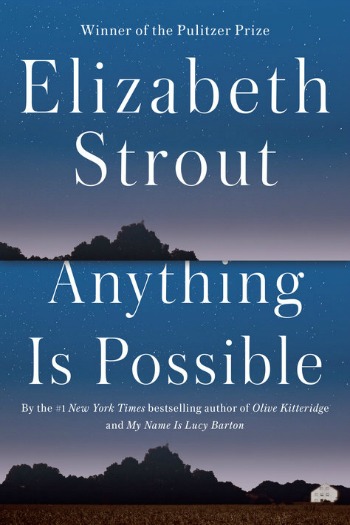 Anything is Possible by Elizabeth Strout
Publisher: Random House
Release Date: April 25, 2017
Length: 272 pages
Buy on Amazon
Single Sentence Summary: On its surface, a small rural community may seem mundane, but everyone has a story: big and small, ordinary and extraordinary.
Primary Characters: There are none. This is a collection of connected stories about members of a rural Illinois community. Every chapter focuses on a different person.
Publisher's Synopsis: Here are two sisters: One trades self-respect for a wealthy husband while the other finds in the pages of a book a kindred spirit who changes her life. The janitor at the local school has his faith tested in an encounter with an isolated man he has come to help; a grown daughter longs for mother love even as she comes to accept her mother's happiness in a foreign country; and the adult Lucy Barton (the heroine of My Name Is Lucy Barton, the author's celebrated New York Times bestseller) returns to visit her siblings after seventeen years of absence.
Review: Among my favorite parts of My Name is Lucy Barton were the quirky stories that Lucy's mom told about the people of Amgash, Illinois. They were gossipy glimpses into the simple lives of people from Lucy's hometown, and they left me wanting more. With Anything is Possible, Elizabeth Strout gives us more. This new novel really is a series of connected short stories, each centering on someone in or around Amgash. While each chapter/story stands on its own, they also provide subtle insights into the stories of others in the community.
As is the case with most short story collections, some stories resonated more than others. I liked best two that involved Lucy's older brother, Pete. In The Sign, we get to know Tommy, a one-time janitor at the high school, who's out shopping for a gift. On his way home he stops to check in on Pete, who has lived alone since his father's death. I found Tommy's concern for Pete, a troubled soul, extremely touching. Pete's reaction to Tommy showed a little of how he'd developed into the burdened, solitary man that he was.
"You asked about my mother," Pete said after a few moments. "Nobody has ever asked me about my mother. But the truth is, I don't know if my mother loved us or not. I don't know about her in some big way."
Later, in Sister, Pete makes more of a starring appearance. Lucy is coming to visit for the first time in many, many years. In this chapter we learn that Tommy's concern and thoughtfulness has had some positive influence on Pete. He's not quite as solitary and the prospect of seeing Lucy's has him both nervous and terribly excited. This story was definitely my favorite and not just for Pete's story. It also features Lucy and their sister, Vicky. These three grew up extremely poor in a very harsh home. Their interactions as adults were tense, emotional and heartwarming.
As always, Elizabeth Strout's writing is superb. Her ability to tell a simple story in such a rich way is truly a gift. I believe she could sit down with almost anyone and walk away with an interesting story to tell. It's easy to see why she won the Pulitzer Prize! Still, some of the stories fell a little flat for me. I simply wasn't terribly interested in a few of the town's people. I don't see that as a flaw in Strout's writing, but rather as an expected result from most books of short stories. And for me, Anything is Possible ultimately was a collection of emotionally powerful short stories. Grade: B
If you liked this book you might also enjoy:
Note: I received a copy of this book from the publisher (via NetGalley) in exchange for my honest review.
Disclosure: There are Amazon Associate links included within this post.