This post may include Amazon links. As an Amazon Associate I earn from qualifying purchases.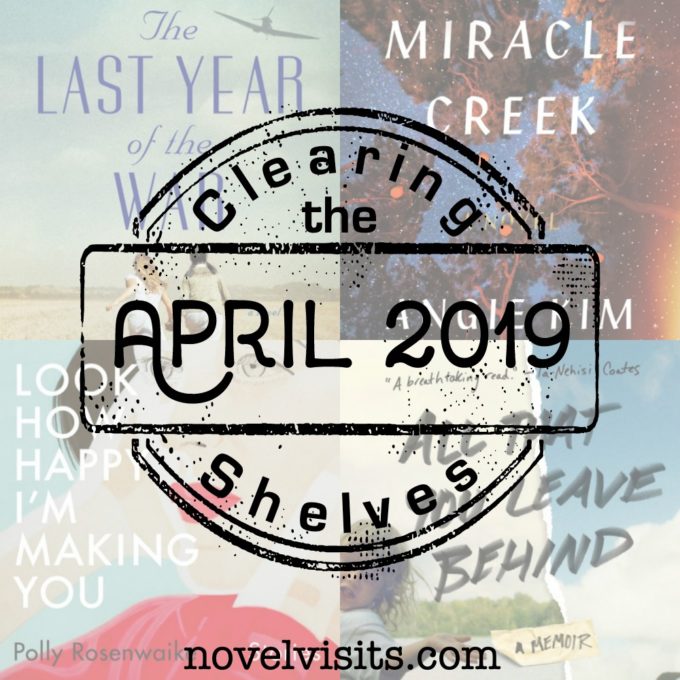 Since I was traveling at the start of the month, I didn't read as many books as usual in April, but wow! I read a couple of stunners that I'm still thinking about.
With the end of the month here, I have three unreviewed books from April and one I never got to back in March. Two I read in print and the other two I listened to. It's time to clear the shelves!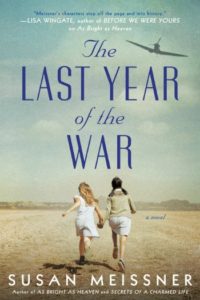 The Last Year of the War by Susan Meissner
Publisher: Berkley
Release Date: March 19, 2019
Length: 400 pages
Amazon
From the Publisher: "Elise Sontag is a typical Iowa fourteen-year-old in 1943—aware of the war but distanced from its reach. Then her father, a legal U.S. resident for nearly two decades, is suddenly arrested on suspicion of being a Nazi sympathizer. The family is sent to an internment camp in Texas, where, behind the armed guards and barbed wire, Elise feels stripped of everything beloved and familiar, including her own identity."
My Thoughts: I'm always amazed about the things I don't know and The Last Year of the War is a perfect example of that. We all know that many people of Japanese heritage were sent to internment camps here in the U.S. during WWII, but I never knew that certain Germans and Italians were, too. Even more startling, some of these people were exchanged for U.S. prisoners and sent back to their home countries. This is the story of one such 14-year old girl, Elise, who in the space of just over a year lost her home in Iowa, moved into an internment camp in the middle of Texas, found a best friend in a Japanese girl, Mariko, and then found herself in Germany, where she lived through the horrors of a country being badly defeated and where she was looked at as the enemy.
The Last Year of the War unfolds from two times, the present where 81-year old Elise, struggling with Alzheimer's undergoes a search to find her long lost friend, and the final years of WWII. I thoroughly enjoyed the parts of this story centered around the friendship and life in the internment camp.  I loved the spitfire attitude of Elsie in the present who constantly battled "Agnes" the name she gave to her memory stealing disease. Some of the parts in the past didn't fare as well for me. I found them to be usual, and the second half of the book especially predictable. Unfortunately, the first half of this book shone, but couldn't quite sustain its momentum throughout. Grade B-
Note: I received a copy of this book from Berkley (via NetGalley) in exchange for my honest review.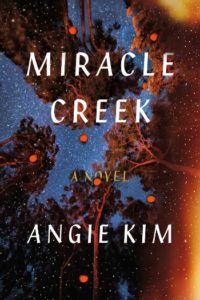 Miracle Creek by Angie Kim (debut) 
Publisher: Sarah Crichton Books
Release Date: April15, 2019
Length: 368 pages
Amazon
From the Publisher: "In rural Virginia, Young and Pak Yoo run an experimental medical treatment device known as the Miracle Submarine―a pressurized oxygen chamber that patients enter for therapeutic "dives" with the hopes of curing issues like autism or infertility. But when the Miracle Submarine mysteriously explodes, killing two people, a dramatic murder trial upends the Yoos' small community."
My Thoughts: Everyone has been buzzing about Angie Kim's remarkable debut, Miracle Creek. It's not often that an author can plot her story in a completely unique situation, but Kim did just that. The entire idea of this therapeutic submarine device is something few readers would have heard of and yet, Kim built an intriguing mystery around such a device and the people both operating and using it. When a fiery explosion at a rural facility kills two and injures others, everything and everyone associated with the "Miracle Submarine" comes into question.
I always love a book told from many perspectives and Miracle Creek did that beautifully. We hear from the three members of the Yoo family, operators of the device, Matt and Theresa, clients, from Elizabeth who lost her son in the fire and has herself become the chief suspect, and many more. The book centers around the trial of Elizabeth Ward, charged with causing the explosion in theory to end the drudgery of caring for her special needs son. But, as the courtroom drama unfolds, Kim takes the reader back in time and bit by bit unveils tiny facts that keep the reader constantly guessing as to what really happened. I liked this book very much, yet occasionally felt it went too deep into backstory that didn't really matter. Still, if you're a fan of courtroom dramas Miracle Creek is a must read! Grade: B+
Note: I received a copy of this book from Sarah Crichton Books (via NetGalley) in exchange for my honest review.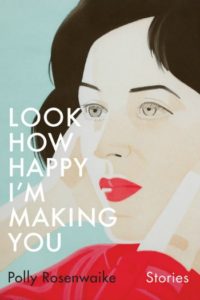 Look How Happy I'm Making You by Polly Rosenwaike
Narrators: Cassandra Campbell, Julia Whelan, Therese Plummer & more
Publisher: Doubleday (Random House Audio)
Release Date: March 19, 2019
Length: 256 pages (7 hrs. 8 min.)
Amazon
From the Publisher: "The women in Polly Rosenwaike's Look How Happy I'm Making You want to be mothers, or aren't sure they want to be mothers, or – having recently given birth – are overwhelmed by what they've wrought. Sharp and unsettling, wry and moving in its depiction of love, friendship, and family, this collection expands the conversation about what having a baby looks like."
My Thoughts: I'm generally not much of a short story reader, but was drawn to Rosenwaike's collection because of its theme of issues around the idea of motherhood. For women, I think there is some universal appeal there. I opted to listen to the audio version due to the rockstar lineup of narrators. That was a smart choice!
The first couple of stories really drew me in. Grow Your Eyelashes focused on a woman struggling to get pregnant, seeing babies everywhere, and then finding that her sister is pregnant. It was touching and real. A group of childless women who had also all lost their mothers got together every Mother's Day in White Carnations. Their easy dynamic was upended when one got pregnant. My frustration with these stories, is the same I have with many short stories: just as I'm getting invested in the characters, the story is over. But, I suppose that's more my issue. The other thing that bothered me was I felt some of Rosenwaike's stories got a bit repetitive. My advice would be to read the stories in Look How Happy I'm Making You here and there and not in succession, as I did. Grade: C
Note: I received a copy of this book from Doubleday (via NetGalley) in exchange for my honest review.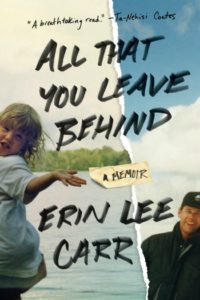 All That You Leave Behind by Erin Lee Carr (debut & narrated)
Publisher: Ballentine Books (Random House Audio)
Release Date: April 9, 2019
Length: 256 pages (6 hrs. 20 min.)
Amazon
From the Publisher: "A celebrated journalist, best-selling author (The Night of the Gun), and recovering addict, David Carr was in the prime of his career when he suffered a fatal collapse in the newsroom of The New York Times in 2015. Shattered by his death, his daughter, Erin Lee Carr, at age 27 an up-and-coming documentary filmmaker, began combing through the entirety of their shared correspondence – 1,936 items in total – in search of comfort and support."
My Thoughts: Erin Lee Carr had a close relationship with her father, journalist David Carr. He was her mentor, her moral compass, her champion. He was the measuring stick against which she took stock of her own life. When Erin and her twin sister were born nearly two months premature, both David and their mother were serious addicts, of both drugs alcohol. It was bad. David eventually saw the light and gave it up knowing someone had to be there for these two precious girls. He lived a mostly clean life after that, met a woman who became his true life partner and had another daughter with her.
This was Erin's family, all completely devastated when David suddenly died at only 56. In writing this memoir Erin Lee Carr did a beautiful job paying tribute to her father. She showed his mistakes, his victories, his harsh side and his unwavering love for his family. In that this book was a success. Where it fell down for me were the actual  "memoir" parts. Erin shared a love of alcohol with her father and at a very young age was regularly blacking out, and publicly embarrassing herself. She'd get sober and then go back, again and again. I appreciated her honesty and her willingness to not be likable. She made excuses, but usually also admitted that they were just that. I know that this is her journey and her story, but I'm just going to suggest that maybe 28 or 29 is too young to be writing a memoir of over coming addiction. As a tribute this book worked for me, but as a memoir it fell flat. Grade: C-
My review shelves are clear. Time to start working on May!
Disclaimer: There are Amazon Associate links contained in this post.