This post may include Amazon links. As an Amazon Associate I earn from qualifying purchases.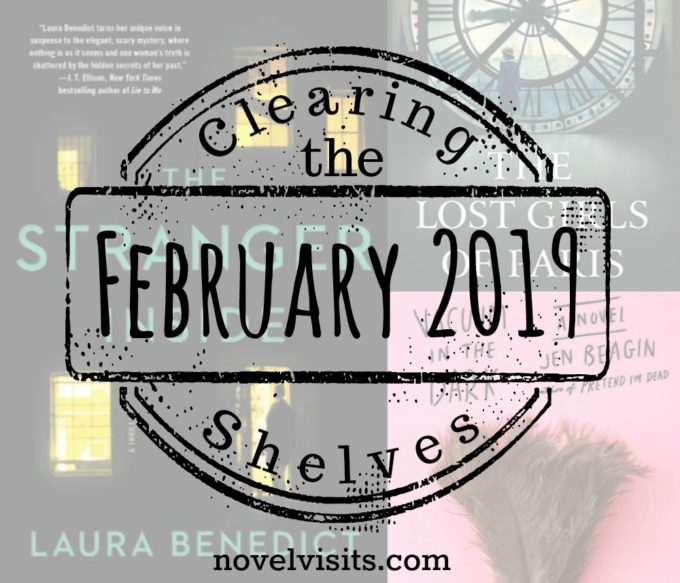 February has turned out to be an absolutely stellar reading month for me. I liked almost all the books I read and reviewed three that will definitely be in the running for my Best Books of 2019.
As the month comes to an end, my February shelf still has three books I've not reviewed, so today I'm clearing that shelf off with some mini-reviews.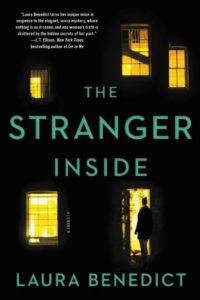 The Stranger Inside by Laura Benedict
Publisher: Mulholland Books
Release Date: February 5, 2019
Length: 352 pages
Amazon
From the Publisher: "There's a stranger living in Kimber Hannon's house. He tells the police that he has every right to be there, and he has the paperwork to prove it. But Kimber definitely didn't invite this man to move in. He tells her that he knows something about her, and he wants everyone else to know it too."
My Thoughts: Can you imagine coming home from a weekend away to find a stranger with a seemingly valid rental agreement living in your house? And if that wasn't bad enough, the man seems to also be threatening you with a long buried secret from your past. Kimber Hannon came home to just that and, after acting impulsively, she ended up being arrested. The Stranger Inside tells the story of Kimber's struggle to uncover who this man is and more importantly why he wants her house. Kimber has a dark secret she's long hidden and this stranger seems to know far more than Kimber is comfortable with.
The premise of The Stranger Inside is what initially drew me in, but Laura Benedict's layering on of suspense is what kept me invested. From early on I was trying to piece together the mystery and come up with a solution. It was just twisty enough to keep me turning the pages, and the final solution while not probable, was also not outrageous. For me, the one flaw in this story was Kimber herself. At times I really liked her, but she'd done some pretty awful things. To be honest, those were the parts that didn't add up for me. In the end the parts I liked about The Stranger Inside outweighed those I didn't. I read this one, but think it would also work well on audio. Grade: B
Note: I received a copy of this book from Mulholland Books (via NetGalley) in exchange for my honest review. Thank you!
Vacuum in the Dark by Jen Beagin
Publisher: Scribner
Release Date: February 26, 2019
Length: 240 pages
Amazon
From the Publisher: "Mona is twenty-six and cleans houses for a living in Taos, New Mexico. She moved there mostly because of a bad boyfriend—a junkie named Mr. Disgusting, long story—and her efforts to restart her life since haven't exactly gone as planned. For one thing, she's got another bad boyfriend. This one she calls Dark, and he happens to be married to one of Mona's clients. He also might be a little unstable."
My Thoughts: I hadn't realized that Vacuum in the Dark was a sequel until just before I started reading it, but can honestly say that didn't matter. The story of Mona, a house cleaner in Taos, New Mexico stood just fine on its own. Mona's quirkiness was very appealing. Her hobby was photography and she specialized in taking funny pictures of herself in her client's homes, wearing their clothing, holding their possessions. So, yes, Mona was a bit of an unusual young woman, and her clients were also some VERY colorful individuals. The book only has four chapters and the first two focused on Mona and a couple of her most odd clients. I thoroughly enjoyed these chapters, even as I was saying to myself, "Wait! What?"
In the third chapter, Mona went to visit her mother and step-father in Florida, and that's where the book faltered for me. Her parents and everything that happened in Florida, just didn't have the draw of the earlier stories. I grew bored as Mona seemed to lose her edge. By the fourth chapter, she'd grown almost pathetic, yet somehow my interest picked up just a little. In the end, Vacuum in the Dark was just too much of a roller coaster ride for me. By the second half, I just wanted off. Grade: C-
Note: I received a copy of this book from Scribner (via NetGalley) in exchange for my honest review. Thank you!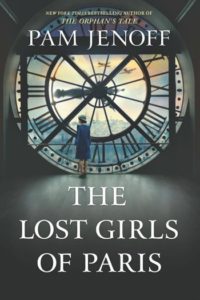 The Lost Girls of Paris by Pam Jenoff
Publisher: Park Row Books
Release Date: January 29, 2019
Length: 384 pages
Amazon
From the Publisher: "Vividly rendered and inspired by true events, New York Times bestselling author Pam Jenoff shines a light on the incredible heroics of the brave women of the war and weaves a mesmerizing tale of courage, sisterhood and the great strength of women to survive in the hardest of circumstances."
My Thoughts: The Lost Girls of Paris was told from the perspectives of three different women whose stories connected in the years during and just after WWII. It opened when Grace, a young American widow found some photos in an abandoned suitcase. She was intrigued and began a quest to find both the owner of the suitcase and the story behind the photos. Another of the women, Eleanor Trigg, worked for Britain's SOE during the war, finding, training and placing female operatives in France. And finally, Marie, one of those operatives, who found herself in France at a critically dangerous point near the end of the war.
While I didn't find The Lost Girls of Paris to be the most literary of historical fictions, I still liked the story very much. So many WWII books bring out aspects of that war I knew nothing about and this was no exception. British women acting as spies during the war was new to me, and that part of this book I found most compelling, most beautifully written.
"They squeezed slips of paper through the thin slit prison windows, sending them cascading to the ground like confetti. They were notes, scribbled on whatever could be found, written in charcoal or sometimes blood, asking about relatives or trying to send word. Or simply "Je suis la" ("I am here."), followed by a name, because soon they would not be and someone needed to remember."
I'd have liked for even more of the book to focus on Marie and the other women operatives. Weaving together multiple storylines can be challenging, often times feeling forced or overly manipulated. Pam Jenoff did a great job melding her storylines with only a few minor exceptions. Fans of lighter historical fiction will be sure to enjoy The Lost Girls of Paris. Grade: B+
Note: I received a copy of this book from Park Row Books (via NetGalley) in exchange for my honest review. Thank you!
Disclaimer: There are Amazon Associate links contained in this post.