This post may include Amazon links. As an Amazon Associate I earn from qualifying purchases.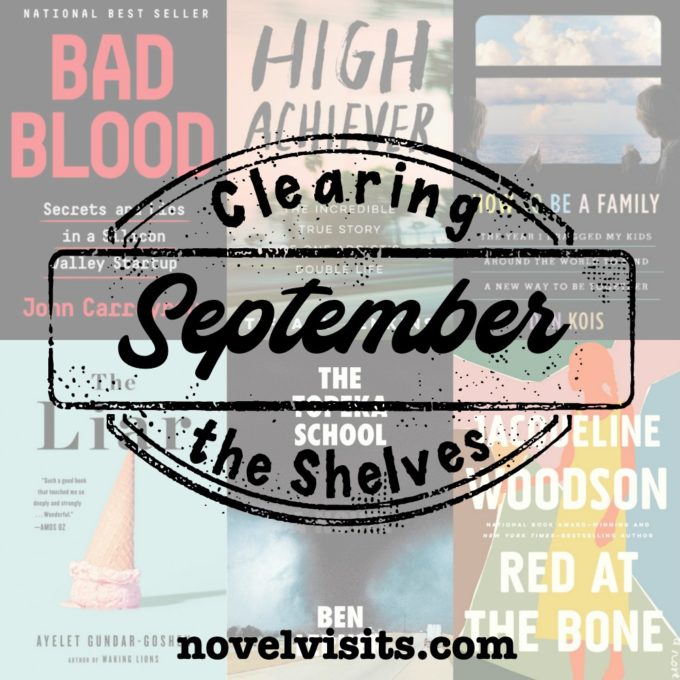 I don't quite know how it's happened, but I have a lot of books sitting on my review shelves and it's definitely time to clear them out. My reading has slowed down this month with only 8 books completed, but at the end of August I was way ahead on my September reading, so had plenty of books to review. I've also ended up with a record 6 books that I've yet to review. To be honest, two of those I actually finished in the very end of August, but too late to get them in last month's Clearing the Shelves. Since I have so many book here, I'm going to keep my thoughts VERY brief, sort of micro mini-reviews. Enough with excuses! On to the reviews, but first my favorite books from September:
NONFICTION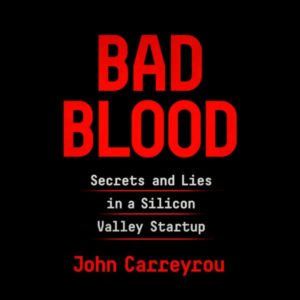 Bad Blood by John Carreyrou
Narrator: Will Damron
Publisher: Knopf (Random House Audio)
Release Date: May 21, 2018
Length: 339 pages (11 hrs. 37 min.)
Amazon
From the Publisher: "In 2014, Theranos founder and CEO Elizabeth Holmes was widely seen as the female Steve Jobs: a brilliant Stanford dropout whose startup "unicorn" promised to revolutionize the medical industry with a machine that would make blood tests significantly faster and easier. Backed by investors such as Larry Ellison and Tim Draper, Theranos sold shares in a fundraising round that valued the company at $9 billion, putting Holmes's worth at an estimated $4.7 billion. There was just one problem: The technology didn't work."
My Thoughts: I'd resisted reading Bad Blood for a long time. I'm not really sure why because I'd heard nothing but great things about it. I think I feared that it would be too much science and not enough story. As I listened to the first quarter of the book I began to feel like my fears were right, but comments on one of my Monday blog posts encouraged me to keep with it. Thank goodness I did! The longer I listened to Bad Blood, the more thoroughly engaged I became. It was unbelievable the lengths Elizabeth Holmes was willing to take to get her defective product on the market. I also found it stunning to hear how she was able to convince SO many really intelligent, well-known people that she and her company were totally legitimate. By the middle of Bad Blood, I simply could not stop listening. I was so engrossed in the story that the very night I finished John Carreyrou's book, I watched the HBO special The Inventor: Out for Blood in Silicon Valley. It was a great way to cap off the book, putting faces to all the names I'd heard. Like many others before me, I highly recommend Bad Blood. On audio, the narration by Will Damron was also terrific. Grade: A-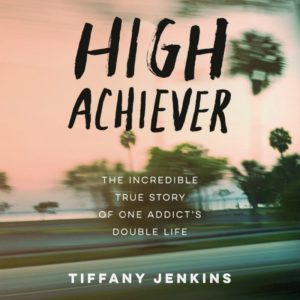 High Achiever by Tiffany Jenkins
Narrator: Author
Publisher: Harmony (Random House Audio)
Release Date: June 18, 2019
Length: 384 pages (8 hrs. 52 min.)
Amazon
From the Publisher: "The memoir opens in the Florida women's prison where Tiffany was incarcerated for 180 days. The memoir flashes back in time to the events that led to Tiffany's imprisonment (during the time of her active addiction, Tiffany was dating and living with a cop), and moves forward to her eventual sobriety."
My Thoughts: High Achiever, Tiffany Jenkins' memoir of her years of drug addiction and her recovery, took me by surprise for many reasons. To begin with her writing was terrific and brutally honest. She'd long been a drug user, but sunk to her lowest point when she began stealing from her cop boyfriend and his family to support her drug habit. Tiffany always hated herself for what she was doing, but despite earlier rehabs, she couldn't stay away from the drugs. High Achiever is the story of her arrest, her time in jail (where she was forced to detox), and her eventual release back into the world of temptations. Jenkins reads her own story and I enjoyed hearing directly from her about her life. As with any addiction, it wasn't always easy looking in, but I admired Jenkins willingness to tell her story, even when it got really ugly. Grade: B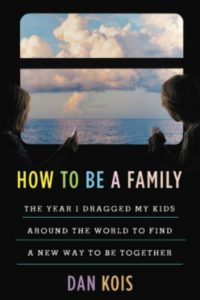 How to Be a Family by Dan Kois
Publisher: Little, Brown and Company
Release Date: September 17, 2019
Length: 336 pages
Amazon
From the Publisher: "In this eye-opening, heartwarming, and very funny family memoir, the fractious, loving Kois' go in search of other places on the map that might offer them the chance to live away from home-but closer together. Over a year the family lands in New Zealand, the Netherlands, Costa Rica, and small-town Kansas. The goal? To get out of their rut of busyness and distractedness and to see how other families live outside the East Coast parenting bubble."
My Thoughts: I love to travel and thought How to Be A Family: The Year I Dragged My Kids Around the World to Find a New Way to Be Together by Dan Kois would be perfect for me. That's a HUGE title and it says a lot. I really liked the parts of this memoir that focused on the author and his family: how they traveled together, compromised, fought, etc. I enjoyed his exploration of parenting attitudes in New Zealand and Holland, and how they were able to live so differently in those countries. However, Kois included long chunks in his book that had to do with more cultural aspects of the various countries and these parts really dragged for me, especially in Costa Rica and Kansas. I'd have liked more about his changing family dynamics and less of the research. This one was more of a miss for me. Grade: C
Note: I received a copy of this book from Little, Brown and Company (via NetGalley) in exchange for my honest review.
FICTION
The Liar by Ayelet Gundar-Goshen
Publisher: Little, Brown and Company
Release Date: September 24, 2019
Length: 288 pages
Amazon
From the Publisher: "Nofar is an average teenage girl—so average, in fact, that she's almost invisible. Serving customers ice cream all summer long, she is desperate for some kind of escape….But one afternoon, a terrible lie slips from her tongue. And suddenly everyone wants to talk to her: the press, her schoolmates, and even the boy upstairs. He is the only one who knows the truth, and he is demanding a price for his silence."
My Thoughts: The Liar by Ayelet Gundar-Goshen is the story of 17-year old girl, Nofar, who gets swept up in a lie she didn't really mean to tell. Many people quickly believe her lie, offering sympathy and rewards for her bravery in speaking out. It becomes almost impossible for her to let go of the lie. Even when she tried to take the lie back others refused to believe any change to her story. Besides the victim of her lie, no one suffered from it more than Nofar and that deep examination of a lie really worked for me. What worked less (and seemed completely unnecessary) was a side story about an older woman who also told a lie. Her story only minimally overlapped with Nofar's and almost felt like filler to plump up an already short novel. Throughout the book what shone brightest for me was Gundar-Goshen's beautiful writing.
"Guilt, when it comes to visit, can choose from any number of routes. It can sudddenly appear from behind and sink its talons into your back. It can charge you head-on. But Nofar's guilt, like a Persian cat, rubbed her legs fleetingly, sat for a brief moment on her lap, then moved onward. It had no desire to stay longer than that."
Her phrasing of certain passages had me reading them over and over. Grade: B
Note: I received a copy of this book from Little, Brown and Company (via NetGalley) in exchange for my honest review.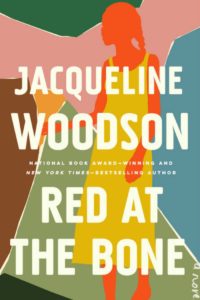 Red at the Bone by Jacqueline Woodson
Publisher: Riverhead Books
Release Date: September 17, 2019
Length: 208 pages
Amazon
From the Publisher: "An unexpected teenage pregnancy pulls together two families from different social classes, and exposes the private hopes, disappointments, and longings that can bind or divide us from each other, from the New York Times-bestselling and National Book Award-winning author of Another Brooklyn and Brown Girl Dreaming."
My Thoughts: Red at the Bone opens at Melody's grand 16th birthday party put on by her grandparents. Her whole family is there, each thinking back on how Melody had come into their lives through a teenage pregnancy 16 years before. The perspectives shift with the chapters as different characters tell their own parts of the repercussions, both good and bad, of Iris and Aubrey's unplanned pregnancy. I enjoyed the family history and the dynamics of how they all interacted. The relationship between Melody and her mother, Iris, I found especially poignant. I sympathized and grew to care about all the characters, but really there wasn't much to the story. For me it was almost more of a series of connected short stories.
This is my first Jacqueline Woodson book and it's easy to see why she's such a popular writer. Her characters were vivid and her writing style definitely drew me in, though her lack of quatation marks and shifts in time did require this reader to stay alert! Grade: B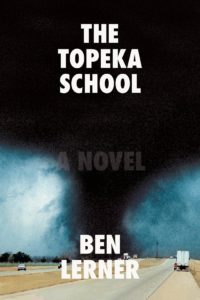 The Topeka School by Ben Lerner 
Publisher: Farrar, Straus and Giroux
Release Date: October 1, 2019
Length: 304 pages
Amazon
From the Publisher: "Adam Gordon is a senior at Topeka High School, class of 1997. His mother, Jane, is a famous feminist author; his father, Jonathan, is an expert at getting "lost boys" to open up. They both work at the Foundation, a well-known psychiatric clinic that has attracted staff and patients from around the world. Adam is a renowned debater and orator, expected to win a national championship before he heads to college. He is an aspiring poet. He is–although it requires a great deal of posturing, weight lifting, and creatine supplements–one of the cool kids, passing himself off as a "real man," ready to fight or (better) freestyle about fighting if it keeps his peers from thinking of him as weak. Adam is also one of the seniors who brings the loner Darren Eberheart–who is, unbeknownst to Adam, his father's patient–into the social scene, with disastrous effects."
My Thoughts: I don't usually review a book I didn't finish, but I did read 55% of The Topeka School and I think that's enough to share a few thoughts on it. I really wanted to like this story of a family steeped in psychiatry, with a son moving toward manhood. The story started out strong with a really sort of odd opening that completely drew me in and left me wanting more. From there, things went down hill. It felt like Ben Lerner had a lot of things he wanted to write about and he tried hard to squeeze it all into a single story. Paragraphs became overly long and rambling. The story took cake walks, veering off into sub-plots that had little to do with what (I think) was the heart of the story. Everyone in the story seemed to have their own thing going on, leading to a lack of any cohesive storyline. The more I read, the less I cared until I finally could go no further. Grade: DNF
Note: I received a copy of this book from Farrar, Straus and Giroux (via NetGalley) in exchange for my honest review.
PIN THIS POST ⇓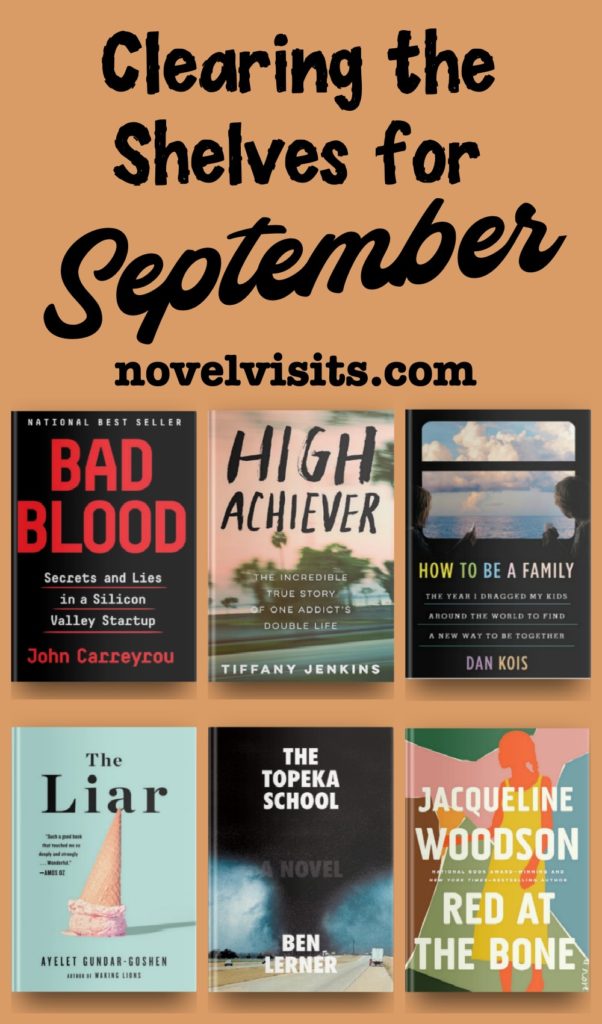 That's a lot of books, but I'm done clearing my shelves!
Disclosure: There are Amazon Associate links included within this post