This post may include Amazon links. As an Amazon Associate I earn from qualifying purchases.
In my life, summer is such a great time for reading. For some reason, with summer books especially, I can often remember exactly where I was or what I was doing as I read it. Today I'm sharing 10 books I read during the summers of the last few years. I tried to keep it on the lighter, "beach read" side of things,  but in the summer I also have extra time to devote to more complex journeys. I hope you find a book or two you might have missed and can enjoy over your own summer.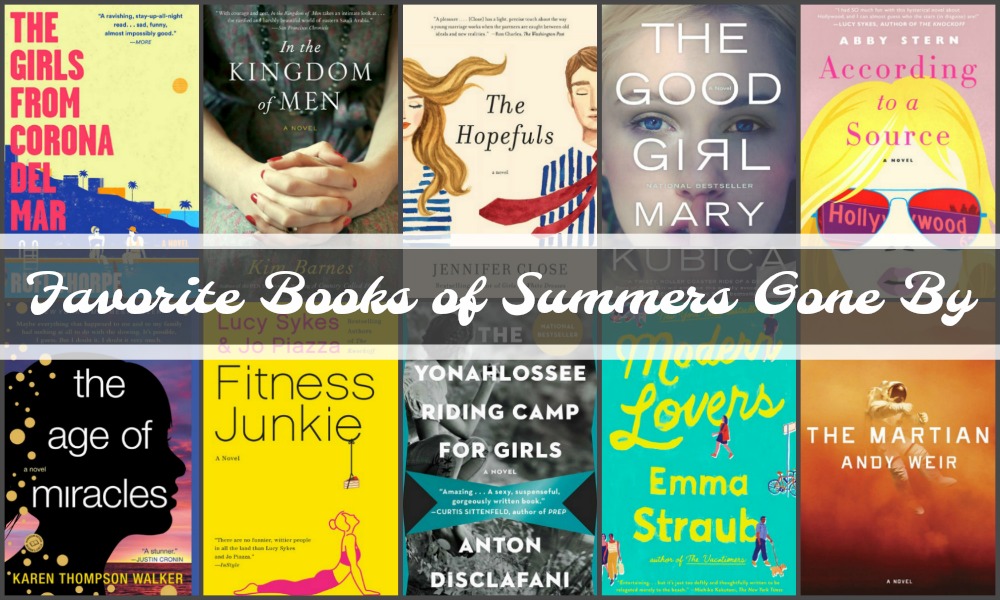 Top Ten Tuesday hosted by That Artsy Reader Girl.
Summer of 2012
The Age of Miracles by Karen Thompson Walker – I started this book on a plane headed to San Diego and when I arrived cared more about finishing the book than enjoying the sunshine. It's hard to categorize The Age of Miracles. It's part sci-fi, part coming of age, a little dystopian, but all a wonderful story of girl living in a world where the Earth's rotation is getting slower and slower.
In the Kingdom of Men by Kim Barnes – Later that summer I headed to Lake Tahoe for a week of family reunion followed by a week hanging out with my good friend, Meg. Somewhere in there, I know I finished this book because I distinctly remember insisting that Meg needed to read it…now! Set in 1967 In the Kingdom of Men focuses on a newlywed couple as they navigate their marriage and life in country a world away from Oklahoma.
Summer of 2013
The Yonahlossee Riding Camp for Girls by Anton DiSclafani – I think this was the first book I read in the summer of 2013 and it was definitely my favorite. On the heavier side for a summer read, this 1930's historical fiction tells the story of 15-year girl exiled from her Florida home following a family tragedy. At the elite boarding school Thea unravels her family's dark past and grapples with what the future holds for her.
Summer of 2014
The Girls from Corona Del Mar by Rufi Thorpe – In 2014 my summer reading really took off just before I went back to school with two books I absolutely loved. The Girls from Corona Del Mar tells the story of best friends Mia and Lorrie Ann, following them from childhood, through high school, and beyond where their once similar lives take very different turns. The Southern California setting was icing on the cake for me!
The Good Girl by Mary Kubica – If I'm remembering correctly, I devoured The Good Girl over Labor Day Weekend just before returning to work in 2014. I definitely remember feeling breathless with anxiety and anticipation waiting to see how Kubica would resolve her story of a good girl kidnapped by a man she grew to care about. I was not disappointed!
Summer of 2015
The Martian by Andy Weir – This was another late summer read for me. I'd resisted The Martian for a long, long time. But, toward the end of my 2015 summer break I'd grown a little desperate so finally decided to give it a try. Thank goodness I did because Weir's megahit about an astronaut stranded on Mars ended up being one of my favorite books of the year.
Summer of 2016
Modern Lovers by Emma Straub – Another book I read while on a cross country flight, Modern Lovers is exactly what I think of when I think of "beach reads." (And, conveniently, I was headed to a beach vacation in MA.) I thoroughly enjoyed Straub's humorous take on the serious business of adulting for three former bandmates as their own kids begin spreading their wings. (my review)
The Hopefuls by Jennifer Close – Another light, fun read for the summer of 2016, The Hopefuls was a fun political story from a time when we were all a little more…hopeful! In this two young D.C. couples live insiders' lives during the early days of the Obama administration, before venturing out on their own political journeys. (my review)
Summer of 2017
According to A Source by Abby Stern – Last summer I listened back-to-back to two audiobooks that were both just plain fun. According to a Source told the story of a Hollywood gossip reporter whose life spins out of control after she unwittingly betrays her best friend. The writing in this was crisp and snarky and constantly had me wondering what real life Hollywood celebrity Stern was modeling her fictional characters after. (my review)
Fitness Junkie by Lucy Sykes and Jo Piazza – I so enjoyed the hours spent in my hammock listening to According to a Source, that I looked for another book in the same vein, landing on Fitness Junkie. The writing duo of Sykes and Piazza expertly skewed the diet and exercise industries along with its more rabid devotees. This one was laugh-out-loud funny from start to finish! (my review)
What are some of your favorite books from summers gone by?
Disclaimer: There are Amazon Associate links contained in this post.