This post may include Amazon links. As an Amazon Associate I earn from qualifying purchases.
Today is the 75th anniversary of the bombing of Pearl Harbor, the shocking event that finally sparked the United States to join with the Allies in World War II. Somehow I went through school learning very little about WWII. I learned the basic outline of the war, but little more. The details, the true horrors of WWII I have learned from great writing. Over time, I've become a huge fan of novels centered on WWII and today I'm sharing my favorites.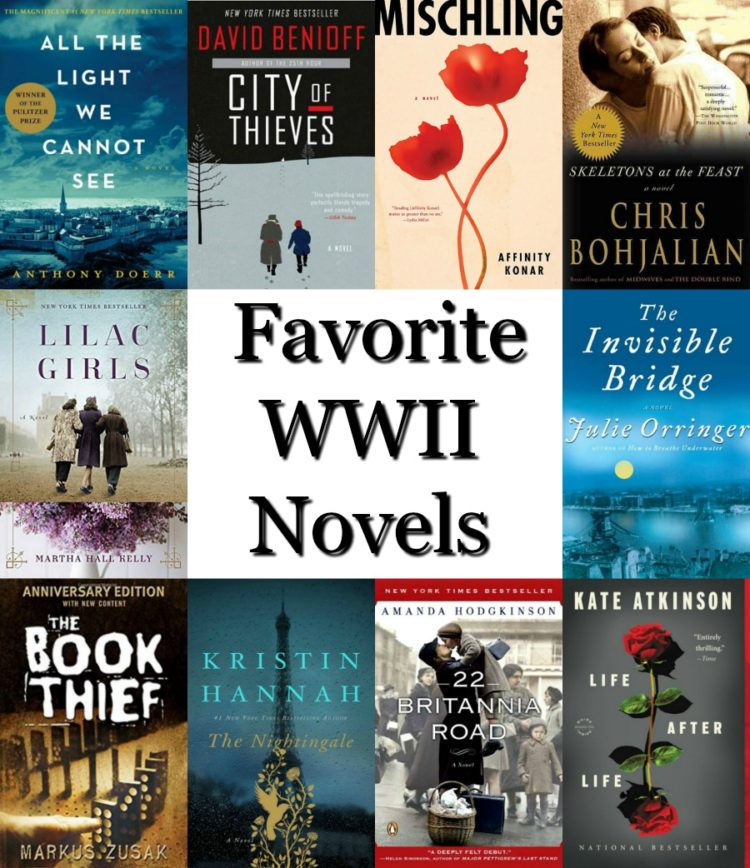 All the Light We Cannot See by Anthony Doerr – This Pulitzer Prize winning novel tells the stories of a blind French girl and a young German soldier who cross paths in occupied Saint-Malo.  All the Light We Cannot See is truly a beautifully told story that highlights the humanity found in these two very different people.
City of Thieves by David Benioff – City of Thieves is really a coming-of-age story set in the middle of Russia during the war. It's the story of a boy and a man sent out on a crazy mission that takes them to the front and behind enemy lines in search of a dozen eggs. I most appreciated the humorous sides to this serious tale and seeing the war from the Russian point of view.
Mischling by Affinity Konar – Mischling, a 2016 release, is the story of twin sisters who become victims of Josef Mengele's experiments at Auschwitz near the end of WWII.  At times, this was a difficult book to read because of the horrors detailed inside the "zoo." Still, that's also something I really liked and learned a lot from.  At times, there was a dream-like quality to Mischling that I found unique and refreshing.
Skeleton's at the Feast by Chris Bohjalian – I loved Skeleton's at the Feast because it is a WWII story from a different perspective than most WWII novels. It follows a Prussian girl (whose family backed the Germans) as she flees west to avoid the invading Russian Army. What she experiences and sees first-hand on her journey is eye-opening for her and for readers.
Lilac Girls by Martha Hall Kelly – Another 2016 release, Lilac Girls, focuses in part on Polish sisters sent to the only all female concentration camp, Ravensbrück. They become "Rabbits of Ravensbrück," women who were used for medical experimentation. This is a beautiful, complex story of what the sisters endured and their lives after the war.
The Invisible Bridge by Julie Orringer – The Invisible Bridge is a wonderful story about a young Hungarian-Jewish architecture student studying in Paris in 1937. As the war begins and Paris comes under increasing Nazi influence, he and his fiancé return to Hungary. Once there he is forced into service for the Hungarian Army. This is a  harrowing story built around family.
The Book Thief by Markus Zusak – This young adult novel really is for everyone. The book thief in question here is Liesel, an illiterate foster child living in Munich. There she witnesses her Jewish neighbors being torn from their homes and marched away. As Liesel learns to read, she takes comfort in books and shares them with those around her. Her perspective of the war from inside Germany is what's so special about The Book Thief.
The Nightingale by Kristin Hannah – I absolutely adored this book! The Nightingale is the story of two French sisters, one living in a small country town and the other in Paris, and their efforts to resist the Nazis from inside France. Their tactics and experiences couldn't be more different, yet each played a vital role in French Resistance efforts. The book is a powerful, emotional ride. It left me awed!
22 Britannia Road by Amanda Hodgkinson – 22 Britannia Road actually takes place after WWII as a Polish couple  and their 7-year old son reunite in England having been separated for 6 years. This may seem like a happy reunion, but the ghosts of what each went through to survive the war cannot be forgotten. The book brings their hidden secrets and the ghosts that haunt them to light.
Life After Life by Kate Atkinson – Only about half of Life After Life takes place during WWII, but I had to include it in my list because its covering of The Blitz is the best I've ever read. The main character is living in London during the years of The Blitz. The premise of this book is that she keeps living different versions of her life over and over, so the reader experiences The Blitz from many perspectives. It felt like I was there!
What are your favorite books about World War II?
Disclosure: There are Amazon Affiliate links included within this post.