This post may include Amazon links. As an Amazon Associate I earn from qualifying purchases.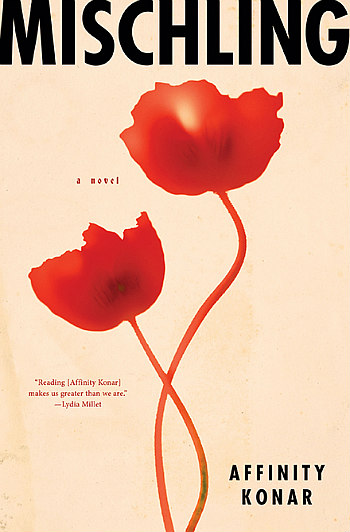 Mischling by Affinity Konar
Publisher: Lee Bordeaux Books
Release Date: September 6, 2016
Length: 352 pages
Buy on Amazon
Single Sentence Summary: Twin sisters, Stasha and Pearl, are delivered by cattle-car to Auschwitz in 1944 and are quickly ensconced in Josef Mengele's Zoo where everyone is a specimen for his horrific experiments.
Primary Characters: Stasha and Pearl Zamorski – 12-year old Polish twins. Like many twins, they have the ability to sense what the other feels and even at times thinks, and yet they are also very different. Stasha is good at being curious and reasoning things out, while Pearl likes to dance, is all girl, and more easily befriends others. Both are intelligent, creative, and resourceful, and unfailingly devoted to the other.
Synopsis: Auschwitz. Josef Mengele's Zoo. The Angel of Death. In Mischling, this is the horrific world Stasha and Pearl are thrust into near the end of World War II. After a four-day journey, jammed into a cattle-car that also carries their mother and grandfather, the beautiful blonde twins are immediately recognized for being special, a pair of "multiples," perfect for Mengele, "Uncle Doctor". Multiples were his most prized oddities within the Zoo since they so easily provided control subjects, but Mengele also used giants, dwarves, the limbless, albinos, and those Jews who were "curiously" Aryan for his "research." With their blonde curls, but brown eyes the twins also fall into this category know as Mischling, persons deemed to have had both Aryan and Jewish ancestry.
In order to survive, the girls make a pact. They divide the necessities and memories of life. Stasha will be in charge of the funny, the future, and the bad, Pearl the sad, the past and the good. After their first time being taken to Mengele's hospital, they add the present to Pearl's list. The present turns out to be what they most need to survive. As the war is drawing toward an end, Mengele's experimentation becomes increasingly horrific. Many do not survive and those who do are barely alive. As the Russians approach and the Germans begin to panic, Pearl and Stasha, become separated and neither knows if her twin is still alive. This is not the end of the story, but more of a mid-way point. What happens in the months after the war is every bit as tragic, and also what makes this novel truly amazing.
Review: Affinity Konar's Mischling is incredible and ghastly, beautiful and revolting, inspiring and brutal. I loved it. I tend to like historical novels set in World War II, but some stories rise above others and Mischling is one of those. Told in alternate chapters by Stasha and Pearl, the prose in Konar's book is striking.
 "My blood was thick with the thwarted survival of masses: it carried the words they'd never say, the loves they'd never know, the poems they'd never make. It bore the colors of paintings they'd never paint, the laughs of the children they'd never bear. This blood made living so hard that sometimes I wondered…."
She uses great scene-setting details to paint a picture of life at Auschwitz in all its depravity. This reader felt as if I was watching the story of Stasha and Pearl unfold before my eyes. I almost felt guilty to be a witness to their suffering and yet, I couldn't pull away from it. There are many other important characters in this novel and Affinity Konar delivers vivid personalities to each. Much of this story was painful to read because the picture Konar created of the inside of Mengele's Zoo was so revolting in it's horrors, and still, I could not stop reading. It never fails to stun me that human beings can treat other human beings in such inhumane ways, but even more so that the will to live can surpass everything. Mischling is a triumph! Grade: A+
If you liked this book you might also enjoy:
Note: I received a copy of this book from the publisher (via NetGalley) in exchange for my honest review.
Disclosure: There are Amazon Affiliate links included within this post.